An official Saudi Aramco IPO date hasn't been announced, but all signs point to an initial public offering in early 2018.
The Saudi oil company was initially eyeing a 2017 IPO date, but CEO Amin Nasser recently told CNN 2018 was better.
"The [oil] market has started to recover, we expect it to recover even more in 2017 and I think the time in 2018 will be almost right," explained Nasser in Oct. 2016.
The Saudi Aramco IPO date is so important, because this will be the largest IPO in history. Aramco could have a $2 trillion market cap by the time it goes public.
An IPO that size will transform the energy markets.
Even though the IPO will be huge, there are major obstacles Aramco has to overcome before its IPO date. Before we examine those obstacles, here's just how huge the Saudi Aramco IPO will be…
The Saudi Aramco IPO Will Be the Biggest Ever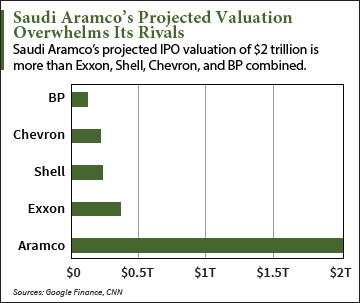 Saudi Aramco is expected to be valued at $2 trillion dollars when it goes public in 2018. If expectations are accurate, it will be the biggest IPO of all time.
For comparison, Exxon Mobil Corp. (Nasdaq: XOM) is currently valued at $373.91 billion, making it the largest oil company in the United States. Aramco will be worth more than five times Exxon. In fact, Aramco will be worth more than the top "oil majors" of Exxon, Shell, BP, and Chevron combined.
The reason Aramco is so massive is its unparalleled access to Saudi Arabia's oil.
Since the government of Saudi Arabia currently owns the company, Aramco oil company hasn't had to compete with rivals for control of Saudi Arabia's lucrative oil fields. Saudi Arabia has one-fifth of the proven oil reserves in the world, second only to Venezuela.
Through this arrangement, the Saudi Arabian oil company controls 267 billion barrels of proven oil reserves. That's more than seven times the size of proven oil reserves in all of the United States.
Saudi oil could be worth even more as the OPEC agreement to cut oil production goes into effect.
WTI crude oil prices hit a 10-year low of $36.41 a barrel in Jan. 2016. But, the WTI oil price has since risen 45% to $52.79 a barrel today (Jan. 3). The price spiked after OPEC agreed to cut production in November and began implementing it this week (Monday, Jan. 2).
Don't Miss: My (Bold) 2017 Oil Price Forecast – and Today's Most Profitable Energy Play
However, the massive size of the Saudi Aramco IPO is only part of the story. Investors hoping to buy Saudi Aramco stock for the first time need to know a lot more about the company's decision to go public.
And Aramco has three big challenges ahead of the Saudi Aramco IPO date…
3 Challenges Ahead of the Saudi Aramco IPO Date
First, the massive size of Aramco means there is a lot of work to do before the IPO. And that means the actual IPO filing will be a major task.
Saudi Arabia plans to sell a 5% stake in its overall business and not just the oil distribution wing. Aramco initially proposed selling its international business, which would only be a $100 billion deal. Listing the entire business adds difficulty to an already thorny process.
"We need to do a lot of internal work to prepare for this listing. We are listing a part of the entire company, and not just downstream," says CEO Amin Nasser. "People have to appreciate the size of Aramco and its complexity."
Because of the size and complexity of the IPO, the Saudis are soliciting the help of the top Wall St. financial institutions, namely JP Morgan Chase & Co. (NYSE: JPM).
The Wall Street Journal reports other big banks have also been working to be a part of the Aramco IPO.
The fees on a deal this size could total more than $1 billion for banks advising the oil giant.
"Every bank in the world is going to want to have a role in this," reports the Financial Times.
And that doesn't include future business. The Kingdom has plans for major investments in the near future, and big banks will be a key part.
But, the next two hurdles might be the most challenging for the company…