Turns out, my seatmate on a flight home last week is not only an avid reader of our work here, but also a huge "Varney & Co." fan and recognized me when we sat down next to each other.
We proceeded to have a terrific and very exciting conversation about the markets in general as we settled in for the nearly six-hour flight. Then, he asked the one question I couldn't resist answering any more than I could wait to share with you...
"Gimme five of the most outrageous opportunities you're tracking in 2017."
Here's what I shared with Roger.
Why a Plan Is So Important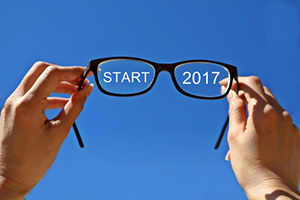 "First, you've got to set the stage," I began...
That means having a rough idea of where you're going and why. The vast majority of investors never bother, which is why they have trouble turning great ideas into cold, hard cash.
For example, millions of investors bet the wrong way headed into the elections and got caught flat-footed when Trump won. They simply couldn't see the alternative, let alone position their money for the possibility. Now they're in the unenviable position of having to play catch-up, which means there's an estimated $2 trillion - perhaps even $3 trillion - on the sidelines.
At the same time, central bankers around the world refuse to give up the proverbial ghost. Despite a mountain of evidence that their policies don't work, they're still in an "accommodative" mood. That means free money for the masses, or at least damn cheap money and upward price pressure on the markets.
Plus, even if Yellen puts in all three of the planned increases she's talked about for 2017, the Fed Funds rate will still be a staggering 66% below its historic average. What's more, it'll still be the slowest interest rate normalization on record.
I think that's good for between $500 billion and possibly even $1 trillion over the next 12 months coming directly into the markets, and all of that has to go to work somewhere. What that means is that you're going to have a lot of money chasing relatively few quality stocks. So you want to own the "quality" stuff they'll be after.
The situation reminds me of the 1950s when markets enjoyed a decade-long run.
I know this is counter-intuitive. The "Legion of Doom" - that's what I call the perma-bears who have been as wrong as the day has been long since 2009 - can't grasp this.
Think about it this way, I urged Roger.
If there are 1,000 eggs in the grocery store and only 10 buyers, the price of eggs goes down. But if there are 10 eggs and 1,000 buyers, the price shoots higher. Not all in a straight line, mind you. But higher nonetheless. It's Econ 101.
And, finally, the market has pivoted. Four decades of terrible fiscal policy have come home to roost, and millions of investors are angry as hell. That's why populism is sweeping our planet and smart politicians are now building on hope rather than punitive financial policy.
President-elect Trump is a good example of this. Love him or hate him, he's proposed spending programs that I think could be worth $250 to $500 billion to the right companies.
And what does that look like?
In a word... outrageous opportunity.
Technically speaking that's two words, but who's counting?
Here's my thinking as it relates to five of the most outrageous opportunities I'm watching in 2017.
Join the conversation. Click here to jump to comments…
About the Author
Keith is a seasoned market analyst and professional trader with more than 37 years of global experience. He is one of very few experts to correctly see both the dot.bomb crisis and the ongoing financial crisis coming ahead of time - and one of even fewer to help millions of investors around the world successfully navigate them both. Forbes hailed him as a "Market Visionary." He is a regular on FOX Business News and Yahoo! Finance, and his observations have been featured in Bloomberg, The Wall Street Journal, WIRED, and MarketWatch. Keith previously led The Money Map Report, Money Map's flagship newsletter, as Chief Investment Strategist, from 20007 to 2020. Keith holds a BS in management and finance from Skidmore College and an MS in international finance (with a focus on Japanese business science) from Chaminade University. He regularly travels the world in search of investment opportunities others don't yet see or understand.