By any measure, 2016 was a great year - a watershed, in fact - for the tech- and pharma-heavy cannabis niche.
For instance, ever since Sept. 2, when I sent my paid-up Nova-X Report readers the 30 pot stock recommendations in my "weed investors' bible," The Roadmap to Marijuana Millions, we've seen incredible gains all across the market sector.
And what had been a phenomenal year got even better with a massive victory: In November, voters in five states (read, five juicy untapped markets) voted to legalize medical and recreational marijuana. That boosted the cannabis niche's growth prospects immensely. Remember, this is an investing arena that was already expected to grow by more than 31% a year until at least the early 2020s.
But... the buoyant marijuana markets took notice when the president-elect tapped Sen. Jeff Sessions (R-AL) to be the next U.S. attorney general. The nation's would-be top cop is known for his, shall we say, "retrograde" views on marijuana - legal and otherwise.
That news cast a great deal of uncertainty on investments with an otherwise vertical trajectory.
So, naturally, pot stock investors are wondering what the future might hold for this high-growth, immensely profitable investing niche.
Well, I'm going to show you a glimpse of that future right now. It still looks as bright and profitable as it ever did...
There's Not Much Sessions Can Do to Dampen Cannabis
Like I said, Senator Sessions isn't known for his bullish, forward-looking view of marijuana. In fact, he's an outspoken critic.
In an April U.S. Senate meeting, for instance, Sessions said, "We need grown-ups in charge in Washington to say marijuana is not the kind of thing that ought to be legalized."
Sign up for SMS so you never miss special events, exclusive offers, and weekly bonus trades.
He also said in the same meeting that "good people don't smoke marijuana."
Still, it's quite a stretch to think that, even in his new position of power, Sessions will be able to effect the kind of massive public policy overhaul it would take to revoke legalization.
Currently, marijuana is illegal under federal law. But because of a congressional rule from 2014, the U.S. Department of Justice (DoJ) is not allowed to use funds to interfere with the implementation of state cannabis laws.
Also, a recent Aug. 16 court ruling states the Justice Department can no longer prosecute medical marijuana businesses where the defendants are following state laws.
Fundamentally, this means one certain thing: Marijuana legalization is determined by state voters right now.
And it's highly likely to stay that way.
I'm confident of that assertion because of what Donald Trump himself has been telegraphing so far.
From a policy perspective, the president-elect is on the record saying marijuana policy is something best left to the states.
What's more, the president has no power to nullify state laws, and only Congress has the power to pass federal laws. As it stands, Congress's attitude toward marijuana is likely to reflect the U.S. electorate.
And that view has changed radically over the last 20 years.
Most Americans - about 60% of them, in fact - now favor legalizing marijuana according to recent polls. With legalization's popularity continuing to climb, it's highly unlikely Congress will vote against legalization going forward.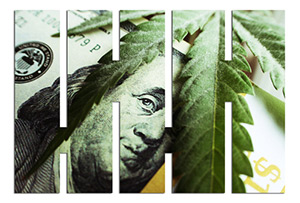 In fact, there are several bills working their way through Congress that could further ease legalization.
For example, the Marijuana Business Access to Banking Act would update federal banking rules to resolve conflicts between federal and state laws and allow banks and credit unions to provide services to legitimate marijuana businesses.
So the truth is, despite the juicy, scary headlines touting the "new Drug War" Trump and Sessions are "planning," the debate over marijuana legalization is larger, by far, than one presidential administration.
In fact, considering all of these political developments, there's one extremely bullish reason investing in marijuana stocks will remain profitable even with Sessions as Attorney General...
My 2017 Cannabis Outlook: Extremely Bullish
Join the conversation. Click here to jump to comments…
About the Author
Michael A. Robinson is a 36-year Silicon Valley veteran and one of the top tech and biotech financial analysts working today. That's because, as a consultant, senior adviser, and board member for Silicon Valley venture capital firms, Michael enjoys privileged access to pioneering CEOs, scientists, and high-profile players. And he brings this entire world of Silicon Valley "insiders" right to you...
He was one of five people involved in early meetings for the $160 billion "cloud" computing phenomenon.
He was there as Lee Iacocca and Roger Smith, the CEOs of Chrysler and GM, led the robotics revolution that saved the U.S. automotive industry.
As cyber-security was becoming a focus of national security, Michael was with Dave DeWalt, the CEO of McAfee, right before Intel acquired his company for $7.8 billion.
This all means the entire world is constantly seeking Michael's insight.
In addition to being a regular guest and panelist on CNBC and Fox Business, he is also a Pulitzer Prize-nominated writer and reporter. His first book Overdrawn: The Bailout of American Savings warned people about the coming financial collapse - years before the word "bailout" became a household word.
Silicon Valley defense publications vie for his analysis. He's worked for Defense Media Network and Signal Magazine, as well as The New York Times, American Enterprise, and The Wall Street Journal.
And even with decades of experience, Michael believes there has never been a moment in time quite like this.
Right now, medical breakthroughs that once took years to develop are moving at a record speed. And that means we are going to see highly lucrative biotech investment opportunities come in fast and furious.
To help you navigate the historic opportunity in biotech, Michael launched the Bio-Tech Profit Alliance.
His other publications include: Strategic Tech Investor, The Nova-X Report, Bio-Technology Profit Alliance and Nexus-9 Network.