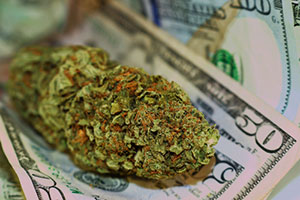 With more states legalizing marijuana in 2017, there are countless new laws being written across the country. And while some may first view these laws as prohibitive, they will actually create mega-investment opportunities in marijuana stocks in 2017.
One of the biggest areas these new laws focus on is impaired driving. Right now, judging marijuana impairment is subjective and timely for law enforcement agencies.
For example, Oregon uses Drug Recognition Experts to evaluate if a driver or test subject is under the influence of drugs, according to TheWeedBlog.com. And their "general indicators" for marijuana impairment aren't scientific.
Some of the indicators include:
Very red eyes
Relaxed inhibitions
Increased appetite
Possible paranoia
Disorientation
In Canada, police officers who have completed a rigorous training course have to use an 11-step checklist to judge impairment. According to Global News, it took almost two hours to test a driver for marijuana impairment in a Saskatchewan case.
Visual indicators can't provide the same type of accuracy as breathalyzers for alcohol, and that's a massive problem as more states legalize recreational marijuana.
While this is a problem for law enforcement agencies now, it is a massive opportunity for investors seeking out the top marijuana stocks in 2017. Because the need for some sort of testing devices is only getting bigger.
There are currently eight states in the U.S. where recreational marijuana use is legal.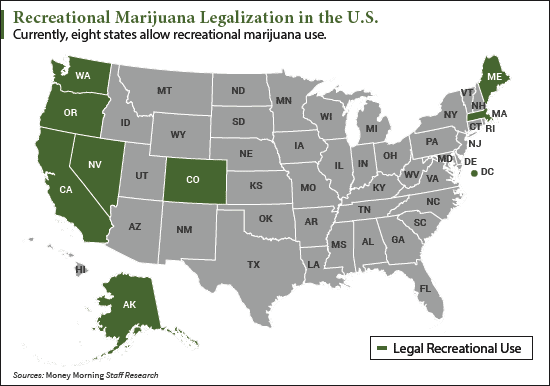 And Canada's Prime Minster Justin Trudeau is also proposing reforms to Canadian marijuana laws in the spring of 2017.
There's no projections right now for how big the marijuana breathalyzer market will be. But with close to 18,000 U.S. state and local law enforcement agencies as of July 2016, the market is huge.
That's why today, we are going to share with Money Morning readers two companies leading the way in developing marijuana breathalyzers...
Watch These Two Marijuana Stocks in 2017
The first "marijuana breathalyzer stock" on our watch list for 2017 is Cannabix Technologies Inc. (OTCMKTS: BLOZF). Cannabix was incorporated in 2011. It was founded by Kal Malhi, a retired member of the Royal Canadian Mountain Police.
Right now, a major issue in testing for marijuana impairment is the fact that marijuana stays in a user's system for up to 30 days. That means someone who may not be impaired at that moment could still have positive results show up on their tests.
Cannbix's website also said urine and saliva testing take a considerable amount of time for laboratory analysis.
Must Read: Former Google Exec Quits Dream Job to Launch Marijuana Empire
To improve the accuracy of marijuana impairment testing, Cannabix is developing devices that would target the use of THC in suspected impaired drivers within a two-hour time period.
These devices could also be used by employers to test intoxication.
Cannabix has an exclusive worldwide license for a University of Florida patent in the area of breath analysis of controlled substances.
It's true BLOZF is a penny stock, and penny stocks are volatile. That's why it's a marijuana stock we are watching closely in 2017. The BLOZF stock price opened at $0.62 on Jan. 4, and it has climbed over 444% over the last 12 months.
The second "marijuana breathalyzer stock" on our watch list for 2017 is Lifeloc Technologies Inc. (OTCMKTS: LCTC). Lifeloc was founded in 1983 and became a public company on May 31, 2011.
Lifeloc provides breathalyzers for law enforcement, schools, and personal use. The company also develops and sells online alcohol and drug training courses.
Currently, Lifeloc's drug screening devices include:
Drug cups
Dip cards (detects illegal and prescription drugs in urine)
Bluing tablets (designed to prevent tampering in urine sample collection)
Adulteration test strips (a pre-screening tool)
Lifeloc also makes "cannabis goggles" to simulate heavy impairment caused by THC. According to its website, the goggles are used in education programs for law enforcement, schools, and workplace settings.
These are traditional drug testing tools. But Lifeloc showed foresight by working on new marijuana impairment test tools.
In 2014, Lifeloc was awarded $250,000 by the Colorado Office of Economic Development and International Trade to accelerate its development of a marijuana breathalyzer.
The Lifeloc marijuana breathalyzer is still in development. But when it hits the market, Lifeloc expects to charge between $2,500 and $3,500 for cannabis breathalyzers, according to InsuranceJournal.com.
Over the last 12 months, the LCTC stock price has climbed 60.43%. In comparison, the S&P 500 has climbed just 12.91%.
And while these are two marijuana stocks on our radar for 2017, we are also watching the top pot stocks from every ecosystem - growers, edibles, dispensaries, and more.
As a service to Money Morning readers, we're now making available a 90-page cannabis investing guide called "The Roadmap to Marijuana Millions."
This "bible of weed investing" reveals the world's top marijuana stocks every serious investor should consider right now.
Normally valued at $499, it can be yours absolutely free. To learn how to get your free copy, click here.
This offer is only available to the first 500 people who respond today. So please go here now to reserve your copy.