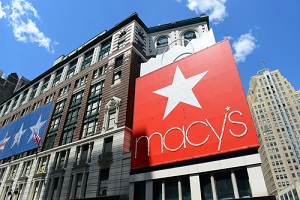 U.S. markets are under pressure today (Thursday) with retailers comprising three of the top stocks to watch. The three retailers we're watching most closely are Macy's Inc. (NYSE: M), Amazon.com Inc. (Nasdaq: AMZN), and Kohl's Corp. (NYSE: KSS).
Investors are also digesting the minutes from the December FOMC meeting released Wednesday. The minutes showed Fed officials face "considerable uncertainty" about the effect the incoming Trump administration could have on the economy.
Almost all central bank officials indicated that the prospects for fiscal stimulus, such as infrastructure spending and tax cuts, could lift economic growth in the next several years. Yet officials stress the timing, size, and structure of Trump's proposals are wild cards in deciding how to adjust interest rates.
While market participants await tomorrow's December jobs report, retail stocks took center stage today on Wall Street.
Here are the three top stocks to watch today…
Stocks to Watch Today, No. 3: Kohl's Corp. (NYSE: KSS)
Shares of Kohl's fell sharply this morning after the apparel and home good retailer lowered its guidance for fiscal 2017 after Wednesday's close. The KSS stock price is down 18% at $42.19 in morning trading.
The company now sees earnings per share (EPS) between $3.60 and $3.65. The company's original range was $3.80 to $4.00. Wall Street's consensus is $3.93. Kohl's also reported that its comparable sales decreased 2.1% in the November and December combined, compared with the prior year period. Meanwhile, total sales for the two months collectively fell 2.7%.
Trending Now: These Are the Best Stocks to Buy for January 2017
The company said sales were "volatile" throughout the holiday season. Strong sales on Black Friday and during the week before Christmas were offset by softness in early November and December.
Kohl's stock downgrades followed the dismal announcement.
Telsey Advisory Group lowered their rating on Kohl's to "Market Perform" from "Outperform" and reduced their price to $47 from $58. Robert W. Baird downgraded KSS to "Neutral" from "Outperform" and cut its price target to $44 from $60.
Stocks to Watch Today, No. 2. Amazon.com Inc. (Nasdaq: AMZN)
Shares of Amazon.com rose 1.83% to $770.88 today after the e-commerce giant said late Wednesday it will open its first New York City bookstore in Manhattan's Time Warner Center. The 4,000-square-foot store will open this spring.
Separately, Amazon announced a collaboration with Ford Motor Co. (NYSE: F). The two are teaming up to offer consumers the ability to access their car from home and call up other features from their vehicle via Alexa – Amazon's cloud-based voice service.
Plus, Amazon is among several companies mulling the acquisition of bankrupt American Apparel.
The bankruptcy auction of Los Angeles-based American Apparel will determine the fate of a major clothing manufacturing plant in California. Any successful offer would have to beat the $66 million bid made by Canadian apparel maker Gildan Activewear and American Apparel accepted when it filed for bankruptcy in November.
Amazon is expected to make a serious offer. Should Amazon win, American Apparel will maintain its "made in America" label, jobs will remain in the U.S., and President-elect Donald Trump might ease up on his criticism of Amazon.
Stock to Watch Today, No. 3: Macy's Inc. (NYSE: M)
The Macy's stock price fell more than 13% to $30.65 in early trading today after the department store chain said it would cut more than 10,000 jobs and close dozens of stores following another weak holiday season.
In addition to eliminating some 3,900 jobs with 63 store closings this spring, Macy's will slash about 6,200 other positions to streamline operations. The aim is to invest more in digital initiatives and other growth areas such as its Bluemercury beauty outlets and Macy's off-price concept called Backstage.
Analysts turned bearish on Macy's following the news.
Deutsche Bank today downgraded Macy's to "Hold."
RBC Capital Market lowered its Macy's price target to $35 from $43. While Macy's ongoing real-estate and cost-rationalization initiatives provide some downside support, RBC is now more concerned about its core business as FY17 guidance suggest no improvement.
Goldman Sachs cut its Macy's price target to $39 from $44. Jefferies trimmed its price target to $35 from $40.
Up Next: The next iPhone won't just jumpstart Apple stock – it will boost the stocks of many of Apple's suppliers. The Apple suppliers with the most to gain are those with the most exposure to Apple – especially these seven companies…
Related Articles: