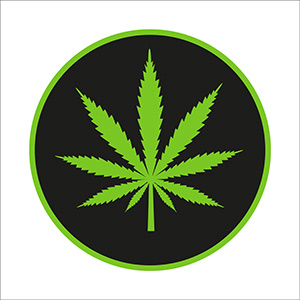 The marijuana industry is now one of the largest growing industries in the world, which is why we have our eyes on five of the top pot stocks in 2017 to watch.
According to UN Data, the marijuana industry is valued at $142 billion. For some perspective, the global coffee market is valued at just $80 billion annually.
Cannabis has become such a mainstream commodity that some of the top investors in the legal marijuana market include billionaire George Soros and Napster co-founder Sean Parker.
However, investors should still be cautious when investing in marijuana stocks. Marijuana is still illegal under federal law, and this has created challenges for marijuana companies when trying to raise capital.
That's why our top pot stocks for 2017 are a watch list and not recommendations.
Here's the first marijuana stock to watch in 2017…
Top Pot Stocks in 2017, No. 5: Canopy Growth Corp.
Canopy Growth Corp. (OTCMKTS: TWMJF) produces and sells marijuana in Canada.
It has the largest marijuana-producing greenhouse in the world, with more than 350,000 square feet of licensed production space.
Canopy Growth also has a high-profile investor in musician Snoop Dogg. When Canopy unveiled a new line of products in partnership with the musician, the TWMJF shot up 13% on Oct. 6 in intraday trading.
The TWMJF stock price opened at $7.67 on Jan. 5, and TWMJF has climbed more than 261% in the last 12 months.
Top Pot Stocks in 2017, No. 4: MassRoots Inc.
MassRoots Inc. (OTCMKTS: MSRT) is the largest and most active social network for cannabis businesses, consumers, and industry activists.
MassRoots has more than 900,000 registered users. Through the MassRoots app or website, users can collaborate, locate local dispensaries, and find out about changes in regulations.
Since most major social media sites don't allow ads for marijuana, MassRoots is now providing valuable ad space for advertisers to reach a massive audience.
The company also announced on Dec. 16, 2016, it would purchase Whaxy, a menu management and online ordering platform for licensed cannabis businesses.
The MSRT stock price opened at $1.09 on Jan. 5 and is up 14% over the last 12 months.
Top Pot Stocks in 2017, No. 3: Growblox Sciences Inc.
Growblox Sciences Inc. (OTCMKTS: GBLX) is a Las Vegas-based biotech company that researches, develops, and markets medical cannabis-based solutions for a variety of medical issues.
BRILLIANT: Average Americans Are Becoming Marijuana Millionaires
Growblox produces medical-grade cannabis and cannabis concentrate using its specialized technologies and processes in plant biology, cultivation, and extraction.
Some of its treatments are aimed at helping patients who suffer from Huntington's disease, Parkinson's disease, dementia, and Alzheimer's disease. In Dec. 2016, the company also announced that it was working on developing new cannabis-based therapies for the treatment of heart disease.
The GBLX stock price opened at $0.35 on Jan. 5 and is up 96.57% over the last 12 months.
Top Pot Stocks in 2017, No. 2: Scotts Miracle-Gro Co.
Most investors wouldn't consider Scotts Miracle-Gro Co. (NYSE: SMG) a traditional pot stock. This global lawn and garden giant is famous for its fertilizer and sells such popular products as Turf Builder and Roundup.
But CEO Jim Hagedorn has placed a big bet on the legal marijuana industry with some strategic acquisitions.
Scotts purchased California's General Hydroponics in 2015 for $130 million. Then in August 2016, Scotts signed a $40 billion deal to buy Botanicare, a plant nutrient and hydroponics products provider.
As you can see in the graph below, more analysts are recommending SMG stock. In August 2016, only 50% of analysts covering Scotts rated SMG stock as a "Buy" or "Weight." But so far in January, 67% of analysts rate it as a "Buy" or "Overweight."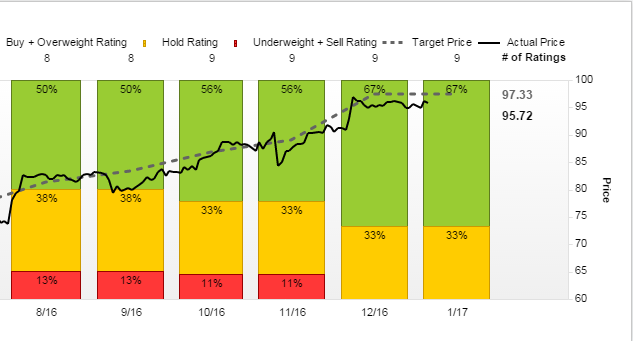 The SMG stock price opened at $96.02 on Jan. 5, and SMG is up 49.55% over the last 12 months. Scotts also offers a dividend of $0.50, which is a yield of 2.09%.
And our final pick is at the forefront of the cannabinoid prescription medication market…
Top Pot Stocks in 2017, No. 1: GW Pharmaceuticals Plc.
GW Pharmaceuticals Plc. (Nasdaq ADR: GWPH) is a British biotech company that will be one of the top pot stocks to watch in 2017.
The biopharmaceutical company engages in the development and sales of cannabinoid prescription medicines. The company has three segments: Commercial, Sativex Research and Development, and Pipeline Research and Development.
GW's primary product is called Sativex, which is an oromucosal spray that helps patients suffering from multiple sclerosis.
The same drug is in various stages of trials for the treatment of pain related to cancer treatment and neuropathic conditions.
GW's latest drug is called Epidolex, which is being tested as a treatment for Dravet syndrome, Lennox-Gastaut syndrome, adult epilepsy, type 2 diabetes, and schizophrenia.
The GWPH stock price climbed 73.34% in the last 12 months.
As a service to Money Morning readers, we're now making available a 90-page cannabis investing guide called "The Roadmap to Marijuana Millions."
This "bible of weed investing" reveals the world's top marijuana stocks every serious investor should consider right now.
Normally valued at $499, it can be yours absolutely free. To learn how to get your free copy, click here.
This offer is only available to the first 500 people who respond today. So please go here now to reserve your copy.
Follow Money Morning on Facebook and Twitter.