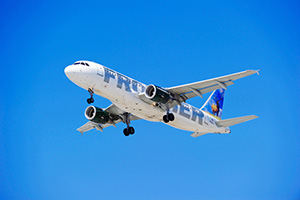 Frontier Airlines has announced an IPO today (Friday), attempting to capitalize on the airline industry's healthy stretch of record profits, low-fuel costs, robust traffic, and M&A activity.
While no Frontier Airlines IPO date has been announced, some of the details of the initial public offering are coming in.
The New York Times first reported that Frontier Airlines is prepping for an initial public offering. The Denver, Colo.-based low-cost carrier has hired Deutsch Bank (NYSE: DB), JPMorgan Chase & Co. (NYSE: JPM), and Evercore Partners Inc. (NYSE: EVR) to handle the IPO. The airline started the process late last year when it approached a number of bankers.
Frontier is aiming to raise some $500 million in its debut, which would value the company at about $2 billon, according to The Times.
Trending Now: These Are the Best Stocks to Buy for January 2017
While we don't know much about the Frontier Airlines IPO yet, here's some more about the company.
What to Know Before the Frontier Airlines IPO Date
Frontier was founded in 1994 after Continental Airlines closed its Denver hub. Over the years, Frontier has had several owners and declared and re-emerged from bankruptcy. The company is presently owned by investment firm Indigo Partners.
Frontier's philosophy is "low fares done right." The company believes travel should be for everyone, and low fares allow people to travel more often, see new places, visit more with friends and family, and develop new business relationships.
The airline serves more than 55 cities in the Unites States, Mexico, Dominican Republic, and Cuba with more than 275 daily flights. It employs more than 3,000 aviation professionals.
In 2015, Frontier received the Federal Aviation Administration's Diamond Award for maintenance excellence. More recently, Frontier was named the industry's most fuel-efficient airline by The International Council on Clean Transportation thanks to superior operational technology.
Airline IPOs have been scarce and the space has become very concentrated as the U.S. is now down to just five legacy carriers.
For investors tempted to invest in the Frontier Airlines IPO, Money Morning always cautions investors about the risks of investing in IPOs.
The first trades of a new issue are usually done by big-money investors that flip shares for a quick profit, or in the case of a dud, quickly sell.
We recommend that investors allow time for the excitement to die down and wait until after the lock-up period expires. A lock-up period is a predetermined amount of time following an IPO where large shareholders and insiders are restricted from selling their shares.
If you do plan to play the Frontier, make sure you use a limit order for buy and sell orders. This will prevent you from buying in at an inflated price should shares soar at the open.
Get on the Path to Greater Wealth: Timing is everything when it comes to making money in markets – and this new, free service we created puts timing on your side…
Related Articles: