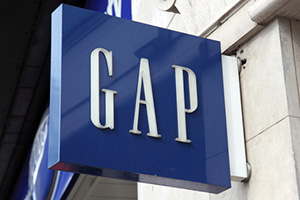 A retailer, a biotech, and an automaker make our list of top stocks to watch today (Friday). Moving in early trading are Gap Inc. (NYSE: GPS), Amgen Inc. (Nasdaq: AMGN), and Toyota Motor Corp. (NYSE ADR: TM).
U.S. markets were little changed after the December unemployment report showed job creation slowed last month and the unemployment rate ticked slightly higher.
Nonfarm payrolls increased by 156,000 in December from the prior month, the U.S. Labor Department reported Friday morning. The unemployment rate was up to 4.7% in December from 4.6% in November. Economists were looking for 183,000 new jobs and an unemployment rate of 4.7%.
The final jobs report of 2016 also marks the last under the Obama administration.
With the unemployment report out of the way, investor focus turned to stocks. Here are the three top stocks to watch today.
Top Stocks to Watch Today, No. 3: Gap Inc. (NYSE: GPS)
One day after rivals Macy's Inc. (NYSE: M) and Kohl's Corp. (NYSE: KSS) fell 13.9% and 19.02%, respectively, Gap bucked the trend. Shares of the apparel and accessory retailer, which had fallen 12% over the year through Thursday, rose more than 3% to $24.45 in morning trading today.
Trending Now: These Are the Best Stocks to Buy for January 2017
Gap reported late Thursday that comparable sales for November and December rose 2% year over year. Those were driven by sales at Gap and Old Navy. The company's comparable sales in December rose 4% versus a 5% decrease in the year-earlier period. Same-store sales at its signature Gap and Old Navy brands climbed 1% and 12%, respectively. But sales at Banana Republic were a disappointment, falling 7%.
Overall revenue for the five-week stretch ended Dec. 31 rose 3% to $2.07 billion. The company now expects full-year adjusted earnings per share to come slightly above the high end of its previous guidance range of $1.92.
Top Stocks to Watch Today, No. 2: Amgen Inc. (Nasdaq: AMGN)
Shares of biotech giant Amgen continued moving higher after a patent ruling earlier this week blocked Sanofi SA (NYSE ADR: SNY) and Regeneron Pharmaceuticals Inc. (Nasdaq: REGN) from selling a rival cholesterol drug called Praluent.
In early trading today, AMGN shares were higher by 4.74% at $160.39.
Tuesday, a federal judge refused to throw out a court verdict upholding two Amgen patents related to the company's cholesterol drug. The move is a sharp blow for Paris-based Sanofi and New York-headquartered Regeneron.
In an October 2014 lawsuit, Amgen sought to stop Sanofi and Regeneron from selling Praluent. The drug is intended to lower "bad" (low-density lipoprotein, or LDL) cholesterol by blocking a protein known as PCSK9. Amgen makes a competing drug called Repatha. Amgen maintained Praluent infringed the patents related to the protein.
In March, a jury found Amgen's patents valid. Following that verdict, Sanofi and Regeneron moved to have the verdict overturned and order a new trial. A federal judge denied that motion on Tuesday.
The U.S. Food and Drug Administration approved Praluent and Repatha to treat bad cholesterol in 2015. The drugs are pricey and cost much more than other treatments targeting bad cholesterol -- topping $14,000 annually.
Amgen shares are up 147% over the last five years.
Top Stocks to Watch Today, No. 1: Toyota Motor Corp. (NYSE: TM)
Toyota Motor makes our stocks to watch today list because it has become the latest target of President-elect Donald Trump. Trump had some sharp word for the automaker Thursday that has sent shivers through the entire auto industry.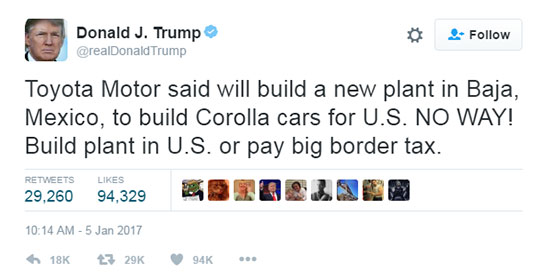 The tweet rattled the auto industry. Shares of major Japanese and South Korean automakers tumbled by as much as 3% on Friday, after the president-elect broadened his criticism of the auto industry to include a foreign car maker with extensive operations in the United States.
Toyota Motor President Akio Toyoda extended a sort of olive leaf to Trump after the criticism, saying that maintaining a good relationship with Donald Trump is critical. The U.S. is one of Toyota's largest and most lucrative markets.
Still, the Japanese automaker aims to substantially increase its footprint in Mexico at a time when Mr. Trump has lambasted American car manufacturers for sending jobs overseas. A few weeks before the U.S. presidential election, Toyota said it would expand production at an existing Mexican plant. In November, the company broke ground on a new $1 billion plant in Mexico.
Toyota shares were little changed in early trading at $120.12 -- not far from its 52-week high of $123.18.
Get on the Path to Greater Wealth: Timing is everything when it comes to making money in markets - and this new, free service we created puts timing on your side...
Related Articles: