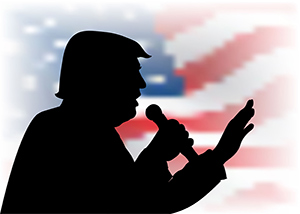 An analysis from independent financial research firm Morningstar, released yesterday by The Wall Street Journal, brought to light numerous new potential conflicts of interest for President-elect Donald Trump.
These conflicts of interest specifically relate to Trump's debt, such as 1) the institutions to which he owes money, and 2) the amount of money he actually has left to pay.
You see, in a May 2016 financial disclosure with the U.S. Office of Government Ethics, Trump claimed he owed money to just 10 businesses.
But yesterday's WSJ report revealed that creditor count to be much higher…
Trump Owes Money to More Than 100 Businesses
It turns out that the real estate mogul is indebted to 150 various firms, some of which include big banks like Wells Fargo & Co. (NYSE: WFC).
Trump's connection in just this one instance presents a clear conflict of interest…
That's because, as president, Trump will largely be responsible for overseeing the regulation of the financial entities – such as Wells Fargo – to which he's currently indebted. At present, Wells Fargo is facing scrutiny from federal watchdogs surrounding its fraudulent practices last year, which included smacking customers with $1.5 million in unwarranted overdraft, maintenance, and annual fees.
Once in office, Trump will appoint the heads of many of the regulators that will continue to police the bank. And these institutions could handily benefit from financial deregulation-minded "watchdogs" selected by the soon-to-be president.
Don't Miss: Can Big Banks Overturn the Volcker Rule Under President Trump?
Other firms holding a portion of Trump's debts include funds run by BlackRock Inc. (NYSE: BLK), Fidelity Investments, Prudential Financial Inc. (NYSE: PRU), and Vanguard Group.
What's arguably even more worrisome about Trump's corporate debt ties is the fact that these "IOU transactions" are frequently renegotiated over time, which could give Wall Street significant leverage over the president-elect in the regulatory process.
And then there's the problem regarding precisely how much Trump owes these 150 institutions…
Trump's Debt Amount Is Nearly Five Times What He Claimed
In June 2016, Trump filed documents with the Federal Election Commission (FEC) that stated he owed some $315 million to the aforementioned 10 business entities.
But Morningstar's analysis revealed yesterday that Trump actually owes a lot more than $315 million to his creditors.
He owes $1.5 billion.
How this massive sum discrepancy came to light was a matter of debt securitization…
You see, when Trump originally filed his previous disclosures with the FEC, he claimed debts for which he was 100% responsible.
But companies often slice-up, repackage, and then resell their debts to mitigate the risk for bondholders in a process called "securitization."
That's where Morningstar got the $1.5 billion debt figure from.
Some of the money Trump owes was lent to various corporate partnerships of which he had, and still has, 30% ownership. But because not all the companies holding Trump's debt are public, they aren't required to make financial disclosures. Therefore, the public can't know the full extent of the president-elect's corporate debts without seeing his tax returns.
And we know that likely won't happen anytime soon.
If Morningstar's analysis is correct – and several mainstream media outlets like CNN and Bloomberg have made use of such hedgy language in their respective articles about the report – it could add fuel to the ongoing accusations that Trump's ties to Wall Street are too tangled for him to act objectively as president of the United States.
Up Next
Money Morning Capital Wave Strategist Shah Gilani, who spent three decades in the hedge fund industry, thinks Washington lawmakers should go ahead with financial deregulation… so long as they're smart about it.
"Fair and smart means: Don't let banks… polluters… or anyone who would gladly compromise America for self-interest and greed run wild," Gilani explains.
In fact, if the government took these five steps, they could set us up for one of the most prosperous years in U.S. history…
Follow Money Morning on Facebook and Twitter.
Articles to check out now…