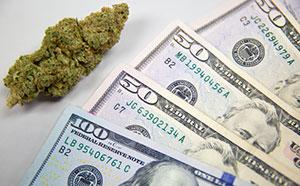 Legal marijuana sales topped $6.7 billion in North America in 2016, which is why investors are asking us, "How do I invest in marijuana stocks in 2017?"
Today, we are going to share a list of "marijuana sectors" that bear watching in 2017. You see, marijuana stocks aren't just limited to companies selling marijuana to clients. They operate in various fields like real estate, social media, and pharmaceuticals.
So one of the first steps to investing in marijuana is deciding which sector you prefer.
We'll also share a list of marijuana stocks today that we're watching in 2017.
But first, we wanted to make sure you're aware of the challenges of investing in cannabis companies.
Here's what you need to know...
Know This Before Investing in Marijuana Stocks in 2017
In the U.S., marijuana is still illegal under federal law. There are only eight states in the U.S. that have legalized recreational marijuana.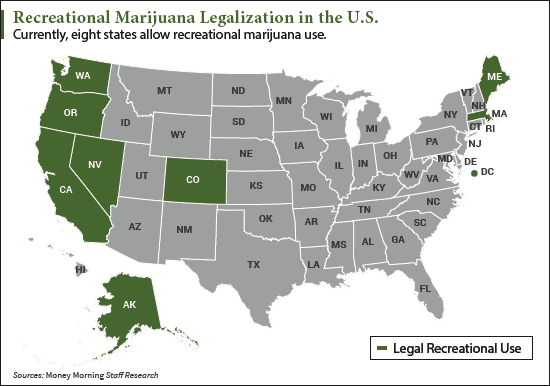 That means marijuana companies can have a hard time finding funding to grow their businesses because most banks are unwilling to loan them money.
And because cannabis is still an emerging industry, companies have a difficult time meeting requirements to be listed on major indices.
Most marijuana stocks are penny stocks that trade on over-the-counter (OTC) markets. Of course, penny stocks are notoriously volatile.
That means these marijuana stocks are not a list of recommendations. Rather, this is a list of cannabis companies within certain sectors we are watching in 2017.
And the first sector we are watching is the growing marijuana real estate market...
How to Invest in Marijuana Real Estate Stocks
Marijuana growers need facilities that are properly equipped to handle cultivation and production activities. But finding these facilities can be difficult, as landlords can be afraid to rent out their space because marijuana is illegal under federal law.
So companies specializing in marijuana real estate and rental properties are filling a growing demand in the marijuana industry.
One of the marijuana real estate stocks to watch in 2017 is Zoned Properties Inc. (OTCMKTS: ZDPY). According to its website, Zoned Properties' objective is: "To be recognized for creating the standard in property development for emerging industries, while increasing the community prosperity and shareholder returns."
Zoned Properties owns a 50-acre property in Northern Arizona that currently has 13 acres under development. The property includes more than 20,000 square feet of greenhouse cultivation facilities.
The company also owns a commercial property that is located in what will be one of Arizona's first medical marijuana business parks.
According to its website, Zoned Properties has $9.1 million in assets and a market cap of $40.76 million.
So far in 2017, the ZDPY stock price has climbed 9.39%.
How to Invest in Social Media Marijuana Stocks
Sites like Pinterest and Meetup.com have become popular because they connect people through mutual interests. It's only natural that marijuana enthusiasts would want a social network to connect with each other.
And because standard social media sites can restrict marijuana advertisements, connecting advertisers with marijuana users will become a big business for social media marijuana stocks.
Two of the social media marijuana stocks to watch are Social Life Network Inc. (OTCMKTS: WDLF) and MassRoots Inc. (OTCMKTS: MSRT).
Social Life owns a marijuana social media site called WeedLife Network. Social life has its own search engine that focuses strictly on the cannabis industry, and marijuana companies can use the site to share deals and coupons.
New marijuana companies can also use the site's free website builder and search engine optimization tools.
MassRoots also has an impressive social media enterprise, with more than 900,000 users who can share cannabis content and follow dispensaries on its mobile app or web portal.
Must See: Former Google Exec Quits Dream Job to Launch Marijuana Empire
According to PR Newswire, MassRoots sent out a letter to shareholders on Jan. 4 with the following highlights:
MassRoots generated $794,000 in revenue as of Sept. 30, 2016, which was an increase of 1,140% from the $64,000 generated in revenue during the same period in 2015.
MassRoots created a partnership with MJ Freeway, a cannabis seed-to-sale tracking platform that has generated more than $5 billion in processed sales.
MassRoots recruited Robert Pullar to become CFO, who was the former managing director of investment firm Axis Private Equity Group LLC.
So far in 2017, the WDLF stock price has climbed 28.57% and the MSRT stock price has climbed 3.8%.
How to Invest in Medical Marijuana Stocks
There are now 28 states with some form of legalized marijuana laws. Sales could reach $3.1 billion in 2017, according to Statista.
And those sales could skyrocket to $5 billion by 2020. That's a 61.21% increase in sales in just three years.
Two of the top medical marijuana stocks to watch in 2017 are GW Pharmaceuticals Plc. (Nasdaq ADR: GWPH) and Growblox Sciences Inc. (OTCMKTS: GBLX).
GW Pharmaceuticals was founded in 1998, and it was the first company to create a prescription derived from a cannabis plant.
GW is also working on Epidolex, a product that will be used to treat rare epilepsy disorders.
The second medical marijuana stock to watch, Growblox Sciences, uses "state-of-the-art technologies in plant biology" to create medical cannabis.
The company has three divisions: GB Sciences, GB Solutions, and GB Products. GB Sciences focuses on lab testing, clinical trials, and FDA compliance. GB Solutions focuses on cultivation technology, standard operating procedures, and industrial design.
GB Products focuses on branding, marketing, and distribution.
Growblox uses its research to create products for patient relief for Parkinson's disease, pancreatic cancer, Alzheimer's disease, and epilepsy.
In 2017, the GWPH stock price is up 7.97%, and the GBLX stock price is up 4.01%.
How to Invest in Marijuana Producer Stocks
According to Quartz, the marijuana industry is the second-biggest growth industry in the U.S. after peer-to-peer lending platforms.
As more states and countries legalize marijuana, companies known for growing and selling safe marijuana products now could skyrocket. The North American marijuana market could be worth $20.2 billion by 2021, according to Business Insider.
And Canopy Growth Corp. (OTCMKTS: TWMJF) is one of the most well-known producers and sellers of medical marijuana.
Canopy Growth's Tweed Farms has more than 350,000 square feet of licensed cannabis production space, and it's the largest marijuana-producing greenhouse in the world.
While based in Canada, the company is also looking to expand across the globe. According to WeedNews.co, Canopy Growth has an agreement to buy German-based pharmaceutical distributor MedCann in a potential $7.2 billion deal.
MedCann has helped Canopy placed its Tweed-branded cannabis products in German pharmacies.
So far in 2017, the TWMJF stock price has climbed 8.5%.
These are certainly sectors within the marijuana industry to watch in 2017.
But there are even more companies for investors to target a seven-figure weed windfall with the top pot stocks from every ecosystem - growers, edibles, dispensaries, and more...
As a service to Money Morning readers, we're now making available a 90-page cannabis investing guide called "The Roadmap to Marijuana Millions."
This "bible of weed investing" reveals the world's top marijuana stocks every serious investor should consider right now.
Normally valued at $499, it can be yours absolutely free. To learn how to get your free copy, click here.
This offer is only available to the first 500 people who respond today. So please go here now to reserve your copy.
Follow Money Morning on Facebook and Twitter.