The biggest silver price news story last month has been that the metal managed to end 2016 in positive territory.
That's remarkable because it's the first time the price of silver has posted a yearly gain since 2012.
In my Dec. 23 update, I told you that silver prices had potentially bottomed. Some of the reasons I pointed to were very negative sentiment and large silver ETF outflows. Not to mention positive fundamental news suggesting lower mined silver supplies in 2016 and 2017.
Since the silver price hit a recent low of $15.76 on Dec. 23, its performance has been breathtaking. It's been almost straight up, with silver trading near $16.55 as of Jan. 9.
This silver price news shows how the silver market is staging a turnaround that will continue throughout 2017…
This Is the Biggest Silver Price News of 2017 So Far
If you check out our chart here, you can see the sharp rise in silver futures from its late December lows…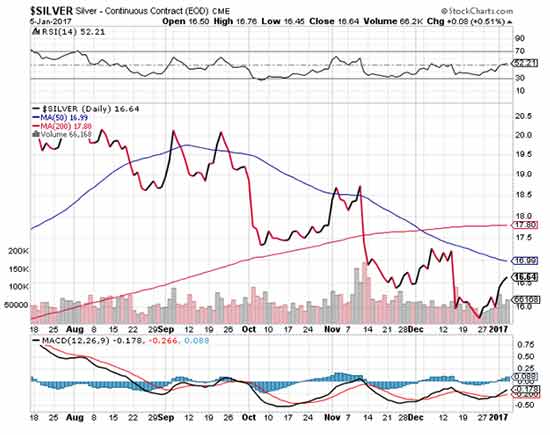 At the same time, we've seen positive momentum in the relative strength index (RSI) and moving average convergence divergence (MACD) indicators, which reflect strength in the metals market. The two have posted gains as the silver price rapidly approaches its 50-day moving average.
And if we look at the Global X Silver Miners ETF (NYSE Arca: SIL) – a proxy for silver producers – its surge over the last two weeks (circled in green, below) has been nothing short of breathtaking…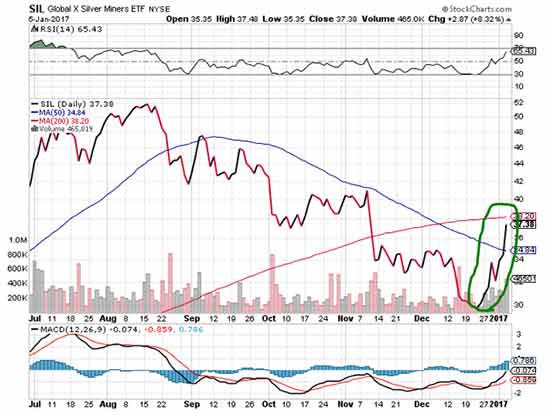 Since Dec. 22, the popular fund has surged 15.1% and had only two down days. On Jan. 5, it soared right through its 50-day moving average of $34.84 to close at $37.38 – a gain of 8.32% that day alone.
So we can see that all of this bullish silver price news is thanks to a rapid shift in sentiment. Traders and investors are starting to cover their short positions and buy an undervalued asset.
Here are two fundamental reasons why silver prices will have a profitable year…
Silver Price News: 2 Factors That Will Hand Us a 33% Gain in 2017
The first factor is the most fundamental – supply and demand.
Over the past seven years, silver demand has increased by more than 35%. During that time, supply has only grown by just over 10%.  If we look at 2015, silver demand worldwide was 11% — or some 129 million ounces – greater than supply. As we all know, tightening supply and increasing demand translate into higher silver prices.
The recent silver price performance has made silver miners particularly attractive. With silver prices resuming their bull market in late 2015 and correcting over the last five months, the mining sector is one that needs to be on investors' radars.
Don't forget that silver production costs have fallen significantly since silver was in a bear market in 2011. From 2012 to Q3 2016, the cost of producing one ounce of silver has dropped 54.6% from $22.26 to $10.10. With the current silver price of $16.55, that means producers have a gross profit margin above 60%.
In other words, if you're bullish on silver, you have to be doubly bullish on silver miners.
The second factor is the gold/silver ratio, whose recent movement has been big in the silver price news recently.
With the ratio currently near 71, silver remains relatively cheap. The ratio has stayed in a reasonably low range between its mid-December low of 67.5 and its mid-November high of 73…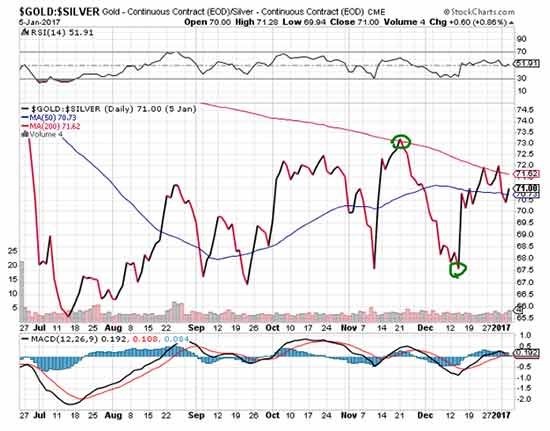 If that's the case, the price of silver should be catching up to the price of gold in pretty steady fashion.
With all of this in mind, I think silver prices could gain 20.8% to $20 in the next three months. Furthermore, I see the silver price surging 33% to $22 by the second half of 2017.
Stay tuned to Money Morning for more silver price news in 2017.
Urgent: A perfect storm is brewing… bringing with it the greatest wealth event in 20 years. Find out more.  
Follow us on Twitter and like us on Facebook.
Join the conversation. Click here to jump to comments…
About the Author
Peter Krauth is the Resource Specialist for Money Map Press and has contributed some of the most popular and highly regarded investing articles on Money Morning. Peter is headquartered in resource-rich Canada, but he travels around the world to dig up the very best profit opportunity, whether it's in gold, silver, oil, coal, or even potash.