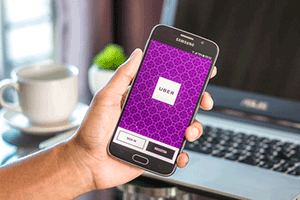 Ahead of an inevitable IPO, the ride-sharing company Uber just released "Uber Movement," a new tool designed to improve city traffic.
While we still have no clear timetable for the Uber IPO date, this week's release of Uber Movement should stir more interest in an IPO.
On Sunday, Uber shared the tool, which will allow users to peruse transportation data for several major cities. Uber Movement could be used to help reduce commute times and improve the flow of traffic. It could also be used to help governments make better decisions about traffic planning ahead of major sporting, entertainment, and political events.
The data is stored on a public site where the travel time between neighborhoods in various cities and other types of data are shown. Website users can tweak things like time of day, day of week, and zones for a read on what kind of traffic is expected.
The data is collected from Uber trips through a multitude of GPS logs. That means the more Uber trips taken each day, the more data is collected. Data provided by Uber trips will show how travel gets faster or slower over time.
Trending Now: These Are the Best Stocks to Buy for January 2017
Uber Movement was designed with city governments and urban planners in mind. The research includes things like lane pattern adjustments and highway planning. Gathering data for these studies is expensive and time-consuming, but Uber's tool reduces the difficulty.
Uber said it is launching Movement to do some good in the cities where it operates. Of course, Uber is poised to benefit from any infrastructure improvements.
In a pilot study, Uber put a metro shutdown in Washington, D.C. under analysis. It looked at how the closure's inconvenience impacted travel times in the city.
The release of Uber Movement comes as the ride-sharing app is tussling with New York City officials. Uber is trying to block Big Apple administrators' aim to gather data on drop-off times and locations from its network of drivers around the city. That means officials could determine whether Uber drivers are working too many hours. Uber says it is an invasion of privacy.
Uber Movement's functions are now only available for registered users and in a limited number cities. But the tool is expected to become available to everyone over the next several months with more city data available.
So, what does this mean for an Uber IPO?
What Uber Movement Means for the Uber IPO
In short, the release of Uber Movement this week does not have a major immediate impact on the IPO.
Still, speculation continues to swirl around an Uber IPO. The company was recently valued at $69 billion in the private market. It has more than 40 million active paying riders. Collectively, drivers make between $1.5 billion and $2 billion each month.
In an October interview with Vanity Fair, Uber CEO Travis Kalanick made it clear he is no rush to take his company public.
"I feel like we maybe just entered high school," Kalanick said. "It's the ninth grade. It's not time to go to prom yet."
Uber might want to boost earnings before it launches an IPO. Uber's earnings before interest, taxes, depreciation, and amortization (EBITDA) was negative $1.27 billion in the first two quarters of 2016, according to Bloomberg.
Whenever the Uber IPO hits the market, it will be one of the biggest financial news stories of the year. That's why we have compiled a complete report on everything investors need to know about the Uber IPO, including how to play Uber stock…
Related Articles:
Follow Money Morning on Facebook and Twitter.