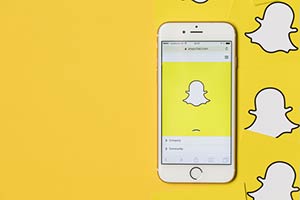 The Snapchat IPO is one of the most anticipated of 2017, but a new Snapchat lawsuit is threating the validity of Snapchat's public offering.
In a lawsuit filed on Jan. 4, former employee Anthony Pompliano accused the company of inflating key growth metrics. The ex-employee said Snapchat shared the inflated metrics with investors such as Alibaba Group Holding Ltd. (NYSE: BABA).
The lawsuit also alleges CEO Evan Spiegel didn't care about measuring user engagement metrics until the company started preparing for a public offering.
According to the lawsuit, inflating the metrics was a calculated effort to boost the appeal of Snapchat stock.
The former employee, who previously worked at Facebook Inc. (Nasdaq: FB) before joining Snap, said Snapchat also pressured him into sharing proprietary information about Facebook.
After alerting Snapchat managers about the inflated metrics and refusing to share Facebook information, Pompliano was fired after just three weeks, according to the lawsuit.
According to Fortune, Snapchat said on Jan. 5 the lawsuit is "totally made up by a disgruntled former employee."
Right now, the lawsuit seems frivolous.
If Snapchat were inflating its numbers, it's unlikely company officials would share that information with an employee who had worked for the company less than a month.
But even the idea of Snapchat inflating numbers could scare away advertisers, which could make the Snapchat IPO a flop...
Could the Snapchat Lawsuit Stop a Successful Snapchat IPO?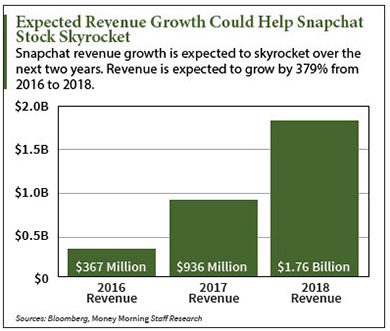 Snapchat's lofty $25 billion valuation is based on its ability to grow ad revenue.
For example, Snapchat reportedly generated just $3.1 million in revenue in 2014. But according to Bloomberg projections, Snapchat could generate $1.76 billion in 2018.
That's a 56,674% increase in just four years.
Must Read: Former Google Exec Quits Dream Job to Launch Marijuana Empire
That growth will continue to be the biggest story heading into the Snapchat IPO, but this recent lawsuit news can't be ignored, either.
Of course, Money Morning has been warning our readers about the Snapchat IPO since November 2016.
On Nov. 21, 2016, Chief Investment Strategist Keith Fitz-Gerald said, "Snapchat may be the single most dangerous IPO in history."
Here's why...
The Snapchat IPO Could Disappoint Most Investors
According to Fitz-Gerald, Snapchat is way overvalued at $25 billion.
"The goal is to make any valuation they come up with seem as high as possible no matter how cooked up or absurd it is. The reason they do that is because that's how you create the illusion that a company is mature and credible when it comes to attracting desperately needed talent, business partners and - ta da - more funding," Fitz-Gerald said.
And with projected revenue of close to $1 billion for 2017, Snapchat stock could trade at 25 times its projected revenue.
That's too pricey for value investors.
However, that still won't deter some retail investors from investing in Snapchat stock. Some investors will have FOMO (fear of missing out) on the Snapchat IPO date, and they will invest in Snapchat just based on the hype.
But it's never retail investors who make the most money from an IPO...
Wealthy insiders and large institutions always make the most money. Take the IPO of Twilio Inc. (NYSE: TWLO), for example. Shares of the tech company were offered to wealthy investors for $15 per share before the public could invest.
On June 23, 2016, the IPO date, shares of TWLO opened at $23.99 per share. That means wealthy investors made a profit of more than 59% in the first minutes of trading.
TWLO opened at $29.25 per share today (Jan. 10, 2016), which means those wealthy investors have netted staggering profits of 95%.
But some retail investors aren't so lucky...
Retail investors who bought TWLO stock when it traded at an all-time high of $70.96 on Sept. 28, 2016, have watched their TWLO shares drop over 66%.
"When you buy shares of a publicly traded company, you are paying what the market will bear and you risk everything. There isn't an investment banker on the planet who gives a damn about whether or not the investing public makes a dime on the IPO," Fitz-Gerald said.
That's why any investor still interested in the Snapchat IPO needs to think through their goals and their individual risk tolerance.
To help answer all of your Snapchat questions, we put together a guide that covers everything you need to know as the Snapchat IPO date approaches.
Bonus Opportunity
As a service to Money Morning readers, we're now making available a 90-page cannabis investing guide called "The Roadmap to Marijuana Millions."
This "bible of weed investing" reveals the world's top marijuana stocks every serious investor should consider right now.
Normally valued at $499, it can be yours absolutely free. To learn how to get your free copy, click here.
This offer is only available to the first 500 people who respond today. So please go here now to reserve your copy.
Follow Money Morning on Facebook and Twitter.