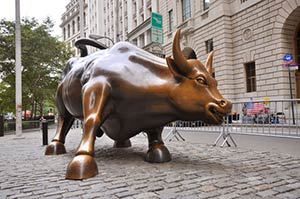 Stock Market Forecast 2017: We're just 10 days into 2017, and the broad-based S&P 500 Index is already up 1.49% after posting a 9.5% gain in 2016. The index enters 2017 boasting four positive years out of the last five.
Can the market continue higher from here? According to Money Morning Global Credit Strategist Michael Lewitt, there is a scenario where the market goes even higher.
Lewitt's stock market forecast for 2017 has a range for the S&P 500 between 1,800 and 2,400. In that scenario, the market has an upside of about 7%. But it also has a downside of roughly 20%.
Here's the basis for Lewitt's 2017 stock market forecast…
Stock Market Forecast 2017: Some Upside but More Downside
President-elect Donald Trump has been good for stocks so far, and he hasn't even taken office yet. The feeling is that Trump and a Republican-led Congress will succeed in cutting taxes, rolling back regulations, repealing Obamacare, and boosting infrastructure spending. And energy is no longer expected to be the drag it has been over the last couple of years.
The consensus view on Wall Street is that the robust rally that started after Election Day with a Trump victory will continue in 2017.
Urgent: These Are the Best Stocks to Buy for January 2017
However, Lewitt has never been one to follow the consensus view. He is known for calling out those who make off-the-mark calls. He is also known for making bold calls himself.
Lewitt sees more volatility this year and warns investors about being complacent and passive. But he also says that providing an exact target for stocks in 2017 is akin to "shooting darts at a sparrow." That's why Lewitt is forecasting an S&P 500 range between 1,800 and 2,400.
That equates to an approximate 20% downside and approximate 7% upside from the benchmark's 2016 close of 2,238.
"This range is somewhat wider than last year's 52-week trading range of 1,810 and 2,277 on the upside because we are starting about 200 points higher than we did a year ago," Lewitt explains.
Lewitt's S&P 500 range is slanted to the downside because stocks are overvalued based on GAAP earnings. And that's a major warning sign…