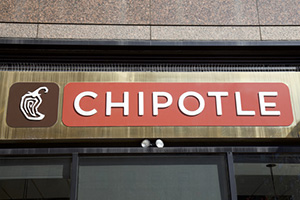 Landing on today's (Tuesday) stocks to watch list are Chipotle Mexican Grill Inc. (NYSE: CMG), Barracuda Networks Inc. (Nasdaq: CUDA), and Valeant Pharmaceuticals International Inc. (NYSE: VRX).
With little on the economic calendar, earnings and guidance are the main driver of stocks today.
Here's a closer look at each of today's top stocks to watch...
Stocks to Watch No. 3: Chipotle Mexican Grill Inc. (NYSE: CMG)
Chipotle Mexican Grill stock jumped 4.52% to $412.90 today despite projecting Q4 earnings per share (EPS) well below consensus estimates.
The sputtering burrito chain sees Q4 EPS of $0.50 to $0.58. That compares to previous Wall Street estimates of $0.98. Revenue is seen coming in at $1.035 billion versus analysts' expectations of $1.05 billion.
Urgent: These Are the Best Stocks to Buy for January 2017
Chipotle's comparable restaurant sales continue to fall. In the latest quarter, Chipotle said comparable sales decreased 4.8%. Comparable restaurant sales decreased 20.2% in October and 1.4% in November.
The company also said it incurred higher expenses in Q4 compared to its originally forecast amounts driven by increased promotional spending and costs related to testing television ads. Marketing and promotional expenses during the quarter totaled approximately 4.7% of sales. Chipotle also saw food prices climb compared to its originally forecast amounts because of increased market costs for avocados.
The company's board also increased its $2.1 billion stock buyback program by another $100 million.
CMG shares are up 9.55% since the start of 2017.
Stocks to Watch No. 2: Valeant Pharmaceuticals International Inc. (NYSE: VRX)
Valeant Pharmaceuticals stock jumped more than 10% to $17.53 after the embattled drug company announced the sale of several product lines to shore up its debt-laden balance sheet.
Valeant is selling is CeraVe, AcneFree, and AMBI skincare to L'Oreal SA (OTCMKTS ADR: LRLCY) for $1.3 billion.
The CeraVe brand portfolio offers a range of advanced skincare products, including cleansers, moisturizers, sunscreens, healing ointments, and a dedicated baby line. The AcneFree brand portfolio offers a full range of over-the-counter cleansers and acne treatments in the United States. The line was introduced in 1966.
Valeant is also selling Dendreon Pharmaceuticals to Sanpower Group Co. for $819.9 million. Sanpower is one of the largest privately owned conglomerates in China. Dendreon's first and only commercialized product is Provenge, a prostate cancer treatment approved by the FDA in April 2010.
Valeant shares are up 15.70% year to date.
Stocks to Watch No. 1: Barracuda Networks Inc. (Nasdaq: CUDA)
The Barracuda Networks stock price soared 5% to $25.63 today on much better than expected fiscal Q3 results. Barracuda is a provider of storage and security solutions that allow companies to lease network infrastructure instead of purchasing and maintaining dedicated systems.
The company posted EPS $0.22 on revenue of $44.80 million. That was a healthy 10.9% year-over-year (YOY) increase.
In addition to reporting upbeat earnings and revenue, the company's subscription revenue grew 17% YOY to $68.30 million. Subscription revenue accounted for 77.0% of total revenue for the quarter. Appliance revenue, however, slipped 5.5% YOY to $20.50 million.
Billings were a major positive in the quarter, with core billings climbing 30% YOY to $61.60 million. Active subscribers grew by 15.0% to 309,000, and the dollar-based renewal rate clocked in at 90.0% for the quarter.
Barracuda also provided upbeat guidance for Q4. The company expects Q4 billings between $100 million and $103 million. Revenue is expected between $87 million and $89 million, and EPS earnings are expected to be between $0.13 and $0.15 per share.
At $24.33, CUDA shares are up 13.53% year to date.
Get on the Path to Greater Wealth: Timing is everything when it comes to making money in markets - and this new, free service we created puts timing on your side...
Follow us on Twitter @moneymorning and like us on Facebook.
Related Articles: