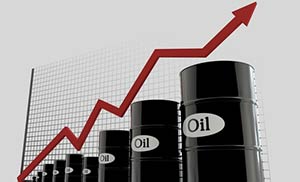 In oil price news today, WTI crude oil prices rose more than 2.7% after a new EIA report on inventory was released.
WTI crude oil prices are up 2.7% as of 4:00 p.m., trading at $52.18 a barrel. Brent crude oil prices are also up today, trading at $55.11 a barrel, up 2.74%.
That's the first increase in oil prices in three days.
Here's a closer look at the oil price news today and what to expect for oil prices this week...
The Top Oil Price News Today
Oil prices are up today after the EIA reported the United States added 4.1 million barrels of crude oil to its inventories since last week.
The EIA says this puts U.S. crude inventories at the upper limit of their range for this time of year. Usually, higher crude oil inventories lead to lower oil prices. But prices are rising today.
Trending Now: My (Bold) 2017 Oil Price Forecast - and Today's Most Profitable Energy Play
That's because the EIA report also said the U.S. imported about 1.9 million more barrels of oil per day than last week.
More crude oil imports is a sign of increased demand in the United States.
But there are other major reasons oil prices are up today...
The biggest oil news today continues to be the OPEC production cut agreement.
Saudi Arabia announced today it would be reducing crude oil exports to its Asian customers next month. Not only is Saudi Arabia the world's biggest oil exporter, but the Saudi announcement is a signal the OPEC agreement is still on track.
And as long as the OPEC deal stays in place, oil prices will push higher. Saudi Arabia is OPEC's largest oil producer and its participation is essential to the production cut working.
Despite the progress, another OPEC member has announced plans to increase crude oil exports.
Iraq announced yesterday (Jan. 10) it is increasing oil exports from its Basra port to a record high of 3.6 million barrels per day.
Iraq was one of the countries that sought an exemption from the production cut during OPEC's negotiations last year. Oil investors should keep a close watch on Iraq's participation in the oil production cut going forward.
OPEC has its first compliance meeting on Jan. 22, and that should give us insight into how well the deal is going. Signs of dissent within the cartel during the meeting could lead to a fall in oil prices.
But the rest of the oil news was good for crude oil prices.
The dollar fell today as President-elect Donald Trump gave his first press conference since the election.
The U.S. Dollar Index (DXY) fell by around 0.25% today. Since oil is priced in U.S. dollars, the value of the dollar affects the price of oil. A weakening dollar usually leads to a higher price for oil.
The Bottom Line: The news that Saudi Arabia is scaling down its oil production is driving oil prices up today. But oil investors should pay close attention to the state of the OPEC deal, as Iraq also announced it is increasing exports.
Up Next: Get the Best Investing Research Today to Grow Your Money
Follow Money Morning on Facebook and Twitter.