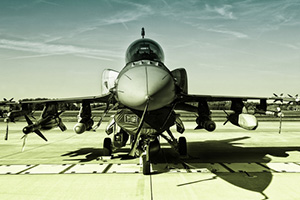 If you're looking for strong growth stocks in 2017, these three top military defense stocks are your best options.
Each of these stocks produced double-digit gains in 2016, and all have more room for growth in the coming year.
Money Morning Chief Investment Strategist Keith Fitz-Gerald often speaks about "Unstoppable Trends," which will persist under any economic and political conditions. One such trend that military defense stocks will capitalize on is War, Terrorism, and Ugliness.
Fitz-Gerald notes that the defense industry is seeing growth on a global scale, whether we like it or not. The world is infinitely more crowded, and we've declared a "war on terror" since 9/11 that doesn't seem to have an end in sight.
The good news for the conscientious investor is that several of these defense companies make products and technology that aim to prevent war, injury, and suffering. This is just one perk of investing in defense stocks.
Another upside to these stocks is that defense and military spending is a massive growth industry....
Defense Is a $2 Trillion Global Growth Industry
Military spending worldwide is a roughly $2 trillion annual industry. So who do you think the biggest defense spender in the world is? You guessed it, the United States.
Right now, the United States is spending close to $600 billion each year on defense, which is more than the next seven countries combined. This $600 billion annual figure is already greater than what the Pentagon was spending at the peak of President Ronald Reagan's massive military buildup in the 1980s.
The International Institute for Strategic Studies in London reports that the United States currently spends four times as much as China and outspends Russia tenfold on military matters. What's encouraging many investors to buy defense stocks are the promises for even greater U.S. military spending in the future...
Don't Miss: How Small Investors Can Take on Wall Street... and Win
President-elect Donald Trump has made some vows to beef up defense spending. His proposal to "rebuild the U.S. military" includes adding 90,000 more active Army soldiers, a 350-ship Navy, and approximately 100 more fighter aircraft in addition to stronger nuclear and defense missiles.
If this sounds expensive, hold onto your hat. The Center for Strategic and International Studies in Washington, D.C., has estimated that this military buildup under Trump could add as much as $900 billion to the Pentagon's budget over the next decade.
Altogether, the United States could be looking at a $1 trillion defense budget. If you'd like a piece of this impending growth, here are our three top picks for military defense stocks to buy in the coming year.
Top Military Defense Stocks to Buy in 2017 No. 3: Northrop Grumman Corp.
Northrop Grumman Corp. (NYSE: NOC) is a U.S.-based defense and aerospace technology company that was formed in 1994 when Northrop purchased Grumman. The company employs 68,000 people and is the world's fifth-largest defense contractor.
Northrop leads the defense industry in cybersecurity and net-centric warfare, which is one of the fastest-growing areas of military spending. The 2017 Department of Defense budget calls for a 15% increase in military spending for cybersecurity and cyberwarfare.
Northrop has a $6 billion cyber business, which is one of its largest segments.
The company is heavily involved in drone technology and is developing a new TERN drone that will be able to transport up to 600 pounds of ordnance. It is also partnered with Lockheed Martin to work on the F-35 program, which brought in 16.7% of its Q3 revenue.
Northrop's latest coup is its $50 billion to $80 billion contract with the U.S. Air Force for a next-generation long-range bomber. Called the B-21 Raider, the contract calls for 100 aircraft to be delivered by 2025.
Northrop stock is trading at $236.73. NOC shares gained 24% in 2016, and the company has a 1.52% dividend yield. The average target price for this stock sits at $248, and this one still has plenty of room to grow in the coming year.
Top Military Defense Stocks to Buy in 2017 No. 2: Raytheon Co.
Raytheon Co. (NYSE: RTN) is the world's top producer of guided missiles and a solid choice among defense stocks to buy this year. This Massachusetts-based defense contractor includes several business segments, but its most profitable ones are Missile Systems (MS) and Integrated Defense Systems (IDS).
Two-thirds of Raytheon's 2015 sales came from the U.S. government, and the company also has many contracts with foreign governments. Currently, Raytheon has 15,000 contracts with the Department of Defense and has picked up additional lucrative deals in just the past 30 days.
At the end of December, Raytheon announced a $600 million contract with an undisclosed U.S. ally nation to upgrade a Patriot missile defense system. At the same time, the Pentagon announced additional missile and missile defense contracts going to Raytheon totaling another $534.1 million.
Raytheon has also been in negotiations with Poland to develop a $5 billion missile defense system.
Third-quarter results for the company produced $1.79 earnings per share (EPS), topping consensus estimates by $0.15. RTN is trading at $148.22, with gains of 19.02% year over year (YOY). The company also has a nearly 2% dividend yield.
Continue reading to find out the No. 1 defense stock to buy in 2017...
Top Military Defense Stocks to Buy in 2017 No. 1: Lockheed Martin Corp.
Lockheed Martin Corp. (NYSE: LMT) is one of the best defense stocks that you can own in 2017 and as a long-term play. Lockheed Martin is the world's largest defense contractor based on market cap.
One of the company's largest and most lucrative projects is the F-35, which has received some recent press thanks to the president-elect. This fighter jet contract has been in effect since 2001 and hasn't been without its issues.
The company is contracted to deliver 2,400 aircraft, only a small portion of which have been delivered. What's encouraging is that cost issues are now largely controlled, and Bloomberg  reported that this program is simply too entrenched to cancel at this point.
In addition to the F-35 program, Lockheed is now in the helicopter business. Just over a year ago, the company purchased Sikorsky Aircraft, giving it ownership of 22 of 37 of the world's major production helicopters. In Q3 alone, Sikorsky contributed $1.2 billion to LMT's bottom line.
Lockheed's total revenue in Q3 was $11.6 billion, and earnings beat analyst expectations by 14%. The company has also delivered a dividend to investors for 13 straight years. LMT is trading at $257.85, with gains of 18.74% YOY.
Up Next
When it comes to making money in the market, "getting in" early - before a stock begins to make its decisive move - is the single biggest factor to your success as an investor.
Quickly buying Apple after the June 2013 sell-off, for instance, could have doubled your money. Moving on Valeant the same day we recommended our big "negative bet" against it would've booked you a remarkably fast 700% return.
That's why we've introduced Money Morning Profit Alerts. This new, free service lets you choose what investing areas you want to follow - and makes sure you get alerted to news from that sector as soon as we publish it. It means no more waiting. No more searching. No more missing out. It's easy to get started - just go here.
Follow Money Morning on Facebook and Twitter.