(Kitco News) – Asian stock markets were mostly higher overnight, supported in part by some recent positive economic data coming out of China, the world's second-largest economy. European stock markets were mostly lower Wednesday. U.S. stock indexes are pointed toward slightly higher openings when the New York day session begins.
Gold prices are firmer in early morning trading Wednesday, and are at a six-week high.
The world marketplace is anxiously awaiting President-Elect Donald Trump's first press conference since his election. The press conference is scheduled to begin Wednesday morning. Already, Trump's Twitter tweets have unsettled stocks and stock sectors. The marketplace perceives that Trump wants better relations with Russia, but may take a hard line on relations with China.
In overnight news, the Paris-based OECD think tank said the world economy will grow in 2017 by 2.7%, versus 2.3% in 2016.
The German government on Wednesday auctioned a 10-year bond (bund) that fetched the highest yield in over a year, at 0.36%.
The key "outside markets" on Wednesday morning see the U.S. dollar index trading higher. The greenback bulls have the firm overall technical advantage despite some choppy trading action the past week. The other outside market finds Nymex crude oil prices trading modestly higher after suffering sharp losses on Monday and Tuesday. Growing U.S. oil rig counts and news that Libya is ramping up its oil production are weighing on crude oil prices this week.
U.S. economic data due for release Wednesday includes the weekly MBA mortgage applications survey, the IDB/TIPP economic optimism index, and the weekly DOE liquid energy stocks report.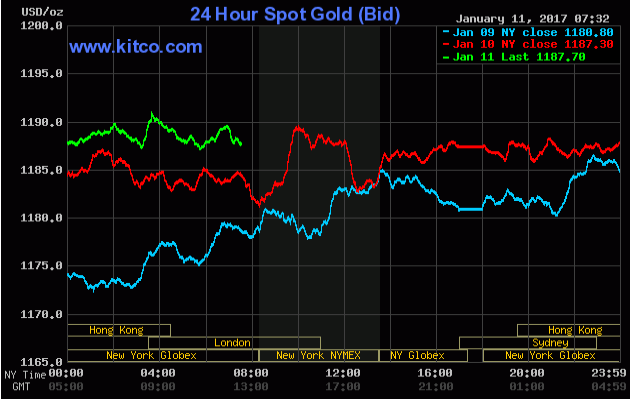 By Jim Wyckoff, contributing to Kitco News; jwyckoff@kitco.com
Follow Jim Wyckoff @jimwyckoff for breaking market news.