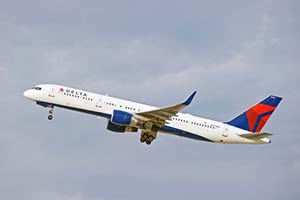 Delta earnings were released this morning (Thursday) and shares of Delta Air Lines Inc. (NYSE: DAL) are down 3% in early trading today after the company posted a 36.5% drop in Q4 profit.
Here are the other key details of the Delta earnings report…
Delta posted earnings per share (EPS) of $0.82, matching consensus estimates. However, net income fell to $622 million from $980 million in the same quarter a year ago. Delta blamed the profit slump on a recent agreement inked with its 13,000 pilots, giving them a 30% raise by 2019. The four-year deal was ratified on Dec. 1 and is retroactive to Jan. 1, 2016.
Meanwhile, operating revenue fell to $9.46 billion from $9.50 billion. That was slightly above the analysts' average estimate of $9.40 billion.
On a bright note, Delta said it should see profit margins begin to expand in the second half of this year. The airline carrier expects passenger revenue will either be flat or climb as much as 2% in Q1 2017. That would mark the end of a two-year decline in that key metric.
Urgent: These Are the Best Stocks to Buy for January 2017
Delta stock traded as high as $52 in today's morning session – just shy of its 52-week high of $52.76 – before getting dragged down with the overall market.
While Delta stock is dropping today, airline stocks have soared since the election. Here's why…
Delta Earnings Send DAL Lower, but Airline Stocks Still Strong
Airline stocks are up 25% since Election Day on hopes of improved economic growth, job creation, and tax cuts that will put more money in consumers' pockets.
Delta CEO Ed Bastian told CNBC today that increased consumer confidence since Donald Trump's win can be counted in the carrier's bottom line. Bastian said there are actually pennies in the airline's earnings that can be credited to the buoyant mood among Americans and their feelings about the economy since Trump's victory.
"Our new president-elect ran on a campaign of protecting U.S. jobs and enforcing U.S. trade treaties," Bastain said. "We don't think there's a more important industry that has been violated with respect to trade treaties, and the potential loss of jobs."
Since 2004, the governments of Qatar and the UAE have provided $42 billion in subsidies and other unfair benefits to Qatar Airways, Etihad Airways, and Emirates, trade group Partnership for Open & Fair Skies reports.
Trump gets some credit for the sector's rise since November – but he does not get all of it…
The sector took off in November when 13F filings revealed Warren Buffett's Berkshire Hathaway Inc. (NYSE: BRK.A) bought shares in American Airlines Group Inc. (Nasdaq: AAL), United Continental Holdings Inc. (NYSE: UAL), Southwest Airlines Co. (NYSE: LUV), and Delta.
Buffett's move into airlines was a big surprise. Buffett has avoided the industry for decades. His $358 million investment in preferred shares of U.S. Airways in 1989 quickly fell in value. By 1995, Berkshire had written down the investment to $89.5 million, just $0.25 on the dollar from the original amount.
That soured Buffett on airline stocks for decades.
Buffett refuses to explain his recent about-face on the industry, citing a self-imposed rule to not discuss Berkshire investments. Still, his investment in the space has sparked interest and follow-on trades.
At $50.19, Delta shares are up 1.93% year to date. Three- and five-year gains are 61.47% and 465.61%, respectively.
Editor's Note: Timing is everything when it comes to making money in markets – and this new, free service we created puts timing on your side…
Follow Money Morning on Facebook and Twitter.
Related Articles: