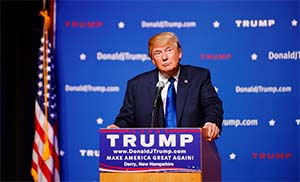 This week President-elect Donald Trump's cabinet picks are being officially confirmed by Congress.
Everyone knows these cabinet picks contributed to Trump's presidential campaign in myriad ways – through donations, counsel, and surrogate support.
However, some of the biggest contributors to Trump's campaign are ones that most of the public doesn't even know about.
Two such members are hedge fund manager Robert Mercer and his daughter, Rebekah.
The father-daughter duo bought their way into Trump's circle last July with an initial $2 million donation to the then-GOP nominee. That base sum was just the start of a steady stream of contributions that would eventually see them become Washington-based power players.
Here's a look at how the little-known Mercers went from conservative political donors to major decision-makers in the U.S. presidential election…
Meet the Mercers
Robert Mercer is the CEO of Renaissance Technologies LLC, a prosperous hedge fund located in New York. Mercer is a self-ascribed "data guy" who prefers numbers over human instincts. He has always been right-leaning and absolutely loathes the Clinton family, the The Wall Street Journal wrote on Jan. 8.
"He thought Bill Clinton was a crook," Mercer's former employee Nick Patterson told the site.
So when the hedge fund manager crunched numbers and came to the conclusion that a Republican would most likely win the White House early in the election season, he was thrilled.
However, there was a catch…
Data Mercer had collected himself and studied for months indicated that mainstream Republicans such as Jeb Bush and Marco Rubio would have serious difficulty winning.
According to Mercer, only a true outsider with a sense of voters' frustrations would see victory.
So Mercer, along with his family, homed in on then-GOP nominee Donald Trump.
First, the Mercers knew that the Trump campaign needed money after Sen. Ted Cruz (R-TX) dropped out of the race. So they donated $2 million.
Then, the family wanted to beef up Trump's team with anti-establishment-minded individuals that aligned with the Mercer family values.
Being 50% owners of conservative media site Breitbart News Network, the family "suggested" that Breitbart founder and close friend, Steve Bannon, be considered as a strategist for Trump's campaign.
Trending Now: If I Were Trump's Advisor, Here's What I'd Tell Him
At the same time, the family also suggested Kellyanne Conway lead the campaign because she had helped Rebekah run Keep the Promise, a super PAC funded by the Mercers that had helped support Ted Cruz, WSJ reported on Jan. 8.
By convincing Trump to let two Mercer family confidants take control, Robert and Rebekah effectively accomplished their goal of shaking up the campaign. "The Mercers were focused on causing political upheaval," a close family friend told WSJ.
Four months later, their efforts paid off…
Trump won the election and immediately appointed Bannon as chief White House strategist, otherwise known as the "whisper in the ear" to the president.
Then, he named Kellyanne Conway as his White House counselor on Dec. 22.
Not only did the Mercer family see their preferences installed into Trump's campaign, they also saw them promoted into Trump's White House administration.
As for Robert and Rebekah, they are headed to Washington, too…
What's Next for the Mercers
On Nov. 11, 2016, Rebekah Mercer was named to the executive committee of Trump's transition team, which is the 16-member group of individuals responsible for recommending administration officials.
According to WSJ, Rebekah has weighed in on personnel decisions including successfully lobbying against former Massachusetts Gov. Mitt Romney as secretary of state and lobbying for Sen. Jeff Sessions (R-AL) as attorney general.
Once Trump becomes president, Rebekah is likely to lead an unnamed outside group, according to WSJ. The group will strive to bolster Trump's anti-immigration and trade agenda, according to a statement made by Conway.
As for Robert Mercer, the GOP is counting on him to use his influence to help the party gain as many seats in the House and Senate as possible in 2018, according to WSJ. If he succeeds and captures more than 60 Senate seats, "Bob Mercer will be one of the people to thank," Conway told the site.
For more Washington news, follow Money Morning on Twitter @moneymorning or Facebook.
Up Next for You…
Trump's Debt Reveals New Billion-Dollar Conflicts of Interest