By now, most defense investors know about President-elect Donald Trump's ongoing criticisms about Lockheed Martin Corp.'s (NYSE: LMT) "expensive" F-35 program.
Because it's one of the top defense stocks on the market, many are concerned about Lockheed's continued ability to generate billions in yearly sales.
But Lockheed investors shouldn't be alarmed. The company will maintain its current profitability in the years ahead. And Trump won't be able to deter this fact...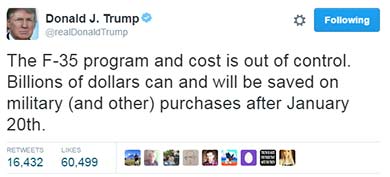 For one, the president of the United States doesn't have the authority to "cancel" the F-35 program.
The Pentagon has already allocated funds, which means the $400 billion price tag is mostly final. And besides, thousands of manufacturing jobs depend on the program, according to Forbes. If Trump truly wants to be "one of the greatest jobs presidents God ever created," this should give him pause.
What Trump could do is lower the cost of future F-35 purchases, according to John McCain, the chairman of the U.S. Senate Armed Services Committee. McCain said in an interview with Reuters on Dec. 12 that most current F-35 contracts were struck at fixed prices, but that additional F-35 purchases are fair game for price reductions.
We'll look at how this could impact LMT's standing as a top defense stock to buy in just a moment. But before we do, let's take a closer look at the F-35 program and why Lockheed is actually pricing the program fairly...
Why Lockheed Martin's F-35 Program Isn't Too Expensive
Lockheed will produce a total of 3,100 F-35s for the United States and its allies for $400 billion, according to a report from the F-35 Joint Strike Fighter Program Office. At first look, this price tag does seem exorbitant...
But consider Lockheed's profit margin from the deal. It's only between 7% and 8%, according to Forbes. That's tiny compared to the profit margins from most startup companies in Silicon Valley, which can reach upwards of 40%, Forbes reports.
It turns out, the high price tag on the program is because of government regulations. These same kinds of regulations contribute to the "waste, fraud, and abuse" Trump wants to eliminate.
Don't Miss: How to Grab Explosive Emerging-Market Profits and Keep Your Money Here at Home
For example, nearly 20% to 30% of the price for each F-35 is from having to comply with unnecessary government regulations, according to Forbes. These same regulations don't exist for commercial producers. Consider that pilots had to test the F-35 8,000 times before it was approved for military use, according to Loren Thompson, a consultant for Lockheed. This is not only excessive, it's a wasteful use of the government's and Lockheed's resources.
The original plan for the F-35 involved an increased rate of production to more than 100 F-35s per year, according to Forbes. But the Pentagon under the Obama administration slowed the program down. Policymakers said the program needed more work, but many suspected the program was being used as a "bill-payer" for other things, according to Thompson.
The F-35's slow rate of production raised the cost for each fighter millions of more dollars than necessary, according to Forbes. The F-35 is being made more like a Cadillac than a Toyota Corolla. And it can and should be made like a Corolla if Trump wants to see any meaningful reduction in the fighter's cost.
But if Trump is able to reduce the future cost of F-35s, how will this affect Lockheed's reputation as a top defense stock? Will Lockheed still be able to make billions from the program? Yes and yes.
Here's why...
Why Lockheed Will Remain a Top Defense Stock
[mmpazkzone name="in-story" network="9794" site="307044" id="137008" type="4"]
Trump will have to work directly with Lockheed officials to reduce the F-35's cost. No doubt Lockheed's No. 1 (actual) concern won't be reducing taxpayers' cost, but making sure its profit margins stay intact.
It will explain to Trump the majority of the cost burden from the program comes not from Lockheed, but the Pentagon's overbearing regulations. As a businessman, Trump understands this language. He's no stranger to dealing with regulations. Trump has had to negotiate with the federal government to approve many of his properties, including his newest hotel made out of the Old Post Office in Washington, D.C.
Lockheed officials need to spell out their problems. Production is too slow. There's too much flight testing. Bureaucrats.
If Trump could fix these issues while moving the program to multiyear contracts, he could save the government and taxpayers billions each year, according to Forbes.
And just as important for us: Lockheed can remain one of the top defense stocks to buy. In fact, now is the perfect time to buy more Lockheed shares....
Lockheed is trading at a nearly 7% discount - at $251 per share - compared to its 52-week high of $269. Scared investors are panic-selling. But their folly is your gain.
In the next year, watch closely how Trump interacts with Lockheed officials. But don't think for a second that lower-priced F-35s will impact Lockheed's profit margins. Expect those cost cuts to mostly affect the Pentagon and the Department of Defense.
Up Next: Five Outrageous Profit Plays We'll Make in 2017
Follow us on Twitter @moneymorning and like us on Facebook.