(Kitco News) – European and Asian stock markets were weaker overnight, on some lingering uncertainty regarding the new U.S. president. U.S. stock indexes are pointed toward weaker openings when the New York day session begins.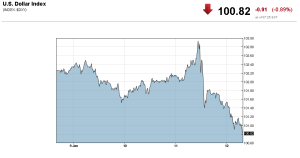 The marketplace is still buzzing about U.S. President-elect Donald Trump's press conference Wednesday. Trump rattled the U.S. stock market with comments about the drug industry. The U.S. dollar index also sunk during and after Trump's presser as some worried about his lack of specifics on economic growth plans. Trump also made disparaging comments about China at his press conference.
Gold prices are moderately higher and hit a six-week high overnight as the bulls continue to gain momentum and the technical posture continues to improve with the new year just under way. The Trump uncertainty is also helping out safe-haven gold.
In other overnight news, Euro zone industrial output was reported up 1.5% in November from October, and up 3.2%, year-on-year. Those numbers were much better than expected. Germany's gross domestic product was reported up 1.9% in 2016. That's the highest rate since 2011.
The key "outside markets" on Thursday morning see the U.S. dollar index sharply lower and hit a four-week low overnight. The greenback bulls are fading to now begin to suggest a market top is in place for the dollar index. The other outside market finds Nymex crude oil prices trading higher on follow-through strength from Wednesday's good gains. There are still stiff technical resistance layers that lie just above the market.
U.S. economic data due for release Thursday includes the weekly jobless claims report, and import and export prices. Several Federal Reserve Board members are slated to speak today.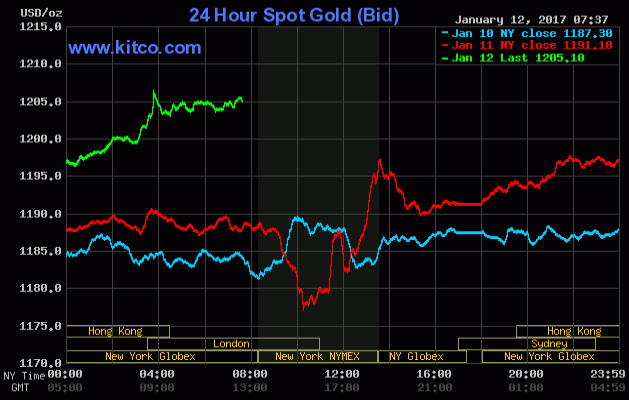 By Jim Wyckoff, contributing to Kitco News; jwyckoff@kitco.com
Follow Jim Wyckoff @jimwyckoff for breaking market news.