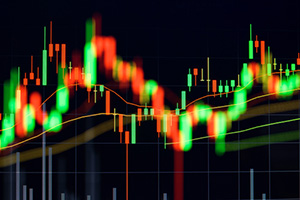 The Dow Jones Industrial Average today dipped, while the S&P 500 secured small gains on Friday.
Oil prices also had their first weekly loss in five weeks as concerns about OPEC's production deal weigh on trader sentiment.
Let's look at the numbers from Friday for the Dow, S&P 500, and Nasdaq:
Dow Jones: 19,885.73; -5.27; -0.03%
S&P 500: 2,274.64; +4.20; +0.18%
Nasdaq: 5,574.12; +26.63; +0.48%
Now, here's a look at today's most important market events and stocks, plus a preview of Tuesday's economic calendar (reminder: markets are closed Monday).
DJIA Today: Dow Slides Despite Big Day for Financial Stocks; Oil Prices Fall
The Dow Jones slipped five points Friday despite a strong performance from banking stocks as the markets officially kicked off earnings season.
The stocks to watch today were in the financial sector after several banks reported earnings that topped Wall Street expectations. JPMorgan Chase & Co. (NYSE: JPM), Bank of America Corp. (NYSE: BAC), and PNC Financial Services Inc. (NYSE: PNC) all beat earnings-per-share (EPS) estimates. However, only JPMorgan beat revenue expectations. The SPDR S&P Bank ETF (NYSE: KBE) added 1.1% on the day. The S&P financial sector has gained roughly 17% since the election of Donald Trump.
Shares of Goldman Sachs Group Inc. (NYSE: GS) touched a nine-year intraday high. Meanwhile, shares of Morgan Stanley (NYSE: MS) hit an eight-year high and added 0.4%.
Trending Now: The Best Stocks to Buy for January 2017
In addition to a big round of earnings numbers, it was a busy day of economic data. Wholesale prices increased by 0.3% in December, while the Producer Price Index rose 1.6 % in 2016. Finally, the economy saw a 0.6% bump in retail prices in December. That uptick reflects a strengthening economy and increasing consumer confidence in the wake of the Nov. 8 election.
Crude oil prices were falling due to uncertainty about whether OPEC countries will honor their commitment to cap excessive production. Despite expectations that OPEC and 11 non-OPEC nations will continue their cuts ahead of a meeting in Vienna, Austria, later this month, traders were also reacting to weak economic data in China.
This afternoon, Baker Hughes Inc. (NYSE: BHI) announced that the number of production rigs in operation fell for the first time over in 11 weeks. The domestic rig count decreased by seven last week to a total of 522. By comparison, there were 515 operating rigs at the same time last year.
The WTI crude oil price today fell 1.2%. Meanwhile, Brent crude was off 1.0%.
But the big story is still the Affordable Care Act.
On Thursday, Rep. Paul Ryan (R-WI) said that the GOP would repeal and replace Obamacare. The statement comes after the U.S. Senate took its first steps toward repealing the law after it passed a new budget by 51 votes to 48 votes. But the deal is far from done.
Don't Miss: The Three Most Controversial (and Expensive) Obamacare Penalties
As Money Morning explains, there are several Republicans who could kill the Obamacare repeal process. That's because ACA repeal could add $9.7 trillion to the national debt over the next decade. Here's how...
Stock Market News and Top Stocks to Watch Today, Jan. 13, 2016
Shares of Lockheed Martin Corp. (NYSE: LMT) gained 0.8% on news that the company has met with President-elect Donald Trump. During a meeting, Lockheed CEO Marillyn Hewson agreed to lower the cost of its F-35 Fighter Jet program. The announcement comes several weeks after the president-elect called the company out on Twitter and implied that its military contract for the program was too expensive for the U.S. taxpayer. The company also announced plans to add at least 1,800 jobs at its manufacturing center in Fort Worth, Texas.
Shares of Facebook Inc. (Nasdaq: FB) added another 1.3% after the company received a stock upgrade from Raymond James. Meanwhile, shares of Fiat Chrysler Automobiles NV (NYSE: FCAU) dropped more than 3.5% on news that the company will face a criminal investigation from the U.S. government on charges that it allegedly used software that violated emissions standards. The Environmental Protection Agency says it discovered software in more than 100,000 vehicles that allowed the company to exceed emissions standards on U.S. roads.
If you're looking to make real money in 2017, you should start by tapping into the vast growth potential of the U.S defense sector. With President-elect Donald Trump poised to take office within 10 days, investors anticipate the government will spend a lot of money bolstering the U.S. military and ensuring the nation is safe from terrorism and cybersecurity threats. That's why we recommend you learn about the three top military defense stocks for 2017. These are the best stocks to own in the defense sector.
Finally, remember that markets will be closed Monday, Jan. 16, in observance of Martin Luther King, Jr., Day.
Tuesday's U.S. Economic Calendar (all times EST)
Empire State Manufacturing Survey at 8:30 a.m.
New York Federal Reserve Bank President William Dudley speaks at 8:45 a.m.
Federal Reserve Gov. Lael Brainard speaks at 10 a.m.
Four-Week Bill Announcement at 11 a.m.
Three-Month Bill Auction at 11:30 a.m.
Six-Month Bill Auction at 11:30 a.m.
San Francisco Federal Reserve Bank President John C. Williams speaks at 6 p.m.
Must See - This Great Depression-era "Secret" Helped Transform Two Teachers into Millionaires: Donna and Dave R. were both teachers in Boston. But today they're retired millionaires who are also earning $10,000 a month in income. Their secret? Much of their wealth is due to a Great Depression-era "program" most have no idea exists. Full Story...
Follow Money Morning on Facebook and Twitter
About the Author
Garrett Baldwin is a globally recognized research economist, financial writer, consultant, and political risk analyst with decades of trading experience and degrees in economics, cybersecurity, and business from Johns Hopkins, Purdue, Indiana University, and Northwestern.