In silver investing news today (Friday, Jan. 13), silver prices rose 1.5% on the week despite volatility on Wednesday and Thursday.
Today, the price of silver declined 0.4% to close at $16.76 per ounce. Although the silver price was down today, the metal still posted its third weekly gain in a row.
Here's a closer look at silver's wild week…
The Top Silver Investing News: Trump and the Dollar Cause Volatility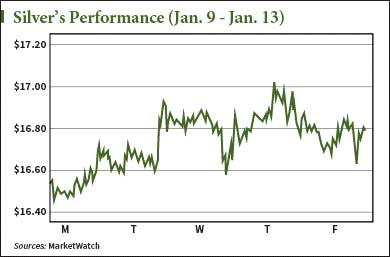 The silver price volatility over the last three days has mostly come from Trump's press conference and swings in the U.S. dollar.
On Tuesday, Jan. 10, silver prices jumped 1% to close at $16.85 an ounce, despite the dollar posting a slight 0.1% gain. A stronger dollar typically makes dollar-priced assets like silver and gold more expensive to buyers using other currencies. That pulls the price of silver lower because it reduces demand.
But market uncertainty around Trump's press conference sent investors running for safe havens like silver. That boosted silver futures to their highest settlement since Dec. 14.
Don't Miss: Gold Prices Are Set to Skyrocket 451.4%
Trump's press conference on Wednesday was the biggest silver investing news of the week as it sent prices tanking. Before the conference began at 11:00 a.m., silver futures for March delivery opened near $16.85. By midday, they had fallen roughly 1.5% to just below $16.60. The price of silver managed to pare most of those losses, but it still posted a 0.1% loss on the day.
Thursday saw more volatility as prices shot above $17 in the morning before dropping back to the $16.70 level. Again, the silver price pared most of its losses and ended the day flat at Wednesday's close of $16.83.
Despite its shaky performance this week, we expect silver prices to rally in 2017.
In fact, Money Morning Resource Specialist Peter Krauth says silver could soar 43% to $24 by the second quarter if this country institutes an extremely controversial policy…
This Asian Nation Will Make Silver Investing News in 2017
India will play a huge role in silver's 2017 performance.
You see, India is the largest importer of silver in the world. Precious metals magazine Coin World reported that the country brought in 340 million ounces of silver in 2015. That rocketed past the United States, which brought in only 193 million ounces that year.
While its silver imports should remain high this year, they could be even higher if India's government approves a divisive new policy…
In an effort to fight the country's corruption, the Prime Minister of India Narendra Modi took the two most common banknotes, the 500- and 1,000-rupee notes, out of circulation. This meant roughly 86% of all cash in circulation became invalid overnight. The decision crippled banks across the country as they faced cash shortages.
But the move also pushed local gold prices in India to $2,800 as citizens frantically converted their rupees into gold. This sharp spike in gold demand has investors speculating the government will make a new law restricting gold ownership.
If this law goes through, silver will be the only other precious metal worth buying. And Krauth says this could send the global price of silver to $24 per ounce by the second quarter of 2017.
"There's been a rumor that people will flock to silver because the government might limit how much gold people can own," Krauth said last month. "If you get one of these wild-card factors, we could see silver reach maybe $24 as of Q2 onward."
The Bottom Line: Silver prices were volatile this week as Trump's conference sparked uncertainty in the market. The volatility in the dollar was also a major factor. Despite the volatility, prices are poised for a 43% gain in 2017. This will likely come from demand in India, which could hit record levels if the government decides to limit ownership of physical gold.
Urgent: A door has opened for an ultra-rare but powerful anomaly in the stock market… It involves a precious metal, one that's considered exceedingly more rare than gold. Get all the details.
Follow us on Twitter and like us on Facebook.