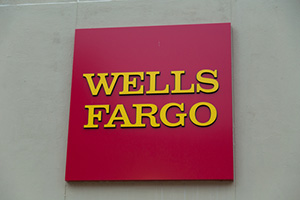 Bank stocks dominate our stocks to watch today (Friday) list with Bank of America Corp. (NYSE: BAC), JPMorgan Chase & Co. (NYSE: JPM), and Wells Fargo Co. (NYSE: WFC) out with earnings reports.
Bank stocks have been on a tear since President-elect Donald Trump's Election Day victory. The KWB Bank Index is up some 24% during that stretch. Prospects of regulatory rollbacks, higher interest rates, and a robust economy under Trump have rallied bank stocks.
As a result, expectations have been running high for the sector's results. Analysts have raised Q4 earnings estimates for big banks, citing better trading conditions and higher expected income from loans and securities due to rising interest rates.
Here are Q4 2016 earnings results from three big U.S. banks, which are also our top stocks to watch today...
Stocks to Watch Today: Wells Fargo & Co. (NYSE: WFC)
Wells Fargo stock rose 1.23% to $55.21 in early trading today despite posting disappointing Q4 2016 results.
The San Francisco-based bank reported earnings per share (EPS) of $0.96. That missed forecasts for $1 per share. Revenue came in at $21.58 billion, also short of the expected $22.451 billion.
However, there were some bright spots in a quarter marked by setbacks.
Wells Fargo endured one of its most trying years in its storied 165-year history. In 2016, regulators fined the bank for creating false accounts for more than 2 million customers, which involved a process known as cross-selling. The scandal sullied Wells Fargo's once-sterling reputation. In addition to the fake account scandal, Wells Fargo also failed its "living will" test with the U.S. Federal Reserve.
WFC shares are up a 0.18% year to date (YTD) and 10.98% over the last year.
Stocks to Watch Today: Bank of America Corp. (NYSE: BAC)
Bank of America stock rose 1.31% to $23.23 right out of the gate today after the company posted a 46.8% surge in Q4 2016 profits thanks to cost cuts and higher trading costs. The bank also sees solid income growth in coming quarters amid rising interest rates.
The Charlotte, N.C.-based bank earned $0.40 per share on $4.34 billion in revenue in Q4. That was up from $0.27 per share on $2.95 billion in revenue in the same quarter a year ago. Excluding items, BOA earned $0.42 per share, handily beating consensus estimates of $0.38.
While BOA's overall revenue grew just 2%, non-interest expenses fell 6% thanks to an aggressive cost-cut program that was implemented in 2016. The bank aims to slash $5 billion from annual operating expenses by 2018.
BOA also said it expects to produce an additional $600 million in net interest income in Q1 2017 due to higher interest rates. BOA is deemed to be the most sensitive to interest rate moves among U.S. banks because of the way its balance sheet is structured.
BOA remains focused on rewarding shareholders as evidenced by today's announcement to increase its planned stock repurchase program for the first half of 2017 from $2.5 billion to $4.3 billion.
BAC shares are up 5.16% since the start of 2017 and 55.74% over the last year.
Stocks to Watch Today: JPMorgan Chase & Co. (NYSE: JPM)
JPMorgan stock jumped 1% to $87.11 on today's open after reporting Q4 2016 results that comfortably beat expectations.
The New York-based bank posted EPS of $1.71 on revenue of $24.33 billion. Analysts were looking for EPS of $1.42 on revenue of $24.17 billion.
CEO Jamie Dimon said 2016 was a year that "demonstrated the strength and depth of our platform with record net income and EPS in an increasingly complex global environment."
As for the months ahead, Dimon said the U.S. economy is just getting started: "The U.S. economy may be building momentum. Looking ahead there is opportunity for good, rational, and thoughtful policy decisions to be implemented, which would spur growth, create jobs for Americans across the income spectrum and help communities, and we are well positioned to play our part."
The bank noted it returned $3.8 billion to shareholders in Q4.
Last year, JPMorgan leapfrogged Wells Fargo to become the world's most valuable bank by market capitalization. The post change came as JPMorgan rose and Wells Fargo faltered amid the fallout of a customer account scandal.
JPM shares are up 1% YTD and 52% over the last year.
Follow Money Morning on Facebook and Twitter.
Related Articles: