(Kitco News) – European stocks were mostly firmer and Asian stock markets were mixed overnight. China's stock market saw some pressure after weaker-than-expected export data was released. China's exports in December were down 6.1% from the same period last year. U.S. stock indexes are pointed toward slightly higher openings when the New York day session begins. U.S. stock market traders are awaiting a batch of bank corporate earnings reports Friday, including J.P. Morgan Chase.
Gold prices are seeing a mild corrective pullback Friday after hitting a six-week high on Thursday. Still, the gold bulls are out of the shoot in good fashion to begin the new year. Wednesday's press conference by U.S. President-Elect Donald Trump was unsettling to much of the marketplace but it did help out safe-haven gold.
Trump has made bold claims on how he's going to improve U.S. economic conditions, but has so far provided very few specifics on how he's going to accomplish such. It appears that traders and investors are becoming more jittery about that situation as Trump prepares to take office late next week.
The key "outside markets" on Friday morning see the U.S. dollar index lower. Prices Thursday slumped to a four-week low. The greenback bulls have faded badly recently to suggest a market top is in place for the dollar index. The other outside market finds Nymex crude oil prices trading lower. There are stiff technical chart resistance layers that lie just above the market.
U.S. economic data due for release Friday includes the producer price index, retail sales, manufacturing and trade inventories, and the University of Michigan consumer sentiment survey.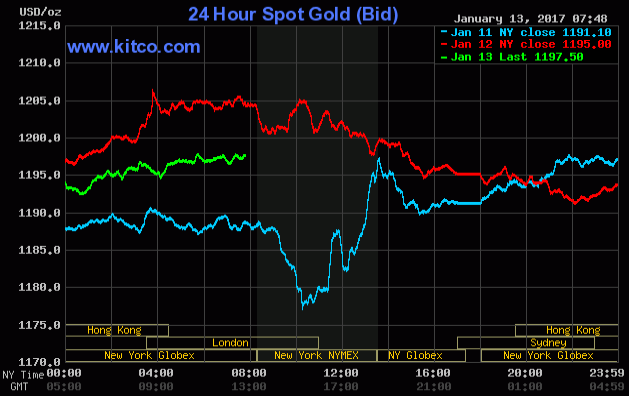 By Jim Wyckoff, contributing to Kitco News; jwyckoff@kitco.com
Follow Jim Wyckoff @jimwyckoff for breaking market news.