Well, I hope everyone had a nice, profitable "Trump Bump" rally. My Stealth Profits Trader readers sure did; we took down a nice sequence of triple-digit gains.
But like all good times... it's over.
Investors are knocking, but no one's home. The Dow hit 19,999.67 - it came within just over three-tenths of a point of 20,000 - but couldn't quite muster the conviction for the next leg up.
So markets have hit stall speed, and we're revisiting that "box" we spent so much of the second and third quarters of 2016 in.
Let's look at the chart that shows our latest consolidation. Significantly, this sideways move is happening "at top of the page," as some old school technicians I know would say.
My, This Looks Awfully Familiar
This chart shows a remarkable trend: The Dow has traded within 1% of the psychologically important 20,000 level for 23 straight days.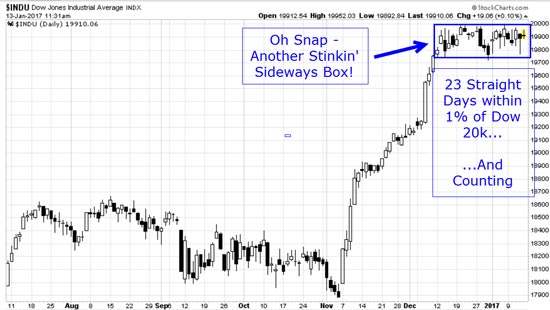 So the real question on everyone's mind: "Is this a bullish or bearish pattern?"
I'll give it to you straight: Many analysts and investors are looking for a market pullback - if not an outright correction of 10% - here.
I won't be surprised if we do get a small pullback, especially as we head into Inauguration Day here in the United States. That would be a classic "sell the news" moment.
But... there's no reason to despair. I expect our next minor pullback to be an excellent buying opportunity.
There are two reasons for that.
The most obvious one is the technical chart pattern - we're in a classic sideways consolidation pattern called a "bullish flag" that I've written about before in these weekly updates.
The probability for this type of consolidation pattern is to follow-through to the upside.
But I have an even more compelling reason to expect the next market pullback to be a modest one and to lead to more upside...
The global stock market recovery.
There's Great Reason for Optimism in Stocks Now
It's pretty simple. Back in the early days of the "Trump Bump" post-election bull run, global markets were going the opposite direction or were floundering at best.
But over the past couple of weeks, global markets have turned around. And while U.S. markets trundle sideways, the rest of the world is playing catch-up.
And that's a very positive sign, indeed.
In short, I expect to guide us through buying the next modest market pullback and riding it to new highs. Stealth Profits Trader readers should check for my latest instructions about how to ride the next leg up for maximum profit.
It will be absolutely critical over the next few days and weeks to free up some capital and dust off your shopping lists of stocks you'd like to get at a discount. Boeing Co. (NYSE: BA) is one I like right now, for instance, and I said as much on CNBC World last week.
Well-prepared, well-capitalized investors are heading into a time of great opportunity here, no matter what the bears say.
Click here to learn more about how to collect your first "Profit Paycheck" with D.R.'s high-profit, fast-paced Stealth Profits Trader service.
Follow Money Morning on Facebook and Twitter.
Join the conversation. Click here to jump to comments…
About the Author
D.R. Barton, Jr., Technical Trading Specialist for Money Map Press, is a world-renowned authority on technical trading with 25 years of experience. He spent the first part of his career as a chemical engineer with DuPont. During this time, he researched and developed the trading secrets that led to his first successful research service. Thanks to the wealth he was able to create for himself and his followers, D.R. retired early to pursue his passion for investing and showing fellow investors how to build toward financial freedom.