Two presidents will move global markets this week.
First, the inauguration of President-elect Donald Trump on Friday, Jan. 20, has investors and markets anticipating what he will say when he speaks to the nation as U.S. president for the first time.
Historically, markets are always mixed leading up to and following a president's inauguration. This year has been no different so far – particularly last week. The Nasdaq closed up nearly one percent at a record 5,574 last Friday. The S&P 500 ended the day down 0.1% to 2,274. The Dow was also slightly lower, down 0.4% to 19,885.
The accompanying graphic shows how markets have historically done after a presidential election, from Election Day to Inauguration Day. Again, it's a mixed bag – and doesn't always go the way everyone expects.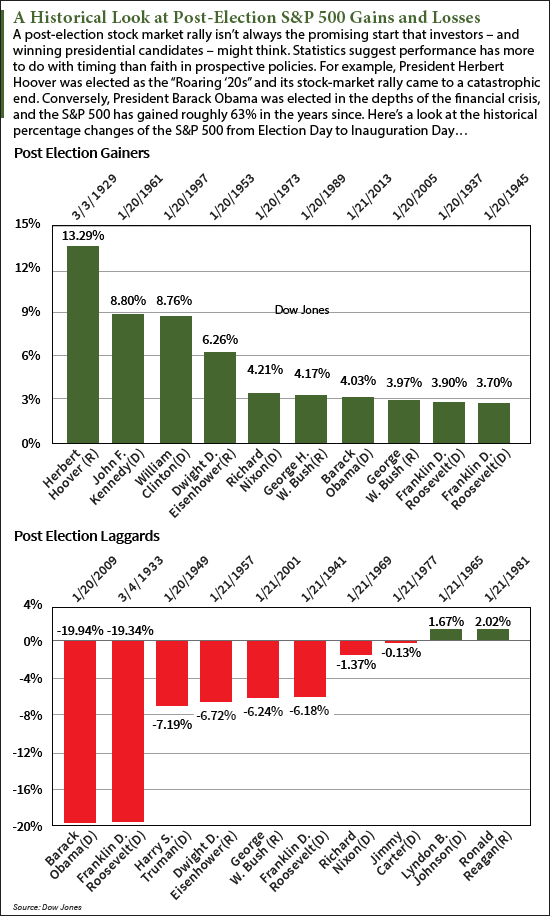 But one analyst in particular this week believes that the massive "Trump trade" dominating markets these past few months leading up to his Inauguration Day may be in for a pause.
Art Cashin, director of floor operations at UBS, told CNBC today that "[the stock market] feels like it probably wants to rest here."
Cashin said while he expects markets to remain flat in the wake of Trump's inauguration, there's a different president who is likely to cause financial riffs in the days ahead…
Stock Markets This Week Could React to Chinese President Xi
Today, the annual World Economic Forum in Davos, Switzerland, kicks off. The meeting brings together some 2,500 top business leaders, international political leaders, and journalists for up to four days to discuss the world's most pressing economic issues.
The forum is arguably more important than usual this year because of the appearance of Chinese President Xi Jinping, who is expected to speak on globalization tomorrow, Jan. 17.
Cashin told CNBC he expects Xi's comments to move the markets.
"We're starting to hear acrimonious back and forth about China [from Trump]," Cashin claimed. "It's unlikely [Xi will] want to fire a shot across the bow but maybe for domestic consumption he might want to do that. I think you want to make a note of that."
Indeed, China fired two "warning shots" just last week toward the United States – one in regards to Trump possibly abandoning Beijing's "One China" policy, and another warning of "large-scale" war over America's presence in the South China Sea.
The escalated tensions between the U.S. and China could one day devastate the markets, especially considering Chinese consumption of American products. For example, by the end of 2015, Chinese consumers bought 131 million Apple Inc. (Nasdaq: AAPL) iPhones. Needless to say, Apple stock investors are just one example of the collateral damage a U.S.-China trade war could incur.
Cashin is likewise worried about this. "[Diminishing U.S.-China relations] is a dark horse you want to watch," he told CNBC.
Up Next: This tiny $5 company just passed each of the seven benchmarks in this secret stock-picking method. Learn how to get in before its revenue surges an estimated 4,709%. Read more…
Follow Money Morning on Facebook and Twitter.
More articles for you …