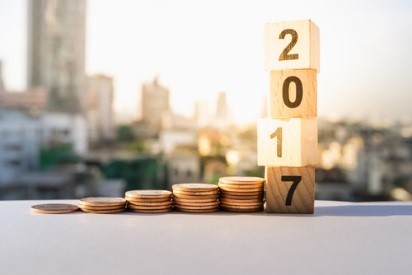 The best stocks to buy now will offer steady returns in 2017 - even if the "Trump rally" runs out of steam and markets drift lower.
Uncertainty and volatility are increasing ahead of President-elect Donald Trump's inauguration on Friday. In morning trading today (Tuesday), the CBOE Volatility Index was up 7%.
Many analysts say a significant market pullback or even a correction is coming. But Money Morning Technical Trading Specialist D.R. Barton believes the next dip will be minor - and an excellent buying opportunity.
Barton says the sideways consolidation pattern we're in now (called a "bullish flag") tends to follow through to the upside.
That means you'll want to have a list of stocks to buy handy for whenever markets falter so you can pick up quality shares at a discount - like the ones we're bringing you today.
One could even deliver gains of almost 100% by 2020...
Best Stocks to Buy Nos. 4 and 5: Apple Supplier Stocks
Apple Inc. (Nasdaq: AAPL) will release the 10th anniversary edition of the iPhone in September. It's expected to be a major upgrade compared to the iPhone 6s or 7.
Rumors are circulating that Apple's been saving several whiz-bang features especially for this model, such as an edge-to-edge bezel-less OLED screen and new biometrics like iris and facial scanning.
Apple stock should get a much-needed boost as owners of older iPhone models who had been holding out finally succumb to upgrade fever. But there's another way to profit from this coming iPhone "super-cycle"...
Suppliers - the companies that provide Apple with the iPhone's much-needed components - have given investors a "back door" way to profit on the tech titan's spectacular success.
While supplier stocks are susceptible to the same news-driven swings as AAPL itself, they'll also ride along for the gains when sentiment turns positive - as it's almost certain to do as buzz about the iPhone 8 builds this year.
There are hundreds of supplier stocks to choose from. To pick the best ones, Money Morning Editor David Zeiler says it's best to focus on those that have at least 20% exposure to Apple and that trade on U.S. exchanges. Zeiler researched the top Apple supplier stocks worthy of your investing dollars and likes these two:
Cirrus Logic Inc. (Nasdaq: CRUS) supplies audio chips for the iPhone. A full 66% of its revenue is dependent on Apple. CRUS is up 4% since Zeiler first told readers about it on Dec. 7, and it should continue to rise. Needham & Co. analyst Rajvindra Gill has a one-year price target of $65 for CRUS, a 14.8% gain from today's price.
Knowles Corp. (NYSE: KN) makes audio-processing components. It gets 25% of its revenue from Apple. KN stock is up 49% in the last year as the company shifted away from less profitable businesses to focus more on areas where it has a strong market position. The iPhone 8 release should intensify that positive momentum and move shares even higher.
Don't Miss: Double Your Money with the Fastest-Growing Moneymaker on Earth
Best Stocks to Buy No. 3: UnitedHealth Group Inc.
The Affordable Care Act as we know it is likely finished; both chambers of Congress passed a bill last week to make it easier to dismantle Obamacare. While we don't yet know what will take its place, a big beneficiary of this move will be health insurers.
Since the healthcare law took effect, insurers have struggled to stay profitable under the burden of building policies that are affordable for individuals and yet still meet the ACA's stringent requirements.
For 2016, Aetna, Humana, and Anthem stand to lose roughly $300 million each on their ACA policies. But the nation's largest healthcare provider, UnitedHealth Group Inc. (NYSE: UNH), is expected to lose about $850 million.
That's one reason why Money Morning Director of Technology & Venture Capital Research Michael A. Robinson says UnitedHealth has the most to gain from repeal of the ACA - making it one of the best stocks to buy now.
Another reason he likes this stock is that UnitedHealth has avoided a huge problem many insurers have faced recently. Other health insurance companies like Aetna, Cigna, and Anthem currently have proposed mergers tied up with U.S. Department of Justice investigations into whether the deals are anti-competitive. So while those companies sink legal fees and other precious resources into the investigation, UnitedHealth continues to grow at a fast clip all on its own.
But perhaps the biggest catalyst that will drive the UNH share price higher for years to come is demographics. The "graying of America" is creating a captive market for healthcare companies. Seniors spend roughly three times the amount on personal healthcare than working-age adults, according to U.S. Centers for Medicare & Medicaid Services.
By 2040, people 65 years of age and older will comprise 21.7% of the U.S. population. That figure will rise to nearly one-third by 2060. Compared to 2014, when only 14.5% of Americans were seniors, that translates into baked-in growth for the healthcare sector.
After the November presidential election, several investment firms raised their price targets and boosted ratings for UNH. Jeffries raised its price target from $168 to $182. Mizuho and Cantor Fitzgerald upgraded their ratings to "Buy." The Street is starting to catch on to the upside potential here.
UnitedHealth Group shares rose 38% last year at a time when other healthcare stocks suffered, and the firm recently raised its guidance for 2017. Robinson says its free cash flow ($8.2 billion in 2015) and dividend, which has grown an average of 30% from 2010 to 2015, further strengthen the case for UNH as a top stock to buy now.
The next pick on our stocks to buy list was named one of the best investments of 2017 by the World's Greatest Stock Picker...