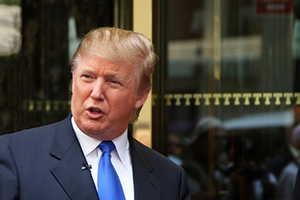 The Dow Jones Industrial Average slumped today after traders freaked out over a statement by President-elect Donald Trump on the impact of a strong dollar on trade between the United States and China.
Banking stocks slumped despite increased optimism over upcoming earnings reports from some of the top firms on Wall Street.
Let's look at the numbers from Tuesday for the Dow, S&P 500, and Nasdaq:
Dow Jones: 19,826.77; -58.96; -0.30%
S&P 500: 2,267.89; -6.75; -0.30%
Nasdaq: 5,538.73; -35.39; -0.63%
Now, here's a look at today's most important market events and stocks, plus a preview of Wednesday's economic calendar.
DJIA Today: Dow Slumps 58 Points After Trump's "Strong Dollar" Talk
The Dow Jones slipped 58 points after traders digested the latest statements from President-elect Trump on the strength of the U.S. dollar and his views on drug prices. The iShares NASDAQ Biotechnology Index (ETF) (Nasdaq: IBB) fell more than 1.6% after Trump's statements.
Trump's statement on the Affordable Care Act came on the same day that the CBO released a report highlighting the impact of a repeal of the healthcare law. The independent agency said that a repeal would lead to 18 million more people living without health insurance, and a repeal of the healthcare law would also fuel a double-digit increase in prices in the first year.
Brilliant: Best Stocks to Buy for January 2017
Banking stocks also plunged as concerns over Trump's statements on the dollar weighed on the sector.
Biotech and pharmaceutical stocks also slumped after President-elect Trump said he would target drug companies that are charging the government too much money.
An uptick in consumer staple stocks helped offset some losses today. Shares of Wal-Mart Stores Inc. (NYSE: WMT) climbed 1.9%. The retail giant announced plans to create 10,000 jobs in the United States in 2017.
Crude oil prices were mixed thanks to a weakening dollar and chatter about Saudi Arabia's compliance in the OPEC deal to cap excessive production. The WTI crude oil price today added 0.2%. Meanwhile, Brent crude was off 0.5%.
President-elect Trump's statements today also gave silver prices and gold prices a boost.
Gold prices added 1.6% while silver prices jumped 2.6%. Money Morning Resource Specialist Peter Krauth argues that now is the time to be bullish on commodities.
Trending Story: A Gold Price Prediction for the Coming Bull Run: $5,236 an Ounce
"This is the perfect time to lay into ample supplies of gold and silver. I think that, here at the start of 2017, we're on the cusp of a good strong bull run for both metals," he said last week.
So where are gold and silver prices heading in 2017? Read Krauth's latest forecast, right here.
Stock Market News and Top Stocks to Watch Today: Jan. 17, 2017
Wednesday's U.S. Economic Calendar (all times EST)
MBA Mortgage Applications at 7 a.m.
Consumer Price Index at 8:30 a.m.
Redbook at 8:55 a.m.
Industrial Production at 9:15 a.m.
Housing Market Index at 10 a.m.
Minneapolis Federal Reserve Bank President Kashkari speaks at 10 a.m.
Beige Book at 2 p.m.
Federal Reserve Chair Janet Yellen speaks at 3 p.m.
Treasury International Capital at 4 p.m.
Must Read – This Great Depression-era "Secret" Helped Transform Two Teachers into Millionaires: Donna and Dave R. were both teachers in Boston. But today they're retired millionaires who are also earning $10,000 a month in income. Their secret? Much of their wealth is due to a Great Depression-era "program" most have no idea exists. Full Story
Follow Money Morning on Facebook and Twitter