General Motors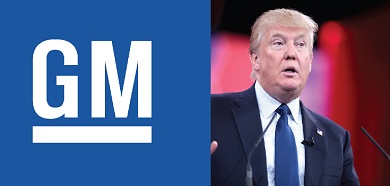 Co. (NYSE: GM) confirmed just this morning that it will invest an additional $1 billion in its U.S. factories this year.
On top of that, the Detroit automaker stated it intends to add 7,000 new jobs over the next few years while moving some parts production from Mexico back to the States. Those plants south of the border were handled by a separate supplier, GM made sure to note today, meaning they were not direct franchise establishments belonging to the automaker.
These new GM investments add to the $2.9 billion the company announced in July 2016 to put toward its U.S. operations. Before those two efforts, GM had invested a total $21 billion in U.S. operations since 2009. In the past four years, GM has created 25,000 U.S. jobs, including 6,000 hourly manufacturing positions, and added nearly $3 billion in annual wages and benefits to the U.S. economy, according to the company's website.
While General Motors and other car manufacturers have been sharply criticized by President-elect Donald Trump for building vehicles in Mexico and not in the United States, the automaker said today that its hiring and relocating decisions had nothing to do with the incoming commander-in-chief....
General Motors: We Just Have Exceptional Timing
GM spokeswoman Joanne Krell stated this morning that the company's choices "had been in the works for some time."
Regardless of this claim, one can't help but find the company's announcement three days before Trump's inauguration arguably a little suspect.
Krell responded to such criticism by saying that GM's "timing was good."
Don't Miss: This Great Depression-era "Secret" Helped Transform Two Teachers into Millionaires
After GM's announcement, the company's shares rose slightly in midday trading, up 0.2%, or $0.06 per share, to $37.40.
Up Next
Most investors think companies naturally fear the power of a president. But that's not always the case...
Here's Money Morning Chief Investment Strategist Keith Fitz-Gerald, who can spot emotional market trends to watch out for a mile and a week away, on FOX Business this morning telling us why "Trump's Twitter targets" don't really fear the real estate mogul so much as they do something much, much worse...

FOX Business' "Varney & Co.," Keith Fitz-Gerald, Jan. 17, 2017.
Follow Keith on Facebook and Twitter.
Related articles for your perusal...