Stocks are "back in the box," essentially flat for now. This sideways motion is a little disappointing, because I for one was hoping for a nice pile-on close to 20,000 that would have sent us on another leg higher.
I'm sure we'll get there eventually. Right now it's cabinet confirmation time; markets are sitting back and watching the show.
But so far, nobody and nothing has been able to rattle the market.
Every time stocks look like they've grown tired of trying to climb higher or look like they may even be struggling a little to stay flat, they catch a bid and hang tough.
I think that's a very good sign, but that doesn't mean there's nothing to do...
Why I Think the Markets Will Move Higher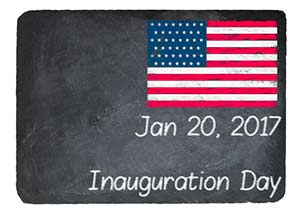 When you consider the improving strength of the economy and mood of investors alongside prospects for future growth and wealth generation, the markets' path of least resistance is: up.
There's not much above our heads but thin blue air right now, and I'd say anyone who says otherwise just isn't reading it right.
Besides, if we were really positioned for any kind of significant move to the downside, we would have seen a couple of back-to-back drops amounting to one or two percent. That's what it looks like when there's a "bid" under the market, and of course that hasn't happened.
Instead, we're hanging out in a strip of a no-man's land until we get more clarity on the Trump Train.
No problem. There's an old traders' adage that says "the trend is your friend," even if that trend just isn't doing much at the moment.
Still, it's never wise to discount altogether the possibility something (likely news or some event happening outside the United States) could shake bullish confidence.
But that event would almost by definition have to be a "Dinosaur Killer," with an extraordinarily heavy impact, and I'm having an awfully hard time imagining what that might be.
U.S. consumer confidence reported last week is just barely off 13-year highs. Investor sentiment is right there with it on the top shelf - CNN Money's Fear & Greed Index sits firmly in "Greed" territory. These are not signs of skittish or fragile weakness.
So we're left with "the trend is your friend," and this trend is telling me to get ready, to hang loose and paddle around gently until the next wave starts to shape up.
Let me show you what that means.
Join the conversation. Click here to jump to comments…
About the Author
Shah Gilani boasts a financial pedigree unlike any other. He ran his first hedge fund in 1982 from his seat on the floor of the Chicago Board of Options Exchange. When options on the Standard & Poor's 100 began trading on March 11, 1983, Shah worked in "the pit" as a market maker.
The work he did laid the foundation for what would later become the VIX - to this day one of the most widely used indicators worldwide. After leaving Chicago to run the futures and options division of the British banking giant Lloyd's TSB, Shah moved up to Roosevelt & Cross Inc., an old-line New York boutique firm. There he originated and ran a packaged fixed-income trading desk, and established that company's "listed" and OTC trading desks.
Shah founded a second hedge fund in 1999, which he ran until 2003.
Shah's vast network of contacts includes the biggest players on Wall Street and in international finance. These contacts give him the real story - when others only get what the investment banks want them to see.
Today, as editor of Hyperdrive Portfolio, Shah presents his legion of subscribers with massive profit opportunities that result from paradigm shifts in the way we work, play, and live.
Shah is a frequent guest on CNBC, Forbes, and MarketWatch, and you can catch him every week on Fox Business's Varney & Co.