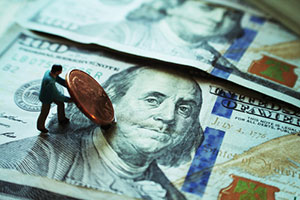 Our new penny stocks 2017 list includes the biggest gainers of the year so far. All of these penny stocks have seen a combined rally of 288.5% in just the first 10 trading days of the year. One of the penny stocks on this list has already climbed more than 78% this year.
Here at Money Morning, we keep readers updated on the profitable penny stocks on the market. But these lists should only be used as a tracking feature. While many of these stocks consistently post double- and triple-digit gains, most of them are not fundamentally sound investments. Penny stock investing is risky and requires plenty of financial research into each company.
And as a bonus for readers today, we're providing Money Morning Chief Investment Strategist Keith Fitz-Gerald's best tips for penny stock investing. These two research tips are essential for anyone looking to make quick double- or triple-digit returns in the micro-cap sector.
First, here are the five best-performing penny stocks since Jan. 1...
Top Penny Stocks 2017 No. 5: O2Micro International Ltd.
O2Micro International Ltd. (Nasdaq ADR: OIIM) designs power management components for a wide range of industries, including computer, communications, and industrial. It mainly specializes in system architecture and integrated circuits (ICs), which are used in personal devices like smartphones and electric vehicles. Since Jan. 1, the OIIM stock price has soared 46.7% to $2.64 per share.
More on Penny Stocks: 10 Marijuana Penny Stocks with Gains of 70% or More
Top Penny Stocks 2017 No. 4: Calithera Biosciences Inc.
Calithera Biosciences Inc. (Nasdaq: CALA) develops drugs that target tumor cells. The company's leading drug candidate, CB-839, is meant to reduce levels of glutamine, which plays an important role in tumor growth. According to the Calithera website, CB-839 is currently in three phase 1 clinical trials. As of Jan. 16, Calithera stock is up 50.8% to $4.90 per share year to date. It has gained 2.1% over the last year.
Top Penny Stocks 2017 No. 3: Enphase Energy Inc.
Enphase Energy Inc. (Nasdaq: ENPH) produces and sells microinverters - the most important component of solar energy panels. Microinverters absorb sunlight and convert it into an alternating current (AC), a type of electricity that can be used in homes. Enphase is considered the market leader in the microinverter sector. During the first 10 trading days of 2017, ENPH stock has gained 52.5% to $1.54 a share. But ENPH has been beaten down along with the broader solar energy market over the last year. Since January 2016, ENPH stock and the MAC Global Solar Index - which tracks the biggest U.S. solar stocks - are down 29.7% and 24.6%, respectively.
Top Penny Stocks 2017 No. 2: Prana Biotechnology Ltd.
Prana Biotechnology Ltd. (Nasdaq ADR: PRAN) is a medical firm developing drugs for treating neurological diseases. It specifically targets Alzheimer's disease, Parkinson's disease, and Huntington's disease. Prana's drug candidates include PBT2 for Alzheimer's and Huntington's diseases, as well as PBT434 for Parkinson's. From Jan. 1 to Jan. 16, shares of PRAN stock have surged 60.1% to $2.61. However, the PRAN stock price is down 16.4% since January 2016.
Top Penny Stocks 2017 No. 1: Adesto Technologies Corp.
Adesto Technologies Corp. (Nasdaq: IOTS) is a software company that sells memory and storage products for Internet of Things (IoT) devices. It specializes in non-volatile memory (NVM), the most common type of memory that can be retrieved after a device is turned off. NVM devices include flash drives and floppy disks. As of Jan. 16, IOTS stock is up 78.4% to $3.30 a share. That makes it the best-performing stock on the Nasdaq that costs under $5 a share.
Despite the combined 288.5% gain of these five companies, we still recommend doing your due diligence when looking into any penny stock. Proper research is always an imperative step when your hard-earned money is on the line.
That's why Fitz-Gerald - a market analyst with more than three decades of trading experience - recommends these two research tips when looking for the best penny stocks to buy this year...
2 Tips for Investing in Penny Stocks in 2017
The first tip when looking for penny stocks to buy is to review the company's 10-K report. This is the easiest way to determine if the company itself has faith in its future performance.
"I've analyzed thousands of companies during the course of my career, and it's not always obvious which ones have the best potential," Fitz-Gerald said. "That's why I recommend you take a detailed look at a company's 10-K as part of your pre-investment research."
A 10-K is a yearly summary of a firm's financial performance. Although the document lacks excitement, it goes over important things like earnings history, including revenue and earnings per share, as well as the firm's outstanding shares and organizational structure.
Timing is everything when it comes to making money in markets - and this new, free service we created puts timing on your side...
But Fitz-Gerald says the most important part of the 10-K is executive compensation. This section provides the salaries of the company's officials. More importantly, it outlines how these officials are paid. If you see the CEO doesn't own stock options and is paid strictly in cash, it shows they're just cashing in on the company. In other words, he or she is making as much money as possible before the firm crashes and burns into bankruptcy.
According to Fitz-Gerald, this is one of the biggest penny stock red flags to keep an eye out for.
"My experience suggests that there's a direct correlation between CEO pay and performance," Fitz-Gerald said. "The more they get, the worse their companies do."
The second tip for finding which firm on the "penny stocks 2017" list is worth your money is weeding out the stocks with paid promotions.
If a company is promoting its stock as an investment that's "too good to be true," odds are it probably is. Many of these shady companies are committing pump-and-dump scams. That's when companies use misleading or false advertising to convince investors to buy their penny stock.
Once these duped investors buy and the share price rises, company officials and insiders sell their shares for a quick profit. This lets them make money while the investors lose most - or all - of their initial investment.
One of the most common pump-and-dump examples is spam email. In Q1 2013, both the SEC and software security firm McAfee published reports saying spam promoting pump-and-dump scams sharply increased. While neither provided specific numbers, McAfee attributed the rise to the S&P 500's 11.5% rally the previous year.
The Bottom Line: Our penny stocks 2017 list clearly shows that penny stocks are off to a great start in 2017. Their combined gain of 288.5% proves there's money to be made in the micro-cap market. But investors should take this rally with a grain of salt. That's because penny stock investing can be extremely dangerous if you're not careful. We recommend thoroughly researching a company before buying it, but we especially recommend reviewing its 10-K filing and avoiding it altogether if it uses shady advertising. These are the two biggest red flags of any penny stock.
BRILLIANT: Average Americans Are Becoming Marijuana Millionaires
Follow us on Twitter and like us on Facebook.