The Dow has jumped 8% since the start of the "Trump rally" on Nov. 8, but a stock market crash could be coming soon as stocks pull back from record highs.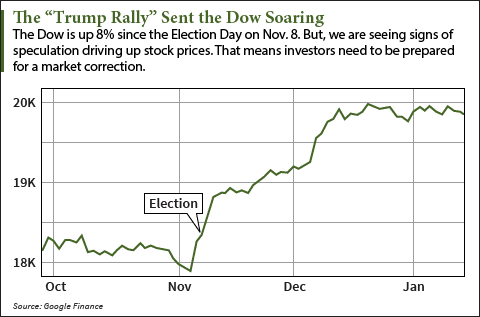 After a nine-year bull market run, stock markets are still breaking all-time highs. The S&P 500 and Nasdaq both hit their all-time highs a little over a week ago (Jan. 6), and the Dow is close to breaking its 20,000-point record.
These soaring gains have been great for investors, but as we'll show you, these record-breaking numbers could be a sign of a stock market bubble.
That's why we're going to show you how to protect your money during a market correction. Before that, we want to show you why we are seeing signs a stock market crash could be coming soon...
What Causes Stock Market Crashes
The past century has taught us some important lessons about stock market crashes.
The stock market crash of 1929 is a prime example. The Roaring 20s saw the Dow gain 329%. But the growth was unsustainable.
Instead of economic growth driving the stock market, speculation sent stocks soaring.
In 1929, famed economist Irving Fisher said, "stock prices have reached what looks like a permanently high plateau." The belief the market would continue to go up meant more people put money in the stock market.
During the 1920s, amateur stock players borrowed $120 billion in today's dollars to buy stocks. And the more people bought stocks, the higher prices went.
But, when the market corrected, investors began to sell their stocks in hopes of recovering some of their money. This drove stock prices down, causing the stock market to crash.
By 1932, the market was down 86%, and it kicked off the Great Depression.
Don't Miss: These Five Steps Can Fix America's Markets in 2017
More recently, speculation led to the stock market crash of 2008.
Housing prices nearly doubled between 1996 and 2006. As housing prices rose, people believed the housing market was a safer investment than it really was.
Banks weakened mortgage requirements, and home mortgages were packaged into tradeable assets to be bought and sold on Wall Street. As long as housing prices rose, everyone made money.
But housing prices eventually fell, and they brought the stock market down with them. The Dow saw its largest single-day loss on Sept. 29, 2008, when it fell 777.68 points, nearly 7% of its value. The Dow lost 54% of its value in just under 18 months.
Speculation drove up markets before stock market crashes in the past, and we are seeing signs of speculation driving the markets now...
Signs a Stock Market Crash Is Coming in 2017
Low interest rates have helped push stocks to record highs, but economic fundamentals don't justify these prices.
The U.S. Federal Reserve fought the Great Recession by slashing interest rates. In 2008, the Fed cut rates to 0.25%. The Fed has only raised rates twice since then, and they remain below 1%.
Low interest rates were meant to stimulate the economy. By making borrowing cheaper, the Fed expected corporations and businesses to spend more money and spur economic growth.
Instead of borrowing money to grow business, many companies borrowed money to buy back shares of their own stock.
From 2008 to present, corporations borrowed $1.9 trillion and spent over $2 trillion on stock buybacks.
And stock prices have skyrocketed.
The Dow is up 131% since the Fed last cut rates in December 2008. But while stocks have soared, corporate growth hasn't justified the surge. According to Case-Schiller's cyclically adjusted price/earnings ratio, companies on the S&P 500 are overvalued by an average of 73%.
Corporate earnings are not only failing to keep up with growth in the market, they're also slowing. On Sept. 30, Wall Street analysts predicted that S&P 500 earnings would increase by 5.2% in the fourth quarter. That prediction has now been revised to a meager 3.2%.
From 2009 to 2012, the U.S. economy grew just 6.8%. In comparison, the S&P 500 posted gains of 60% during this same period.
At the Dec. 15, 2016, FOMC meeting, the Fed raised interest rates for only the second time since 2008. But low interest rates are ending. The FOMC members predicted there would be three more rate hikes in 2017.
Trending: Our Essential Guide to Buying Gold and Silver
This means cheap borrowing to finance share buybacks will also end. And without share buybacks boosting stock prices, a stock market crash in 2017 could be a real possibility.
But savvy investors can be prepared for a stock market crash. And we are here to help. Here's how to protect your money during a stock market crash...
Protect Your Money from a Stock Market Crash