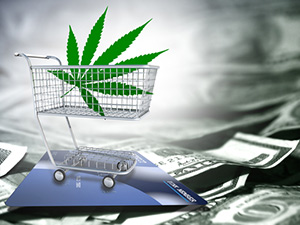 Legal medical marijuana sales in the United States are expected to skyrocket this year. With sales expected to reach $3.1 billion in 2017, we have our eyes on the top weed stocks to watch this year.
We will get to the top weed stocks to watch in 2017 in just a bit.
But first, we wanted to make sure our readers were aware of the challenges of investing in the marijuana industry.
Investing in Weed Stocks in 2017
Money Morning is bullish on the growth potential of the marijuana industry.
But investing in marijuana stocks right now is speculative.
That's because most marijuana stocks are penny stocks, and investing in penny stocks is notoriously risky. Penny stock shareholders have to be able to handle a lot of volatile price swings.
There is also concern over the incoming administration and its conservative views on the marijuana industry.
However, we have a positive long-term outlook for the marijuana industry.
With 28 states and Washington, D.C., having some type of legalized marijuana law, it's only a matter of time before additional marijuana laws are passed. Marijuana legalization in Canada will also be a boon for the industry.
That's why the top weed stocks are on our watch list right now.
And the first weed stock on our watch list is a company that specializes in medical marijuana…
Top Weed Stocks to Watch in 2017 No. 5: CV Sciences Inc.
CV Sciences Inc. (OTCMKTS: CVSI) runs two distinct segments: consumer products and specialty pharmaceuticals.
The consumer products division manufactures, markets, and sells plant-based cannabidiol (CBD) products.
Its pharmaceutical division develops and commercializes therapies that use synthetic CBD.
One of CV Sciences' top products is "Plus CBD Oil," which is sold in roughly 1,000 locations in the United States.
CV Sciences is also working on products to support smokeless tobacco cessation through its acquisition of CanX Inc. in 2015.
The company has a market cap of $28.90 million. In the last 52 weeks, the CVSI stock price has traded as low as $0.11 per share and as high as $0.99 per share.
The next company on our marijuana stock watch list is connecting marijuana enthusiasts through social media…
Top Weed Stocks to Watch in 2017 No. 4: MassRoots Inc.
MassRoots Inc. (OTCMKTS: MSRT) is a Denver-based marijuana technology company.
MassRoots specializes in mobile technology and runs the largest web portal and social network for the marijuana industry. MassRoots has a user base approaching 1 million.
Visitors to the site share pot resources and information on the industry.
MassRoots also just announced on Dec. 16, 2016, it would acquire a company called Whaxy. Through Whaxy's online ordering and inventory platform, MassRoots now has a way to directly connect its user base to marijuana products.
The MSRT stock price opened at $1.04 on Jan. 18, but MSRT has traded for as much as $1.67 in the last 52 weeks.
BRILLIANT: Average Americans Are Becoming Marijuana Millionaires
The third weed stock to watch in 2017 is a company battling debilitating diseases through medical cannabis…
Top Weed Stocks to Watch in 2017 No. 3: Growblox Sciences Inc.
Growblox Sciences Inc. (OTCMKTS: GBLX) researches and develops medical cannabis treatments and drugs.
The company creates medical-grade marijuana, concentrated marijuana, and cannabinoid solutions through plant biology.
Growblox Sciences focuses on creating solutions for patients suffering from debilitating illnesses. These illnesses include:
Epilepsy
Parkinson's disease
Pancreatic cancer
Alzheimer's disease
The company is currently working on a treatment for heart disease.
Over the last 12 months, the GBLX stock price has climbed more than 48%.
Our next weed stock to watch has actually been in business since 1868.
Top Weed Stocks to Watch in 2017 No. 2: Scotts Miracle-Gro Co.
Scotts Miracle-Gro Co. (NYSE: SMG) is one of the top pot stocks on our list that is traded on a major index.
This company is known for products that help keep your lawn green. But most investors are surprised to learn Scotts has been investing heavily in the marijuana industry over the last two years.
Scotts has invested in two companies that specialize in soil and fertilizer for cannabis growers. In July 2016, Scotts also invested a 75% stake in Gavita International, a hydroponics equipment company.
According to Bloomberg, Scotts' hydroponics business now generates roughly $250 million annually. That's less than 10% of its total revenue from October 2015 to October 2016, but sales will climb as more states legalize marijuana.
Over the last 12 months, the SMG stock price has climbed more than 43%. Scotts also pays its shareholders a dividend of $0.50, which is a yield of 2.13%.
Continue reading to find out one of our top weed stocks to watch in 2017…