(Kitco News) – Global stock markets were mixed overnight, as the world marketplace is getting a bit anxious as Donald Trump will be inaugurated as the next U.S. president on Friday. Trump's stated ambitious economic growth plans have so far lacked specifics, which is worrisome to many market watchers. Trump has also made remarks that have ruffled the feathers of top Chinese government officials. China is the world's second-largest economy. U.S. stock indexes are pointed toward slightly higher openings when the New York day session begins.
Gold prices are trading near steady and holding on to the good gains scored Tuesday that pushed the yellow metal to a nearly two-month high.
It is a very busy day for U.S. economic data Wednesday. Due out includes the weekly MBA mortgage applications survey, the weekly Goldman Sachs and Johnson Redbook retail sales reports, the consumer price index, real earnings, industrial production and capacity utilization, the NAHB housing market index, Treasury international capital data, and the Federal Reserve's beige book. Fed Chair Janet Yellen also speaks today in California.
In overnight news, Euro zone consumer price inflation in December was reported up 0.5% from November and up 1.0%, year-on-year. This is good news for the Euro zone, as just a few months ago the specter of price deflation was a worry for European market watchers.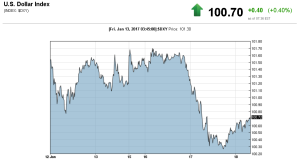 The U.S. dollar index is seeing a corrective bounce Wednesday following sharp losses on Tuesday that saw the index hit a four-week low. There are now early chart clues that the USDX has put in at least a near-term market top.
The other key "outside market" on Wednesday sees Nymex crude oil prices trading lower on growing ideas U.S. shale-oil production will ramp up due to oil prices holding above $50.00 a barrel. There remain stiff technical chart resistance layers that lie just above the crude oil market.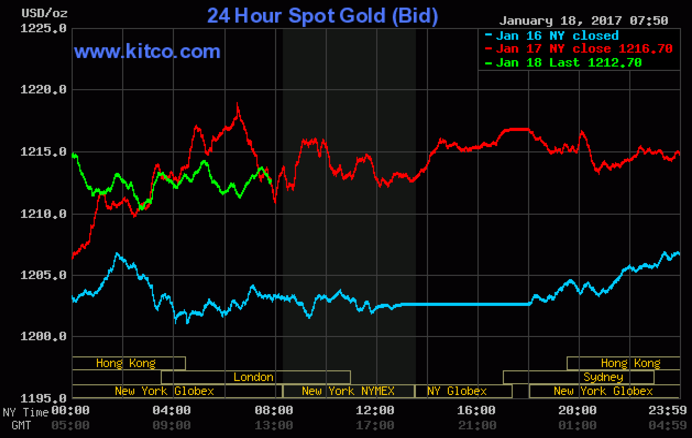 By Jim Wyckoff, contributing to Kitco News; jwyckoff@kitco.com
Follow Jim Wyckoff @jimwyckoff for breaking market news.