Editor's Note: Chris Johnson has worked in finance for more than 20 years, holding the titles Director of Research and Director of Quantitative Analysis ("quants" are kind of like the rocket scientists of investing) at a well-known equity and options research firm. You're going to be hearing a lot more from him soon, but he wanted us to get in touch right away with this urgent bullish recommendation. Here's Chris…
We're heading right straight into the thick of earnings season and all the profit potential that brings.
Fully 35 of the S&P 500's 508 stocks (yes, there are actually 508) are in play this week. These companies are stepping into the arena to account for their Q4 2016 operations.
And one of the biggest and juiciest opportunities for us is "The General," or General Electric Co. (NYSE: GE). The giant "digital industrial" firm is expected to submit its quarterly earnings data and color in those numbers tomorrow morning, before the markets open.
So there's not much time to get ready for the specific, easy-to-make profit play I'm going to show you right now.
GE Is in Great Shape Heading into Announcement
As of Wednesday morning, analysts expected General Electric to earn $0.46 per share on revenue of $33.67 billion.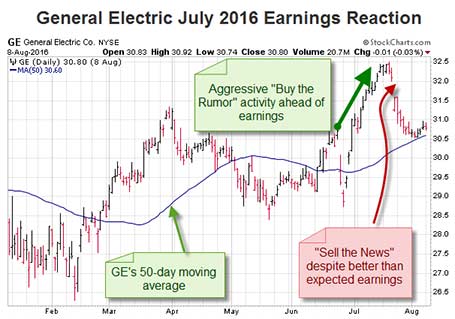 The expectations match what the market wanted from the company in Q2 2016, a number that the company beat by a nickel – or 10%, for those of us that like percentages.
Then something surprising happened…
After the Q2 2016 results beat analysts' expectations, shares of GE fell about 5% over the following trading week.
Here's why: The market was clearly "selling the news," despite better than expected results, a sign that I  saw coming weeks ahead of time as General Electric made an aggressive rally to new 52-week highs ahead of the earnings announcement.
This is exactly the kind of situation I'm looking for during earnings season (across more than 700 stocks). It represents a great opportunity.
After all, for making money, there's nothing quite like knowing a day in advance which way a stock is likely to go.
Let's look at some of my charts; they're telling us just what to expect.
The Market Won't Stage a Fake-Out This Time
I think tomorrow's going to be different than what happened in July.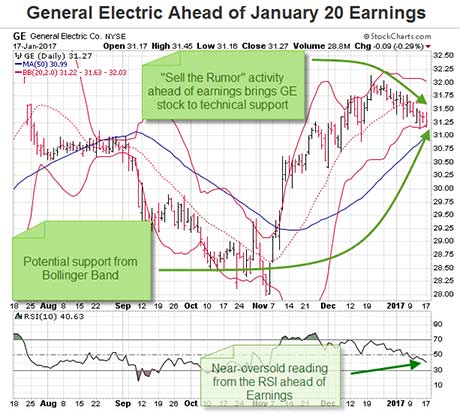 You see, unlike the reaction we saw during General Electric's Q2 2016 earnings reporting, the technical picture for this stock right now is more conducive to a positive reaction to Friday's earnings results – regardless of how good they are.
Here's exactly why…
GE shares have made a controlled decline to critical technical support over the last week. This support is in the form of the stock's 50-day moving average.
What's more, the stock's 100- and 200-day moving averages are positioned about 2.5% below current prices. That's reassuring news – it indicates a second level of support ready to help rally shares in the event of an earnings miss.
There's more confirmation, too: The recent selling pressure on General Electric's stock has moved it close to a technically oversold reading from its relative strength index (RSI) reading.  This is important because my empirical testing results show that it is almost always a bad idea to short a stock ahead of its earnings results when the shares are oversold.
And there's another bright green light flashing for "The General" as we head into Friday's announcement…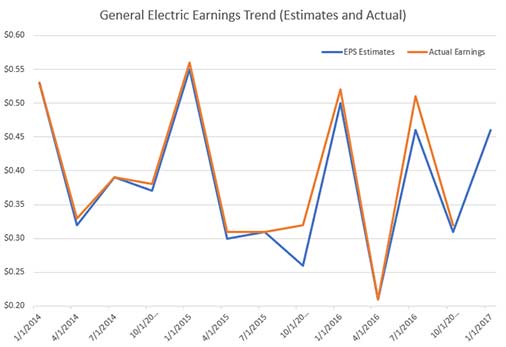 Now, I can't show the exact method I used to uncover this – it's proprietary, and "top secret"… for now – but my data reveals that expectations are likely lower than the published earnings-per-share (EPS) target of $0.46. The discrepancy isn't large enough that we'd see traders loading up on one side of the market over the other.
That's all I need to make bullish recommendation here, especially for short- and intermediate-term investors. You can expect support in the $30.50 to $31.25 range – around 2% downside risk. But there's upside all the way up to $33 or $34, about 8% in upside on the table. And this is just the short term; there's longer-term bullish potential as the stock moves ahead of long-term technical resistance.
General Electric is a "Screaming Buy" today, ahead of tomorrow's announcement.
Don't miss a single opportunity like this – sign up for our customizable Profit Alerts here. You'll get stock alerts the minute they're published.
Follow Money Morning on Facebook and Twitter.
Join the conversation. Click here to jump to comments…
About the Author
Chris Johnson is a highly regarded equity and options analyst who has spent much of his nearly 30-year market career designing and interpreting complex models to help investment firms transform millions of data points into impressive gains for clients.
At heart Chris is a quant - like the "rocket scientists" of investing - with a specialty in applying advanced mathematics like stochastic calculus, linear algebra, differential equations, and statistics to Wall Street's data-rich environment.
He began building his proprietary models in 1998, analyzing about 2,000 records per day. Today, that database, which Chris designed and coded from scratch, analyzes a staggering 700,000 records per day. It's the secret behind his track record.
Chris holds degrees in finance, statistics, and accounting. He worked as a licensed broker for 11 years before taking on the role of Director of Quantitative Analysis at a big-name equity and options research firm for eight years. He recently served as Director of Research of a Cleveland-based investment firm responsible for hundreds of millions in AUM. He is also the Founder/CIO of ETF Advisory Research Partners since 2007, noted for its groundbreaking work in Behavioral Valuation systems. Their research is widely read by leaders in the RIA business.
Chris is ranked in the top 99.3% of financial bloggers and top 98.6% of overall experts by TipRanks, the track record registry of financial analysts dating back to January 2009.
He is a frequent commentator on financial markets for CNBC, Fox, Bloomberg TV, and CBS Radio and has been featured in Barron's, USA Today, Newsweek, and The Wall Street Journal, and numerous books.
Today, Chris is the editor of Night Trader and Strikepoint Trader and contributes to Money Morning as the Quant Analysis Specialist.