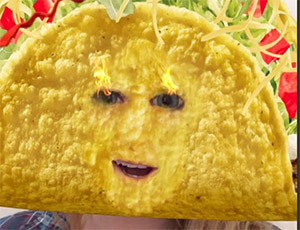 Snapchat's revenue totals could climb to $1 billion in 2017, which is up 1,594% from Snap's 2015 revenue totals of $59 million.
That growth is incredible, but investors still want to know, "how does Snapchat make money?"
Snapchat has three main revenue sources right now.
And through its biggest revenue source, Snapchat can charge advertisers as much as $750,000 per day for a single advertisement...
How Snapchat Makes Money
Snapchat's biggest revenue source right now are "Sponsored Lenses." This feature allows Snapchat users to take a video or picture of themselves with different animations added to the shot.
For example, Taco Bell worked with Snapchat to create a sponsored lens for May 5, 2016 (Cinco de Mayo). The lens let users turn their head into a taco.
In just one day, Taco Bell's lens received 224 million views, according to Adweek.
20th Century Fox also created a sponsored lens in conjunction with the launch of "The Peanuts Movie" in 2015.
Through the lens, Snapchat users could add characters from the movie, like Snoopy and Woodstock, to their photos and videos.
And because of their popularity, Sponsored Lenses aren't cheap...
For holidays and special events like the Super Bowl, Snapchat Lenses can cost up to $750,000. During a nonpeak day, lenses can cost $450,000 or more, according to Financial Times.
Snapchat also has a similar product on a smaller scale for individuals and companies. Snapchat's "Geofilters" are ad-like invitations that allow other Snapchat users to know where a concert, fundraiser, or event will be held.
According to eMarketer, Snapchat was projected to make $102 million from branded lenses and Geofilters in 2016.
Snapchat is still developing its second revenue source. But it's already so popular that Snap wanted to renegotiate terms with advertisers a year and a half after it launched...
Snapchat Makes Money with "Discover"
Snapchat launched "Discover" in January 2015. Through Discover, companies like ESPN and CNN can create snaps in the form of a short story.
Snapchat was charging its partners on Discover roughly $100 per thousand views of their story, according to
Recode
. For ad revenue, Snapchat took 30% if the media company sold ad space within its story.
If Snapchat sold the ad space, it took a 50% cut.
But in October 2016, Snapchat wanted to change the terms for Discover partnership. This is an indication the advertising demand for Snapchat is growing.
According to Recode, Snapchat wanted to pay content partners upfront license fees, sell all the ads on its own, and keep all of the ad revenue.
In 2016, eMarketer projected Snapchat would generate nearly $250 million in video ad revenue.
Trending Story: How Do I Invest in Marijuana Stocks?
Like other social media sites, Snapchat generates the majority of its revenue from selling ad space.
However, Snapchat revealed a new physical product at the end of September 2016...
Snapchat Makes Money with "Spectacles"
[mmpazkzone name="end-story-hostage" network="9794" site="307044" id="138536" type="4"]
Snapchat's newest product called "Spectacles" was introduced on Sept. 23, 2016.
Snapchat Spectacles are sunglasses that allow users to record up to 10 seconds of video. After the video is recorded, it can be posted wirelessly to a user's Snapchat account.
Instead of selling them commercially, Snapchat created a unique marketing strategy for the sunglasses.
Snapchat had pop-up vending machines appear around the country and let potential customers know where to find the vending machines on its website.
Right now, the sunglasses retail for $129.00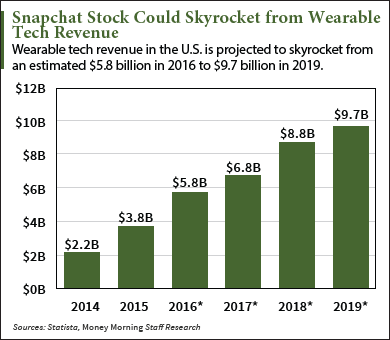 However, the future applications of Spectacles could generate billions in revenue for Snapchat...
By 2019, research site Statista projects wearable tech revenue in the United States will reach $9.7 billion. That's a 42% increase from the projected revenue of $6.8 billion in 2017.
Eventually, Snapchat could develop its own games that work through Spectacles.
Snapchat also could create a game store and take a commission from each sale.
And it appears it's doing just that...
According to its website, Snapchat is hiring for the current positions:
3D Designer
3DS Max Character Rigger
Each job mentions that the candidate will be working with low-poly modeling. It's a highly technical term and a complicated concept. But investors just need to know that low-poly meshes are used in real-time applications like games.
The Bottom Line: Snapchat makes money by selling Sponsored Lenses and ad space on Discover. The company will also generate money from its sunglasses, Snapchat Spectacles. By 2018, Snapchat is projected to generate close to $2 billion in revenue.
Bonus Opportunity
Because Snapchat could be one of the biggest IPOs in 2017, we know investors still have a lot of questions. That's why we made this guide for our readers that covers everything you need to know about the Snapchat IPO.