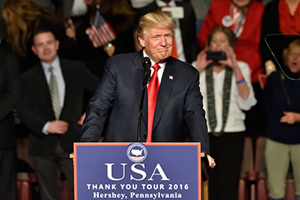 President-elect Donald Trump will be sworn in as the 45th president of the United States on Jan. 20, 2017.
The swearing-in ceremony for the Trump inauguration will take place at 11:30 a.m., and Chief Justice John G. Roberts, Jr., will administer the oath of office around noon.
After he is sworn in, President-elect Trump will deliver his inaugural address.
President-elect Trump and Vice President Mike Pence will then lead the inaugural parade from the Capitol to Pennsylvania Avenue.
According to The New York Times, thousands of military personal will represent each branch participating in the parade.
Later that night at 7:00 p.m., two official inaugural balls will take place. Each of the balls will be on separate floors of the Walter E. Washington Convention Center. There will also be an Armed Services Ball, which will take place at the National Building Museum.
President-elect Trump is expected to make remarks at all three events.
Important Information for Investors Today
Americans are questioning what will happen to the marijuana industry under President-elect Donald Trump.
As a service to Money Morning readers, we're now making available a 90-page cannabis investing guide called The Roadmap to Marijuana Millions.
This "bible of weed investing" reveals the world's top marijuana stocks every serious investor should consider right now.
Normally valued at $499, it can be yours absolutely free. To learn how to get your free copy, click here.
This offer is only available to the first 500 people who respond today. So please go here now to reserve your copy.