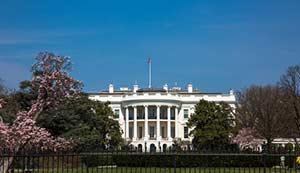 The Dow Jones Industrial Average today climbed higher as President Donald Trump was sworn into office. President Trump's inaugural speech was considered to be protectionist by many investors.
"From this day forward it is going to be only America first," Trump said shortly after being sworn in.
He also said his policy will focus on hiring American workers and buying American products. In recent weeks, the protectionist narrative has been seen as the potential downside of Trump's plans.
The markets had rallied since the election due to expected policies such as corporate tax reform, income tax reform, the rollback of major banking and energy regulations, and the repeal of the Affordable Care Act.
Let's look at the numbers from Friday for the Dow, S&P 500, and Nasdaq:
Dow Jones: 19,827.25; +94.85; +0.48%
S&P 500: 2,271.31; +7.62.; +0.34%
Nasdaq: 5,555.33; +15.25; +0.28%
Now, here's a look at today's most important market events and stocks, plus a preview of Monday's economic calendar.
DJIA Today: Dow Pushes Higher as Donald Trump Becomes President
Proctor & Gamble Co. (NYSE: PG) gave the biggest boost to the Dow after the conglomerate easily beat Wall Street expectations for its quarterly report in pre-market hours. However, General Electric Co. (NYSE: GE) slipped over 2.5% after the company matched earnings expectations but fell short of revenue forecasts.
Must Read: Best Stocks to Buy for January 2017
Crude oil prices today were pushing higher ahead of a compliance meeting among OPEC and non-OPEC producers. During a meeting this weekend, global producers will create a compliance system to verify that participants are sticking to a deal to cap excessive crude production.
The WTI crude oil price today climbed over 2%. Meanwhile, Brent crude gained 2.2%.
While it was a good day for oil prices, natural gas prices plunged more than 4.8% on the day. The commodity price plunged after weather forecasts called for warmer temperatures.
Prediction: Natural Gas Prices in 2017 Will Soar Double Digits
Money Morning Global Energy Strategist Dr. Kent Moors expects both oil and natural gas prices to continue rising by at least 20% in 2017. With energy prices set to climb, investors should take advantage of our three best energy stocks to buy in 2017. Check them out, right here.
But of course, the biggest story today was the inauguration of President Trump.
The latest big name to offer positive sentiment is Warren Buffett. The chairman and CEO of Berkshire Hathaway Inc. (NYSE: BRK.A; BRK.B), said he thinks the United States will "work fine" under President Donald Trump. So, what does Buffett expect for the economy and the stock market in the years ahead?
Read his latest quotes, right here.
Stock Market News and Top Stocks to Watch Today: Jan. 20, 2017
In deal news, one of the top acquisitions in the health sector is under fire. Shares of Rite Aid Corp. (NYSE: RAD) fell nearly 14% after the Federal Trade Commission said it is unhappy with Walgreens Boots Alliance Inc.'s (Nasdaq: WBA) divestiture plans to secure RAD in a deal. Walgreens stock fell more than 2%, and the announcement will force the company back to the drawing board to find a solution and comply with the agency's demand.
While everyone is talking Trump, Europe's financial sector continues to teeter on the brink in the wake of the Brexit vote. Today, global investment banks Morgan Stanley (NYSE: MS) and Citigroup Inc. (NYSE: C) said they have identified the steps they need to take to relocate out of Britain following the nation's decision to depart the European Union. According to Reuters, Citigroup is eyeing Dublin as a possible relocation bid for 100 key jobs, while Morgan Stanley faces uncertainty over 1,000 positions and relocation.
Monday's U.S. Economic Calendar (all times EST)
Four-Week Bill Announcement at 11:00 AM ET
Three-Month Bill Auction at 11:30 AM ET
Six-Month Bill Auction at 11:30 AM ET
Must Read – This Great Depression-era "Secret" Helped Transform Two Teachers into Millionaires: Donna and Dave R. were both teachers in Boston. But today they're retired millionaires who are also earning $10,000 a month in income. Their secret? Much of their wealth is due to a Great Depression-era "program" most have no idea exists. Full Story
Follow Money Morning on Facebook and Twitter