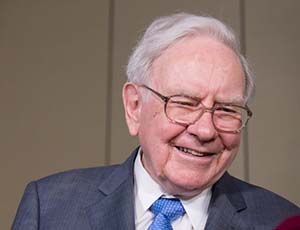 Yesterday, Warren Buffett, the chairman and CEO of Berkshire Hathaway Inc. (NYSE: BRK.A; BRK.B), said he thinks the United States will "work fine" under President Donald Trump.
His reason: America's got the "secret sauce" - the ability to survive.
"America works," Buffett told CNBC on Thursday (Jan. 19). "I've said this before. It'll work wonderfully under [former Democratic presidential candidate] Hillary Clinton, and I think it'll work fine under Donald Trump."
The billionaire also conceded that he doesn't think the United States works perfectly, "but you just look at where we go, milestone after milestone. Never bet against America."
Buffett likewise took the CNBC interview yesterday as an opportunity to reiterate his call to invest now for the long haul...
Warren Buffett: The Stock Market Will Be Higher in the Future
The Oracle of Omaha said that he doesn't know where the stock market will go in the next "10 days or a year or two years."
But one thing he said he does know: "It's going to be higher 10 years, 20 years from now."
"There will be hiccups from time to time in the economy," Buffett cautioned. "[But] we'll do well over time."
Don't Miss: This "bible of weed investing" reveals the world's top marijuana stocks every serious investor should consider right now.
Since the election last year, Buffett has struck a more conciliatory tone toward Trump and has repeatedly called for unity in the months since the real estate mogul's official election.
This has likewise been the case for Mavericks owner and "Shark Tank" creator Mark Cuban, who in December claimed that Donald Trump was his "number one draft pick" - a statement completely contrary to the many criticisms Cuban had publically made about Trump over the course of his presidential campaign.
Here's more on Cuban's dramatic "change of heart"...
Follow us on Twitter @moneymorning or on Facebook.
Related Articles: