As I predicted in my 2017 outlook a few weeks ago, tech is off to a screaming start to the year. The tech-centric Nasdaq is up close to 3.2% versus the S&P 500's 1.45%.
Here's the key: As the years go by, Silicon Valley will be providing more and more of the technology that's becoming critical to our society's existence, like broadband and mobile communications, wearable tech, sensors, virtual and augmented reality, and medtech.
But here's the thing. Virtually none of that can exist without the fundamental component I'm going to tell you about right now. It's absolutely indispensable to innovation, miniaturization, mobilization, and utilization.
This little part enables the global spread and adoption of technology – and you bet it enables massive tech profits, too.
So the play I have in mind has lots of upside wired in.
The Tech That Makes Tech Possible
Look, the pace of technological advance has been lighting fast over the past 60 years.
And it's only going to get faster.
That's largely thanks to the exponential acceleration of computing speed. Consider that on your wrist or in your pocket right now, you're likely packing several tens of thousands of times the computing power of the Apollo craft that landed on the moon – not to mention the computers NASA used to pull it off!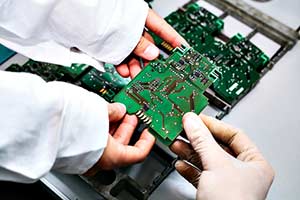 In 1995, humans were producing about 100 gigabytes of data every day – far, far less than the 16-terabyte capacity of our newest hard drives in 2017.
What's more, by 2018, humans and their machines, large and small, will likely generate close to 50,000 gigabytes every second. That comes to 4.5 exabytes – that's 4.54 quintillion bites – of data every day, in everything from text messages, to emails, to love notes, to doctoral dissertations, Internet traffic, grocery lists – and on.
And only hyperfast computers are capable of handling that eye-watering supply of 0s and 1s.
In real time, no less.
That's where my recommendation comes in. They're consistently innovating and improving computer processors, and they've been at it for a while, too.
They've got the microchip game covered front to back.
Put "Intel Inside" Your Core Tech Holdings
All of the incredible progress and achievement in processors, stunning and disruptive as it has been, is only laying the foundation of what's coming just around the corner…
Driverless cars, smart houses, interconnected devices, cybernetics, artificial intelligence (AI), smart clothes with sensors, and virtual reality surgery are all coming – some prototypes are here already – and they all depend on the chips made by Intel Corp. (Nasdaq: INTC), and others.
Now, of all the great chipmakers out there, come-from-behind Intel is one of the biggest and best bets for your core technology holdings.
Why I'm Recommending Intel Today
Join the conversation. Click here to jump to comments…
About the Author
Michael A. Robinson is one of the top financial analysts working today. His book "Overdrawn: The Bailout of American Savings" was a prescient look at the anatomy of the nation's S&L crisis, long before the word "bailout" became part of our daily lexicon. He's a Pulitzer Prize-nominated writer and reporter, lauded by the Columbia Journalism Review for his aggressive style. His 30-year track record as a leading tech analyst has garnered him rave reviews, too. Today he is the editor of the monthly tech investing newsletter Nova-X Report as well as Radical Technology Profits, where he covers truly radical technologies – ones that have the power to sweep across the globe and change the very fabric of our lives – and profit opportunities they give rise to. He also explores "what's next" in the tech investing world at Strategic Tech Investor.