As I predicted in my 2017 outlook a few weeks ago, tech is off to a screaming start to the year. The tech-centric Nasdaq is up close to 3.2% versus the S&P 500's 1.45%.
Here's the key: As the years go by, Silicon Valley will be providing more and more of the technology that's becoming critical to our society's existence, like broadband and mobile communications, wearable tech, sensors, virtual and augmented reality, and medtech.
But here's the thing. Virtually none of that can exist without the fundamental component I'm going to tell you about right now. It's absolutely indispensable to innovation, miniaturization, mobilization, and utilization.
This little part enables the global spread and adoption of technology - and you bet it enables massive tech profits, too.
So the play I have in mind has lots of upside wired in.
The Tech That Makes Tech Possible
Look, the pace of technological advance has been lighting fast over the past 60 years.
And it's only going to get faster.
That's largely thanks to the exponential acceleration of computing speed. Consider that on your wrist or in your pocket right now, you're likely packing several tens of thousands of times the computing power of the Apollo craft that landed on the moon - not to mention the computers NASA used to pull it off!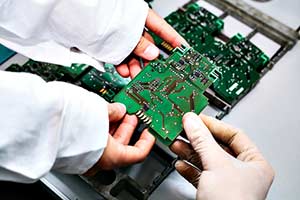 In 1995, humans were producing about 100 gigabytes of data every day - far, far less than the 16-terabyte capacity of our newest hard drives in 2017.
What's more, by 2018, humans and their machines, large and small, will likely generate close to 50,000 gigabytes every second. That comes to 4.5 exabytes - that's 4.54 quintillion bites - of data every day, in everything from text messages, to emails, to love notes, to doctoral dissertations, Internet traffic, grocery lists - and on.
And only hyperfast computers are capable of handling that eye-watering supply of 0s and 1s.
In real time, no less.
That's where my recommendation comes in. They're consistently innovating and improving computer processors, and they've been at it for a while, too.
They've got the microchip game covered front to back.
Put "Intel Inside" Your Core Tech Holdings
All of the incredible progress and achievement in processors, stunning and disruptive as it has been, is only laying the foundation of what's coming just around the corner...
Driverless cars, smart houses, interconnected devices, cybernetics, artificial intelligence (AI), smart clothes with sensors, and virtual reality surgery are all coming - some prototypes are here already - and they all depend on the chips made by Intel Corp. (Nasdaq: INTC), and others.
Now, of all the great chipmakers out there, come-from-behind Intel is one of the biggest and best bets for your core technology holdings.
Why I'm Recommending Intel Today
Join the conversation. Click here to jump to comments…
About the Author
Michael A. Robinson is a 36-year Silicon Valley veteran and one of the top tech and biotech financial analysts working today. That's because, as a consultant, senior adviser, and board member for Silicon Valley venture capital firms, Michael enjoys privileged access to pioneering CEOs, scientists, and high-profile players. And he brings this entire world of Silicon Valley "insiders" right to you...
He was one of five people involved in early meetings for the $160 billion "cloud" computing phenomenon.
He was there as Lee Iacocca and Roger Smith, the CEOs of Chrysler and GM, led the robotics revolution that saved the U.S. automotive industry.
As cyber-security was becoming a focus of national security, Michael was with Dave DeWalt, the CEO of McAfee, right before Intel acquired his company for $7.8 billion.
This all means the entire world is constantly seeking Michael's insight.
In addition to being a regular guest and panelist on CNBC and Fox Business, he is also a Pulitzer Prize-nominated writer and reporter. His first book Overdrawn: The Bailout of American Savings warned people about the coming financial collapse - years before the word "bailout" became a household word.
Silicon Valley defense publications vie for his analysis. He's worked for Defense Media Network and Signal Magazine, as well as The New York Times, American Enterprise, and The Wall Street Journal.
And even with decades of experience, Michael believes there has never been a moment in time quite like this.
Right now, medical breakthroughs that once took years to develop are moving at a record speed. And that means we are going to see highly lucrative biotech investment opportunities come in fast and furious.
To help you navigate the historic opportunity in biotech, Michael launched the Bio-Tech Profit Alliance.
His other publications include: Strategic Tech Investor, The Nova-X Report, Bio-Technology Profit Alliance and Nexus-9 Network.