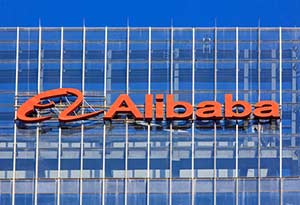 BABA Earnings Preview: The Alibaba Group Holding Ltd. (NYSE: BABA) Q3 2017 earnings report will take place on Jan. 24, 2017, before the opening bell.
And while Money Morning is bullish on the long-term outlook of BABA stock, investors want to know what to expect in the short term.
Ahead of the Q3 2017 Alibaba earnings report, here are five things to watch…
What to Watch in BABA Earnings No. 5: Alibaba Cloud Revenue
According to The Wall Street Journal, Alibaba is the largest provider of cloud services in China through its AliCloud service.
And while Alibaba has a market share of roughly 40% in China right now, the company wants to expand across the globe…
Right now, AliCloud has international teams stationed in:
Dubai
Frankfurt
London
New York
Paris
Sydney
According to its website, AliCloud has 651,000 paying customers and 2.3 million customers worldwide.
Trending Story: Top IPOs to Watch in 2017
In Q2 2017, Alibaba reported 1.49 billion yuan ($224 million) in cloud-computing revenue. That was an increase of 130% year over year. But the company also lost $60 million from its cloud division in Q2 2017, according to CNBC.
For Q3 2017, BABA shareholders should watch the revenue and losses from the cloud division.
What to Watch in BABA Earnings No. 4: Counterfeit Goods Report
Alibaba Executive Chairman Jack Ma met with President Donald Trump on Jan. 9 to discuss creating American jobs. Through e-commerce platforms, Ma wants to have 1 million small U.S. businesses selling on the platform.
But because of complaints about Alibaba selling fake goods, that could be difficult…
In December 2016, the U.S. Trade Representative placed Alibaba on its list of global marketplaces known for selling pirated and counterfeit products.
There were not only complaints about the fake goods, but there were also complaints about the difficulty in removing the goods from being listed.
Alibaba hasn't been on the list since 2012, according to Investors.com.
BABA shareholders should watch what the company has to say about the list, and what it plans to do to counter the sale of fake products.
What to Watch in BABA Earnings No. 3: Integrating Offline and Online Sales
According to WSJ, online retail sales in China increased 26% from 2015 to 2016.
But because of increased online competition from JD.com and small startups, Alibaba is looking to integrate offline and online selling for long-term growth.
And one example of BABA's integration strategy is through the grocery business…
In November 2016, Alibaba announced it planned to invest $305 million in Sanjang Shopping Club. That gave BABA a 32% stake in the discount supermarket, which operates 160 stores across the eastern Chinese province of Zhejiang.
According to Forbes, 40% of Chinese consumers bought groceries online between 2014 and 2015.
But how will offline sales help Alibaba?
By analyzing offline grocery purchases, Alibaba will be able to improve its online offerings.
Amazon.com Inc. (Nasdaq: AMZN) has a similar strategy. Amazon is building physical bookstores and grocery stores. Amazon can use its online data to tell what books are popular in a certain area and order an appropriate amount of inventory.
BABA shareholders should watch for further news on how BABA's integration strategy has worked in Q3.
What to Watch in BABA Earnings No. 2: Singles' Day Sales
In the 1990s, single Chinese individuals celebrated "Singles' Day" as an anti-Valentine's Day, according to CNBC.
Then in 2009, Alibaba started to promote discounted products and sales for the holiday. Now, more than 14,000 international brands participate in Singles' Day.
For 2016, Ma enlisted celebrities to increase sales for Singles' Day across the globe.
This year's "countdown gala" included appearances from:
NBA star Kobe Bryant
Soccer star David Beckham
The band "One Direction"
And the appearances seemed to pay off…
In 2015, Alibaba reported $14.3 billion in gross merchandise volume for Singles' Day. In 2016, Alibaba reported $17.8 million worth of gross merchandise volume.
That's a 24.47% increase in just one year.
Shareholders will want to pay attention to any additional information about this year's Singles' Day, as well as any projections for Singles' Day 2017.
What to Watch in BABA Earnings No. 1: EPS and Revenue
For Q2, analysts expected Alibaba to post 4.69 yuan per share ($0.68) and 33.9 billion yuan ($4.94 billion) in revenue.
Instead, Alibaba posted 5.26 yuan ($0.79) and 34.3 billion yuan ($5.1 billion) in revenue.
But even though Alibaba beat expectations, the stock price still fell. Investors are still worried about an SEC probe that was announced by BABA in May 2016.
According to WSJ, the SEC is reviewing Alibaba's accounting practices for a delivery affiliate, its operating data for its Singles' Day, and "related party transactions."
A positive report from the company could send the stock price higher, while a negative report would send shares lower.
For Q3, analysts expect Alibaba to post earnings per share of $1.13 on $7.48 billion in revenue.
Bonus Opportunity
The vote across America for marijuana legalization is expected to create one of the biggest wealth grabs in history, transforming everyday Americans into millionaires overnight.
As a service to Money Morning readers, we're now making available a 90-page cannabis investing guide called The Roadmap to Marijuana Millions.
This "bible of weed investing" reveals the world's top marijuana stocks every serious investor should consider right now.
Normally valued at $499, it can be yours absolutely free. To learn how to get your free copy, click here.
This offer is only available to the first 500 people who respond today. So please go here now to reserve your copy.
Follow Money Morning on Facebook and Twitter.