The biggest oil price news this week was OPEC's first compliance meeting on Sunday (Jan. 22) since agreeing to a production cut on Nov. 30. But that's not the only thing moving oil prices today...
The OPEC deal calls for the cartel to cut about 1.2 million barrels of oil a day in an effort to boost oil prices. While the entire cut is roughly 1.2 million barrels, each country is responsible for a specific amount.
The compliance meeting ensured each country was living up to its part of the deal.
The chart below shows how the nearly 1.2 million barrels of cuts are distributed across the cartel.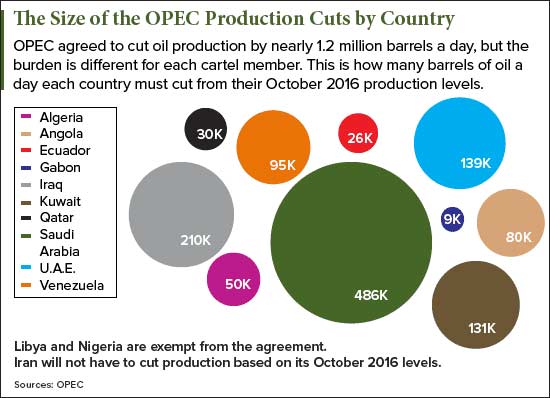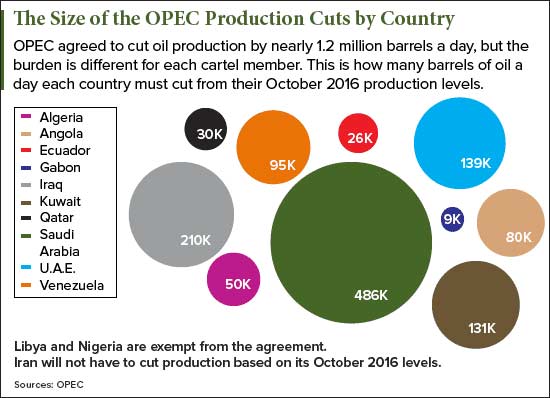 Despite bullish news that cartel members are on track to comply with the agreement, WTI crude oil prices have fallen to $53.07 a barrel, down 2.3% from last week's high of $54.32.
That's because the news out of OPEC hasn't all been positive, and there are even more issues affecting oil prices now. Here's the oil price news this week sending prices lower...
OPEC's Meeting Is Leading Oil Price News Today
On Sunday, the Joint OPEC-Non-OPEC Ministerial Monitoring Committee (JMMC) held its first ever meeting to assess compliance with the Nov. 30 production cut agreement.
The JMMC reported the agreement was working and created new technical committee to research compliance.
"The JMMC expressed its satisfaction regarding the strong level of commitment to the agreed framework," reports a press release from OPEC.
Trending: My (Bold) 2017 Oil Price Forecast - and Today's Most Profitable Energy Play
During the meeting, the JMMC also created a Joint Technical Committee (JTC).
The creation of the JTC is a big step for compliance as OPEC and non-OPEC members officially agreed on how to keep track of the cuts. Because 11 countries outside of OPEC are participating in the production cuts, OPEC needs to arrange a special agreement between them.
The JTC is made up of representatives from OPEC members Algeria, Kuwait, Venezuela, and non-OPEC members Russia and Oman. The JTC will prepare a monthly report before each compliance meeting.
OPEC members' compliance with the deal is essential for higher oil prices.
Money Morning Global Energy Strategist Dr. Kent Moors says there will be an oil price floor above $50 a barrel as long as the deal stays in place.
The OPEC deal lasts for six months, so there will be at least five more compliance meetings for investors to keep their eyes on. But the agreement can be extended for another six months.
While the first JMMC meeting went smoothly, not all news out of OPEC was good for oil prices.
Libya is exempt from the production cuts since the country is still recovering from a civil war. That has allowed Libya to scale up its oil production. Libya's oil production has increased 254% since last year, its highest level in three years.
Libya has also increased its production from 575,000 barrels a day in November - when the OPEC deal was struck - to a current oil production level of 708,000 barrels a day. That's an increase of 23%.
So Libya's production increase since November more than offsets the combined production cuts of Algeria, Ecuador, Gabon, and Qatar.
The Libyan National Oil Co. boasts it could reach 900,000 barrels a day sometime this year. If Libya reaches 900,000 barrels a day, it would wipe out the production cuts of both Iraq and Venezuela.
And Libya's production increase isn't the only issue in oil price news this week. Other countries are increasing oil production, and that could be a major problem for OPEC...
There's More Oil Price News This Week Than OPEC
Oil prices have risen 13% since OPEC announced its deal on Nov. 30, but higher prices have encouraged oil producers in the United States to boost production.
The United States is the world's largest oil producer, and it's not a member of OPEC or cooperating with the cartel. And that's why American oil production is the biggest oil news story this week.
U.S. oil production has increased 3% since the start of the year and 6% since OPEC reached its deal in November.
That's why the Baker Hughes oil rig count has also been on the rise.
On Friday (Jan. 20), the rig count jumped to 551 from 522. The addition of 29 oil rigs was the largest one-week jump since April 2013.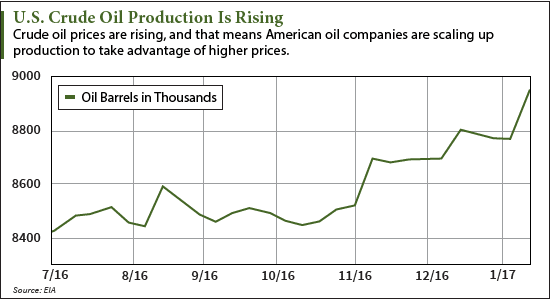 The Wall Street Journal reported Monday (Jan. 23) U.S. shale oil drillers have increased their budgets by 60% in order to produce more oil.
With American oil production increasing and American oil companies scaling up for more production, the OPEC deal might not be enough to keep oil prices rising. The recent news on American production is likely why oil prices have dipped even as OPEC's compliance meeting went smoothly over the weekend.
That's why Khalid al-Filah, Saudi Arabia's oil minister, said OPEC won't rule out more cuts in 2017 during the World Economic Forum last Thursday (Jan. 19).
The Bottom Line: OPEC's compliance meeting showed the cartel was keeping to its agreement to cut oil production. That's good news for oil prices. But higher oil prices encourage more American production. Oil investors should keep an eye on American oil production this week, including the Baker Hughes rig count on Friday (Jan. 27), since oil prices are reacting to American production levels.
Up Next: Are you doing everything you can to grow your retirement "nest egg"? You can start today with our top 5 money-making investment reports - they're absolutely free...
Follow Money Morning on Facebook and Twitter.