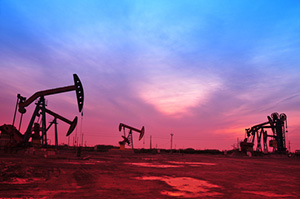 Oil prices have ballooned 15% since OPEC agreed to cut oil production in November, and that has lifted our top 2017 oil stocks to watch now.
The current WTI crude oil price is $53.09. Since hitting a 10-year low in January 2016 of $35.79, oil prices are up nearly 50% today.
And the recent surge in oil price is far from over. Dr. Kent Moors, Money Morning's Global Energy Strategist, believes oil prices will climb even higher this year, with gains of up to 20% by Q2 2017.
The best way for investors to capitalize on rising oil prices is investing in oil stocks. Trading oil futures can be tricky, and oil ETFs are bogged down with fees and dead-weight stocks. But the best oil stocks in 2017 are primed to surge when oil prices rise.
Since hitting their 2016 lows in February last year, our top oil stock picks soared by a combined 71%. That's 21% better than oil did since hitting its low. And these stocks pay a handsome dividend, too.
To help investors take advantage of rising oil prices, we're going to show you the best oil stocks to buy in 2017. Before we get to our plays, here's why oil prices are heading up in 2017...
Why Oil Stocks Are Great Plays in 2017
There are three big reasons we are bullish on the top oil stocks in 2017.
First, in November of last year, OPEC came to a major agreement to cut oil production by 1.2 million barrels a day. The agreement went into effect on Jan. 1, 2017.
OPEC's move is basic economics: supply and demand. As long as demand stays steady, a restricted supply will result in climbing prices.
The agreement is between OPEC producers and 11 other countries, including Russia. Between Saudi Arabia and Russia, that means two of the world's top three oil producers will be cutting oil production.
OPEC held a compliance meeting last weekend (Sunday, Jan. 22), where it reported OPEC members and non-members party to the deal are complying with the production cut goals.
That's why the agreement has pushed oil prices above $50 a barrel. Moors says this price floor is a key part of the OPEC agreement, and as long as the agreement stays in place, prices could rise even more.
Second, oil prices will rise - and oil stocks will benefit - because demand for energy is rising.
The EIA forecasts demand for energy will climb 25% by 2040.
That's because growing populations and economic development in India and China will require more energy.
Trending: Natural Gas Prices in 2017 Will Soar Double Digits
And oil will be a major part of meeting this demand.
Exxon Mobil Corp.'s (NYSE: XOM) 2017 Energy Outlook forecasts that oil will continue to be the primary energy source globally through 2040, even as the demand for energy grows.
That means our top 2017 oil stocks are going to benefit from more energy demand.
Third, President Donald Trump's proposed energy policies are very favorable to the American oil industry.
Trump's campaign platform promised "American energy independence." And his proposals to achieve this goal are to lessen restrictions and regulations on oil in the United States.
In fact, just today (Jan. 24) he signed an executive order to allow the construction of the Keystone XL and Dakota Access pipelines.
On top of this, his nominees for top administrative positions are strong advocates of his views on energy.
President Trump tapped Scott Pruitt, the former Oklahoma attorney general, as head of the Environmental Protection Agency (EPA). When Pruitt served as attorney general, he sued the EPA over what he considered burdensome environmental regulations that hurt Oklahoma's oil industry.
And President Trump also nominated Rex Tillerson, the former CEO of Exxon Mobil, as secretary of state. The former Big Oil CEO is set to be one of the most high-profile cabinet members in the Trump administration.
So now that you've seen why we think oil prices are on their way up in 2017, these are our best 2017 oil stocks...
2017 Oil Stocks to Buy No. 1