The price of gold in 2017 has been crushing the broader market. Since Jan. 1, gold prices have gained 5.5% to a 10-week high of $1,215. That beats both the Dow Jones Industrial Average's flat performance and S&P 500's 1% rise over the same period.
This gain in gold prices has led to even bigger gains for gold stocks. Firms like Newmont Mining Corp. (NYSE: NEM) and Agnico Eagle Mines Ltd. (NYSE: AEM) are up 5.3% and 12.2% so far this year, respectively. And the stocks we're recommending today have even higher upside.
According to Money Morning Resource Specialist Peter Krauth, both gold prices and gold stocks will keep outperforming the stock market this year. His current price target places gold at $1,400 an ounce by the end of 2017 - a 15.2% jump from today's price. Better yet, this will result in more gains for gold stocks in 2017.
Don't Miss: This Free Guide Will Bring You Gold Profits in 2017
That's why we're recommending three gold investments today. While one is a gold exchange-traded fund (ETF), the other two are among the best gold stocks to buy in 2017. These two gold stocks are poised for a combined gain of 25.1% by January 2018.
First, here are the two biggest reasons why gold prices will gain 15.2% this year...
2 Reasons Why the Price of Gold in 2017 Will Climb 15.2%
The first reason why gold prices will rise in 2017 is the falling volume of short bets in the gold market.
A short bet is when someone invests in a stock's decline instead of its increase. A large volume of short positions on a stock or commodity reflects bearish sentiment in that particular stock or commodity.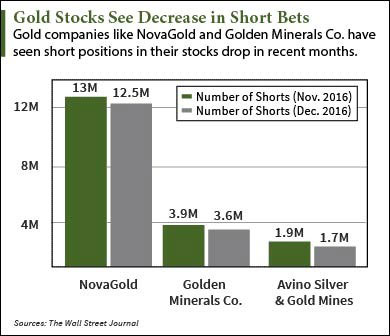 But the volume of short bets on gold stocks has steadily declined in recent months. For example, the number of shorts on Canadian mining firm NovaGold Resources Inc. (NYSEMKT: NG) dropped 3.8% to 12.5 million from November to December 2016. Considering NG stock's 11.8% gain so far this year, it's clear that sentiment continues to shift from bearish to bullish in these big gold stocks.
The growing bullish sentiment for the price of gold in 2017 also shows in short-interest indices like the Gold Bugs Short Index (HUISH). This follows the volume of short positions on gold mining companies that specifically refuse to reduce gold output based on how the gold price moves. As of Jan. 23, HUISH is down 13.1% year to date.
The second bullish factor for gold prices in 2017 is the stronger U.S. dollar.
Yes, the common belief is that gold prices and the dollar have an inverse relationship. The price of gold falls when the dollar increases - and vice versa. This was certainly the case in Q4 2016 when the U.S. Federal Reserve's December rate hike boosted the dollar to an all-time high of 103.25 basis points. That resulted in a quarterly decline of 12.8% for gold prices.
But Krauth - who boasts over 20 years of experience in the metals and mining markets - says the price of gold in 2017 can surge through the current high-rate and high-dollar climate. He knows this because the gold price did it over 40 years ago when interest rates were more than 15 times higher than today's 0.75% level.
Don't Miss: 5 of the Best Stocks to Buy for a Profitable 2017
In the 1970s, interest rates mostly stayed above 5%. When Arthur Burns was the Federal Reserve chair in 1974, he boosted rates to an unprecedented 13%. Five years later, new Fed Chair Paul Volcker hiked them to a new all-time high of 15.5%.
While we would think this would've killed the entire gold sector, it actually sent gold prices soaring through the era. Gold was 24 times more expensive in the beginning of the 1980s than it was at the beginning of the 1970s.
"Through all of this, gold enjoyed a kind of 'Golden Age,'" Krauth said on Jan. 12. "That was a bull market of epic proportions - the mother of and benchmark for all secular metals bulls."
That's why we don't see a strong dollar hurting gold in 2017. The dollar's post-rate-hike strength will wear off and lose some ground, leaving the price of gold to rise from its decline.
And the 2017 gold price rally will provide a minimum 25.1% return on our two favorite gold stocks. The rally will also boost our recommended gold ETF, which holds some of the largest and most profitable gold mining firms in the world.
Here's the best gold ETF and two best gold stocks to buy in 2017...
The 3 Best Gold Investments to Profit from the Price of Gold in 2017