The week is half over, but there are still plenty of earnings season profits to take down before Friday. Like I said last week, we're right in the thick of one of the heaviest reporting periods for quarterly earnings.
This is what you might call a "target-rich" environment, with opportunities left and right.
And one of the juiciest targets is going to show itself tomorrow night, and, believe it or not, most traders aren't looking at it right now.
That suggests there's serious money to be made there, so get ready to move.
Lots of Stocks, but Few Good Bets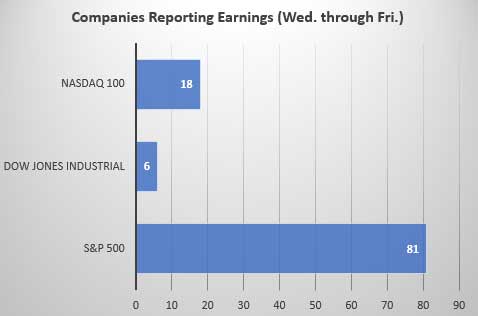 Now, 16% of the S&P 500 companies will report earnings between today and Friday. What's more, 20% of the Dow Jones Industrial Average and 18% of the Nasdaq 100 companies will report over the same three days.
The heavy hitters reporting over the next couple of days include Microsoft Corp. (Nasdaq: MSFT), Alphabet Inc. (Nasdaq: GOOGL), and Intel Corp. (Nasdaq: INTC), to name a few.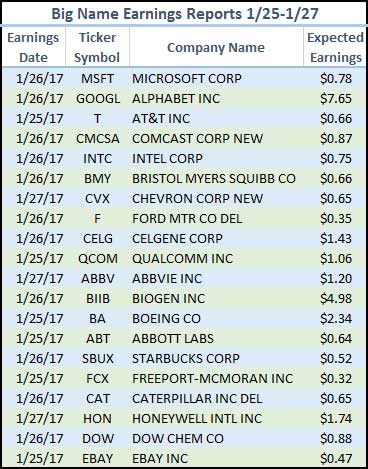 Put simply, you could throw darts at a list of companies every morning for the next three days and probably hit an earnings season winner.
Fortunately, I have a much better way of locking in on the best chances.
Now, the "big names" tend to be the favorite targets of traders looking to clean up on their earnings trades, but I've found it more profitable to look further down the list to get at the serious profit opportunities.
There's a very good reason for that.
You see, the big names tend to become crowded with zealous traders – zealous traders who tend to throw caution to the wind and take a flyer on whether a company will beat or not. It's like nothing so much as a "lottery ticket" mentality.
All these lottery players and their money pouring in create a situation where trying to forecast a stock's response to its earnings results – the key to making money at a time like this – becomes an exercise in futility.
This, of course, is something we are never interested in as traders. So let's leave folks to their lotto tickets and look at what I think is a safe bet right now.
Avoid Speculators and Play This "Wall of Worry" Climber
I've found it pays (big) to move "down the list" to find the stocks that are well-known, usually liquid, and that show the characteristics I look for in my proprietary quantified trading approach.
Join the conversation. Click here to jump to comments…
About the Author
Chris Johnson is a highly regarded equity and options analyst who has spent much of his nearly 30-year market career designing and interpreting complex models to help investment firms transform millions of data points into impressive gains for clients.
At heart Chris is a quant - like the "rocket scientists" of investing - with a specialty in applying advanced mathematics like stochastic calculus, linear algebra, differential equations, and statistics to Wall Street's data-rich environment.
He began building his proprietary models in 1998, analyzing about 2,000 records per day. Today, that database, which Chris designed and coded from scratch, analyzes a staggering 700,000 records per day. It's the secret behind his track record.
Chris holds degrees in finance, statistics, and accounting. He worked as a licensed broker for 11 years before taking on the role of Director of Quantitative Analysis at a big-name equity and options research firm for eight years. He recently served as Director of Research of a Cleveland-based investment firm responsible for hundreds of millions in AUM. He is also the Founder/CIO of ETF Advisory Research Partners since 2007, noted for its groundbreaking work in Behavioral Valuation systems. Their research is widely read by leaders in the RIA business.
Chris is ranked in the top 99.3% of financial bloggers and top 98.6% of overall experts by TipRanks, the track record registry of financial analysts dating back to January 2009.
He is a frequent commentator on financial markets for CNBC, Fox, Bloomberg TV, and CBS Radio and has been featured in Barron's, USA Today, Newsweek, and The Wall Street Journal, and numerous books.
Today, Chris is the editor of Night Trader and Strikepoint Trader and contributes to Money Morning as the Quant Analysis Specialist.