The week is half over, but there are still plenty of earnings season profits to take down before Friday. Like I said last week, we're right in the thick of one of the heaviest reporting periods for quarterly earnings.
This is what you might call a "target-rich" environment, with opportunities left and right.
And one of the juiciest targets is going to show itself tomorrow night, and, believe it or not, most traders aren't looking at it right now.
That suggests there's serious money to be made there, so get ready to move.
Lots of Stocks, but Few Good Bets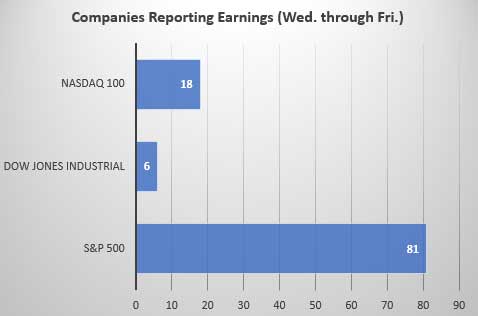 Now, 16% of the S&P 500 companies will report earnings between today and Friday. What's more, 20% of the Dow Jones Industrial Average and 18% of the Nasdaq 100 companies will report over the same three days.
The heavy hitters reporting over the next couple of days include Microsoft Corp. (Nasdaq: MSFT), Alphabet Inc. (Nasdaq: GOOGL), and Intel Corp. (Nasdaq: INTC), to name a few.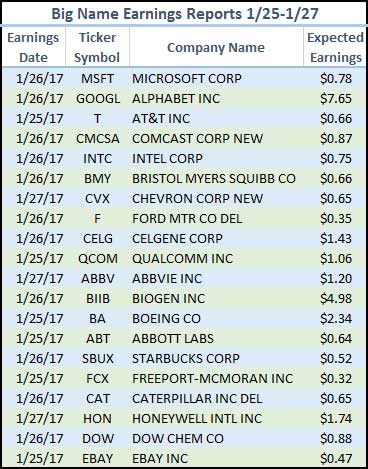 Put simply, you could throw darts at a list of companies every morning for the next three days and probably hit an earnings season winner.
Fortunately, I have a much better way of locking in on the best chances.
Now, the "big names" tend to be the favorite targets of traders looking to clean up on their earnings trades, but I've found it more profitable to look further down the list to get at the serious profit opportunities.
There's a very good reason for that.
You see, the big names tend to become crowded with zealous traders – zealous traders who tend to throw caution to the wind and take a flyer on whether a company will beat or not. It's like nothing so much as a "lottery ticket" mentality.
All these lottery players and their money pouring in create a situation where trying to forecast a stock's response to its earnings results – the key to making money at a time like this – becomes an exercise in futility.
This, of course, is something we are never interested in as traders. So let's leave folks to their lotto tickets and look at what I think is a safe bet right now.
Avoid Speculators and Play This "Wall of Worry" Climber
I've found it pays (big) to move "down the list" to find the stocks that are well-known, usually liquid, and that show the characteristics I look for in my proprietary quantified trading approach.
Join the conversation. Click here to jump to comments…
About the Author
Chris Johnson is a quant - he's obsessed with building and perfecting mathematical models that allow him to predict, with startling accuracy, the direction of the markets, entire sectors, and individual securities. For the last year, he's been researching and building a new system that lets him move swiftly in and out of the hottest stocks in the market for life-changing gains - entirely on his own terms. The results of his newly-minted Night Trader system are nothing short of amazing.
Chris also contributes to Money Morning as the Quant Analysis Specialist.