Before Snapchat stock is available to the public, the social media company will release its IPO offering price.
And because that price is cheaper than what retail investors will pay when the stock debuts, our readers have been asking us, "Can you buy shares in Snapchat now?"
Unfortunately, the answer is no.
Snapchat shares are not available now because the company has not officially filed for an IPO. But when the IPO does happen, which could be as early as March, retail investors will still not be able to purchase Snapchat stock at the IPO offering price.
We'll get to how retail investors can play Snapchat stock in just a bit.
But first, here's everything you need to know about the popular social media app before its goes public…
What Is Snapchat?
CEO Evan Spiegel describes Snapchat as a "camera company" that gives its users the ability to live in the moment.
Snapchat users can post pictures and videos with filters and animations. Users do have the option to share their posts for up to 24 hours, but standard posts disappear after 10 seconds.
And because of its unique features, Snapchat has attracted a large following of teens and millennials…
According to Bloomberg, 70% of 18- to 24-year-old U.S. smartphone users are on Snapchat. The company is also seeing growth from 25- to 34-year-old social media users.
In June 2013, only 6% of 25- to 34-year-olds used Snapchat. But that number jumped to 41% as of June 2016.
Snapchat users are also very engaged with the app, spending an average of 10 minutes per day on it. In comparison, Instagram users only spend 6.4 minutes on the app per day, according to a study from investment company Cantor Fitzgerald.
And Snapchat's growing and engaged user base is why it could make $1 billion from advertisers this year…
Snapchat's Projected Revenue
Snapchat's lofty $25 billion valuation is mainly based on its projected revenue growth over the next several years.
Must Read: Top 10 2017 IPOs to Watch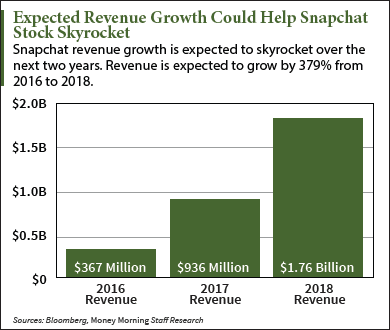 For 2015, Snapchat generated $59 million. For 2016, analysts projected Snapchat generated $367 million in revenue, which is an increase of 522% in just a year.
However, there is much more revenue growth ahead in 2017 and 2018…
For 2017, Snapchat is projected to generate between $936 million and $1 billion. For 2018, Snapchat could generate $1.76 billion.
These revenue projections will have some investors racing out to buy Snapchat stock.
But revenue growth alone doesn't make Snapchat stock a good investment.
So when Snapchat goes public, this is how to play the Snapchat IPO…
How to Play the Snapchat IPO