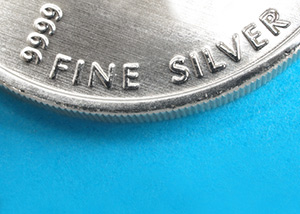 In today's (Wednesday) silver investment news, the price of silver is down 2% and trading at $16.85.
The decline in silver prices came after the Dow Jones Industrial Average crossed the 20,000 mark for the first time in history. Stock market rallies like this often lower the demand of safe havens like silver. Higher stock prices also attract people looking for more profitable investments than precious metals.
While rising stocks are pulling the price of silver lower today, there's another silver investment news story that points to a big price rally in 2017. And it's reiterating our bullish 2017 silver price predictions for the end of Q1 and end of Q2, which show gains of more than 30%.
First, here's the silver company making headlines right now…
World's Biggest Silver Producer Makes Silver Investment News Today
The company in the news today is Fresnillo Plc. (LON: FRES). While this firm is mostly unknown to U.S. investors, it's a powerful player in the global silver market.
The Mexico-based company is the world's biggest primary silver producer. That means it's the world's biggest silver producer based on revenue rather than quantity. Although it's based in Mexico, Fresnillo stock trades on the London Stock Exchange. The company boasts a market cap of 10.33 billion British pounds (equal to roughly $13.03 billion).
Don't Miss: The Best Way to Protect Your Money in 2017 – Free Report
Before markets opened this morning, Fresnillo reported its highest ever annual silver production of 50.3 million ounces for 2016. That output is up 7.1% from 2015's 47 million ounces. The firm's Q4 2016 output alone came in at 13.3 million ounces, marking a 9.5% jump from 12.15 million ounces in Q4 2015.
But those weren't even the most important numbers from the report today. In fact, there's another set of numbers that supports Money Morning Resource Specialist Peter Krauth's predicted 30% surge in the silver price this year.
Here's the real bullish news from Fresnillo today – plus our specific silver price targets for the end of Q1 and Q2…
Fresnillo's Numbers Support Our 2017 Silver Price Predictions
The real bullish silver investment news today is Fresnillo's 2017 outlook.
The company said it expects silver output to hit 58 million to 61 million ounces this year. That would be a 15.3% to 21.3% increase from the 50.3 million ounces last year. This second straight year of record output would mostly be due to the firm's new San Julián mining project.
As one of the global silver market's most dominant players, Fresnillo's plans for boosting output prove the company is bullish on the price of silver. It knows the silver price will be high enough to cover additional production costs and yield a big profit.
And Krauth – a precious metals expert with over 20 years of market experience – says you can also profit from silver prices in 2017. He expects the price of silver to rise 12.8% to $19 by the end of the first quarter. Better yet, he sees prices surging 30.8% to $22 by the second quarter of 2017.
One of the biggest factors behind his forecast is the falling gold/silver ratio.
The gold/silver ratio is one of the most useful metrics in the precious metals sector. It calculates the values of gold and silver relative to one another. To find the ratio, you just divide the price of gold by the price of silver. For instance, a gold/silver ratio of 80 means that 80 ounces of silver is equal in value to one ounce of gold.
A lower gold/silver ratio is bullish for silver prices. That's because it indicates silver is undervalued compared to gold. And the ratio was constantly in the silver investment news last year because it saw a huge decline…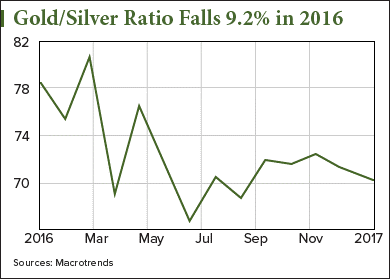 From Jan. 1, 2016, to Jan. 1, 2017, the gold/silver ratio dropped 9.2% from 78.20 to 70.97. In March 2016, it hit a peak of 80.57 – a level only seen three other times in the last two decades. From there, the gold/silver ratio fell 10.6% to 72.03 by December. As of today (Jan. 25), it hovers near 70.64.
And Krauth says it's only going lower. He expects it to drop as low as 60 sometime this year.
"Since the precious metals bull market began about 15 years ago, the ratio has averaged about 60 overall," Krauth said. "I think we're likely to get much closer to that level in 2017, with the silver price catching up to gold."
A declining gold/silver ratio indicates a 12.8% jump by the end of this quarter and a 30.8% rise by the end of the second quarter.
Urgent: For only the third time in 20 years, a metal more rare and more exotic than gold is about to make stock market history. And it's poised to make early investors a lot of money. Get the full story.
Alex McGuire is a writer and editor for Money Morning. Follow him on Twitter.
Like us on Facebook: Money Morning